Smaller markets lead Gulf index growth
25 September, 2018 | By JENNIFER AGUINALDO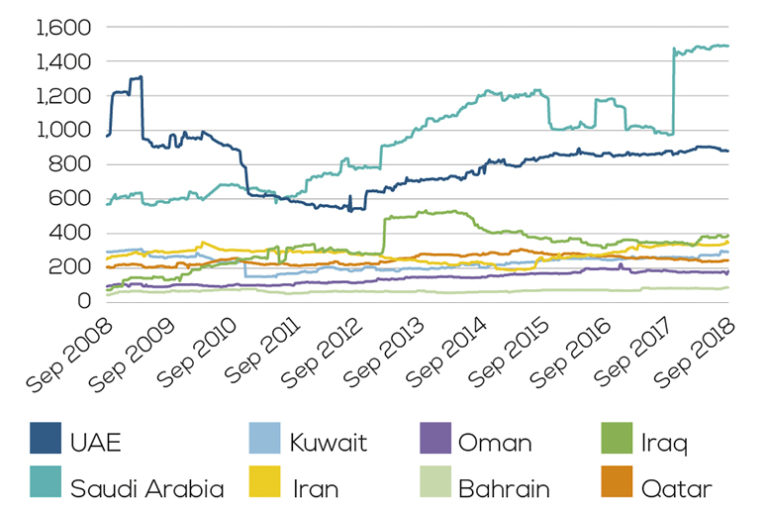 Saudi Arabia and the UAE each shed 0.1 per cent during the week of 8-14 September 2018
Data shows value of projects planned or under way ($bn)
Led by Oman, country indices in the Gulf region's smaller project markets increased the most during the week ending 14 September.
Oman rose 11.5 per cent on the weekly index on account of a new independent power and water project in the sultanate's Al-Wusta governorate, as well as the inclusion of the Duqm New Town project budget in its projects inventory.
In Iraq, an upward budget adjustment of $2bn to the Zubair field development project, along with a planned $300m cement plant in Ramadi, triggered a 1.9 per cent rise in the country's projects market during the week.
Bahrain and Kuwait rose 0.4 per cent and 0.1 per cent respectively, while Qatar's index remained unchanged.
Four new projects were added to Bahrain's index, including the $500m planned expansion of the Awali oil field. The budget for the Diyar al-Muharraq mixed-use project was also revised upwards.
In Kuwait, two new packages for phase 2 of the Jurassic non-associated gas project were added to the country's index.
The Gulf's two largest markets, Saudi Arabia and the UAE, each shed 0.1 per cent, while Iran slipped by 3 per cent due to the cancellation of several projects, including the $1bn first phase of the Kish gas refinery scheme.
| | | | | | |
| --- | --- | --- | --- | --- | --- |
| Country | 14 Sep 2018 | 7 Sep 2018 | % change on week | 15 Sep 2017 | % change on year |
| Bahrain | 87,322 | 87,006 | 0.4% | 83,790 | 3.8% |
| Kuwait | 294,198 | 294,003 | 0.1% | 261,689 | 12.3% |
| Oman | 182,713 | 163,878 | 11.5% | 184,173 | -11.0% |
| Qatar | 243,912 | 243,844 | 0.0% | 255,166 | -4.4% |
| Saudi Arabia | 1,485,577 | 1,487,080 | -0.1% | 980,891 | 51.6% |
| UAE | 877,973 | 878,629 | -0.1% | 875,622 | 0.3% |
| GCC | 3,171,695 | 3,154,440 | 0.5% | 2,641,331 | 19.4% |
| Iran | 345,146 | 355,939 | -3.0% | 335,497 | 6.1% |
| Iraq | 388,813 | 381,618 | 1.9% | 350,315 | 8.9% |
| Gulf total | 3,905,654 | 3,891,997 | 0.4% | 3,327,143 | 17.0% |
25 September, 2018 | .By JENNIFER AGUINALDO
Related Posts
Projects are now looking for investors not contractors
GCC projects market slumps in 2018
Long-term project plans give comfort to Dubai's construction
Transforming Construction: Lessons from Oil & Gas
Dubai deepens ties with Chinese financial sector
CONNECT SERIES: Applicable UAE construction laws amid Covid-19
UAE Construction Think Tank recommends adoption of standardised
UAE sets sights on future with innovative infrastructure
North Africa is a challenging market with huge
The region's project pendulum swings