Busy year ahead for renewables sector
02 February, 2020 | By JENNIFER AGUINALDO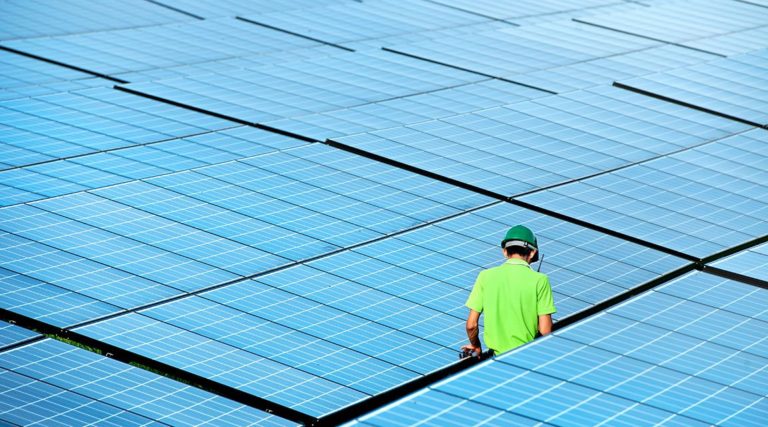 New announcements guarantee the Middle East, particularly the Gulf, will remain among the world's major hotspots for renewables projects
If the first three weeks of 2020 are anything to go by, it will be a busy year for renewables developers across the Gulf.
On 20 January, Saudi Arabia's Renewable Energy Programme Development Office (Repdo) received bids for category B of round two of the kingdom's National Renewable Energy Programme (NREP). Four teams submitted bids for the four solar photovoltaic (PV) projects, which have a combined capacity of 1.4GW.
It is understood the bidders submitted a price for each of the four projects, and that Repdo plans to shortlist the bidders before announcing their offers.
Across the border in Abu Dhabi, Emirates Water & Electricity Company (Ewec) will imminently announce the preferred bidder for the 2GW Al-Dhafra (PV2) solar independent power producer (IPP) project, which includes an option for storage.
Ewec intends to sign the long-term power-purchase agreement (PPA) in the first quarter of the year, with financial close expected in the second quarter.
As for future bids, Repdo has invited firms to prequalify by 6 February for the NREP's third round. This round comprises four solar PV projects with a combined capacity of 1.2GW.
MEED understands Ewec also plans to invite firms to bid for the consultancy package of its next solar IPP scheme, PV3, shortly.
In Saudi Arabia, The Red Sea Development Company (TRSDC) expects to receive bids by 1 March for the project's utilities package, which will be developed on a public-private partnership (PPP) basis.
State utility Oman Power & Water Procurement Company (OPWP) likewise plans to invite prequalified developers to bid for two solar PV projects in the first quarter of the year – to be developed under the IPP model.
In an unprecedented move, the UAE's Federal Electricity & Water Authority (Fewa) has also sought interest for a 500MW solar PV IPP in the northern region of Umm al-Quwain.
Country
Project name
Capacity (MW)
Status
Bidders
UAE
Abu Dhabi PV3
1,500
Study
na
UAE
Al-Dhafra IPP (PV2)
2,000
Bid evaluation
Acwa Power (Saudi Arabia) / Engie (France) / Jinko Solar (China) – EDF (France) / Marubeni (Japan) – Total (France) / Softbank Energy (Japan) – Eni (Italy)
Saudi Arabia
NREP round 2 category B (4 projects)
1,400
Bid evaluation
Marubeni (Japan) – Al-Jomaih (Saudi Arabia) / Total (France) – Al-Gihaz (Saud Arabia) / Masdar (UAE – EDF (France) – Nesma (Saudi Arabia) / Acwa Power (Saudi Arabia) – GIC (Kuwait)
Saudi Arabia
NREP round 2 category A
70
Main contract bid
na
Saudi Arabia
NREP round 3
1,200
Prequalification
na
Qatar
Al-Kharsaah IPP
800
Awarded
Marubeni (Japan) / Total (France)*
Saudi Arabia
Red Sea Project utilities PPP
360
Main contract bid
Acwa Power (Saudi Arabia) / Engie (France) / Masdar (UAE)-Saudi Electricity Company (Saudi Arabia)
Oman
Manah 1 & 2
1,000-1,200
Prequalification
Masdar (UAE) – EDF (France) / Eni (Italy) – Softbank Energy (Japan)/ Acwa Power (Saudi Arabia) / Jinko (China) / Korea Western Power Company –  Hanyang Corporation –  Solar Reserve –  Nafath Renewable Energy (Oman) / Marubeni (Japan) / Power Construction Corporation of China / TagEnergy (Nigeria) – Al-Shanfari Group (Oman) / Total Solar International (France)
UAE
Umm al-Quwain IPP
500
EoI
  na
*Winning bidderSource: MEED
Developers are welcoming these new projects, especially with the expected decrease in the volume of new gas-based schemes as the region's state utilities strive to meet their national renewables and sector decarbonisation targets by 2025 or 2030.
Unlike sectors such as construction, where costs tend to inflate as the number of projects that enter the execution phase rise, experts tell MEED they expect the costs involved in developing solar PV facilities in the region to fall further.
This is due in part to falling engineering, procurement and construction costs, which typically account for more than 90 per cent of the total project cost. Other reasons include lower finance costs, thanks to high liquidity among the export credit agencies and investment banks that back projects, and developers' growing aggression in winning new projects.
These developments guarantee that the Middle East, particularly the Gulf countries, will remain among the world's major renewables hotspots for years to come.
02 February, 2020 | .By JENNIFER AGUINALDO