Jordan's construction segment sees lull in big projects
24 July, 2018 | By COLIN FOREMAN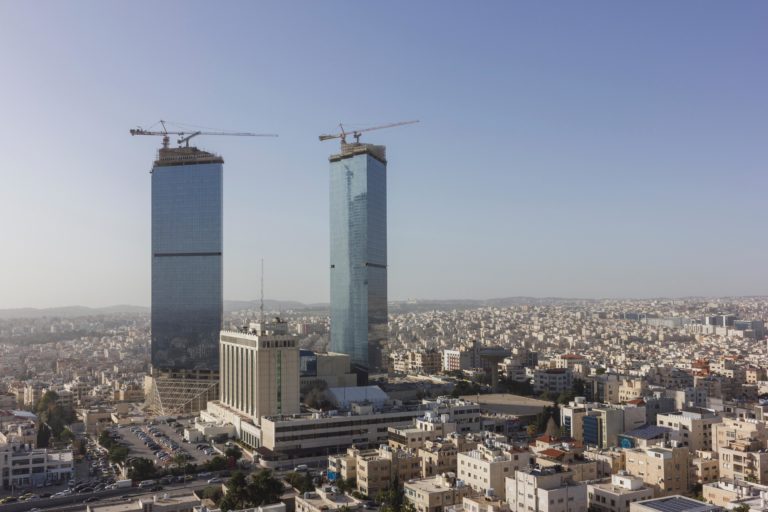 The construction market in Jordan has been subdued since the 2014 fall in oil prices, which saw most major market-changing schemes cancelled
Despite being an oil importer, Jordan has not managed to escape the challenges that lower oil prices have created for the construction industry across the region.
Since oil prices fell in mid-2014, the performance of the construction market has been subdued.
With limited major contract awards, the market has been unable to return to the levels of activity experienced before 2014, when GCC investors, buoyed by bumper oil revenues, moved ahead with a wide range of construction projects in Amman, Aqaba and on the Dead Sea coast.
According to regional projects tracker MEED Projects, since the start of 2014, there have been $1.7bn of construction contract awards in Jordan. The most active year was 2015, when there were $770m of awards.
The slowest year was 2014, when there were just $93m of awards. Before 2014, the market peaked in 2008, when there were $4.2bn of deals signed.
Saraya Aqaba
The largest scheme under way is the Saraya Aqaba development, which will cover 634,000 square metres around a man-made lagoon.
In 2013, a joint venture of Lebanon's Consolidated Contractors Company (CCC) and the UAE's Arabtec Construction and Drake & Scull International won contracts for the first phase of Saraya Aqaba. It includes hotels and villas, a souq-styled retail space, a beach club and a "Wild Wadi" water park to be managed by the UAE's Jumeirah Group.
The Saraya Aqaba scheme is part of the $10bn Marsa Zayed master development, which is being developed by Abu Dhabi-based Eagle Hills. Overall, the site covers an area of 3.2 million square metres and, when fully built out, will hold high-rise residential towers, an office tower, hotels, shops, recreational, entertainment and business facilities and financial districts.
Progress on other major projects has been limited, and most major market-changing schemes have been cancelled shortly after being launched.
Altogether, there are $35bn of construction projects that have been cancelled in Jordan – a number that far outweighs the $6.4bn of deals that are either planned or under way.
The largest cancelled project is the $20bn Carbon Neutral City, which was planned by the Ministry of Public Works & Housing from 2010 until it was abandoned in 2014. It was to be built on the outskirts of Amman and was a similar concept to Abu Dhabi's Masdar City.
The second-largest cancelled scheme is the $5bn Aqaba Mixed-Use Real Estate Development, which was planned by Beirut-based Horizon Development Holdings and the Aqaba Special Economic Zone Authority (ASEZA) from 2006, until it was cancelled in 2012.
The third-largest project is Taameer Jordan Holdings' $2.1bn Mansion Hills project, which was cancelled in 2011 after three years of planning.
In addition to the schemes that have been abandoned, there are also $7.6bn of projects that are technically on hold and could be revived in the future. The most high-profile of these is Jordan's first theme park project: the Red Sea Astrarium.
In 2014, Arabtec said it had won a $1.6bn deal to build the integrated entertainment, hospitality, and leisure resort located in Aqaba. Spanning 744,622 sq m, the development includes a Star Trek theme park, a waterpark, hotels and retail space.
GCC support
Amid the lull in investment, the market is being underpinned by foreign aid, including fresh funding commitments from the GCC. In March 2018, Saudi Arabia signed 15 cooperation agreements and said it will set up a $3bn joint investment fund for Jordan.
Further relief came in June, when Saudi Arabia, Kuwait and the UAE agreed to provide a $2.5bn economic aid package to Jordan following mass protests in Amman in opposition to planned tax increases and cuts in subsidies on fuel and electricity.
The aid includes a deposit in Jordan's central bank, guarantees for the World Bank in the interest of Jordan, annual support for the nation's state budget over the coming five years, and financing for development projects.
However, while aid packages from the GCC will make a difference to Jordan's construction market, it is unlikely to generate the volume of work promised in the past, as the projects currently earmarked for investment are generally small development schemes to boost power generation, tackle worsening water shortages, and improve housing and healthcare services.
In the longer term, development projects nearby in Saudi Arabia could have a greater impact. Last year, Riyadh launched the $500bn Neom city, which will be built in northern Saudi Arabia. The Saudi authorities have said the 26,500-square-kilometre scheme is so large, it will spill over into Jordan and Egypt.
So far, few details of what the Neom project actually entails have been released since its launch, but if all goes to plan, just the country's proximity to the prospective city will be a boost to the Jordanian construction industry. And if the scheme does cross borders, the market could become very busy.
24 July, 2018 | .By COLIN FOREMAN
Related Posts
Gulf Projects Index plunges amid Covid-19
Middle East tourism economy readies to reopen
Increasing the bankability of UAE's industries
The Rising Need for Critical Care Beds in
Lifestyle Medicine in the GCC
The demand of neonatal care in the region
New ways of working for UAE construction
Mecca mobility strategy award could be game-changer
Growth of medical tourism in Dubai
UAE will not follow Saudi Arabia VAT hike