Remodelling Healthcare: Mashreq JLL MEED Healthcare Partnership Newsletter
03 November, 2021 | By MEHAK SRIVASTAVA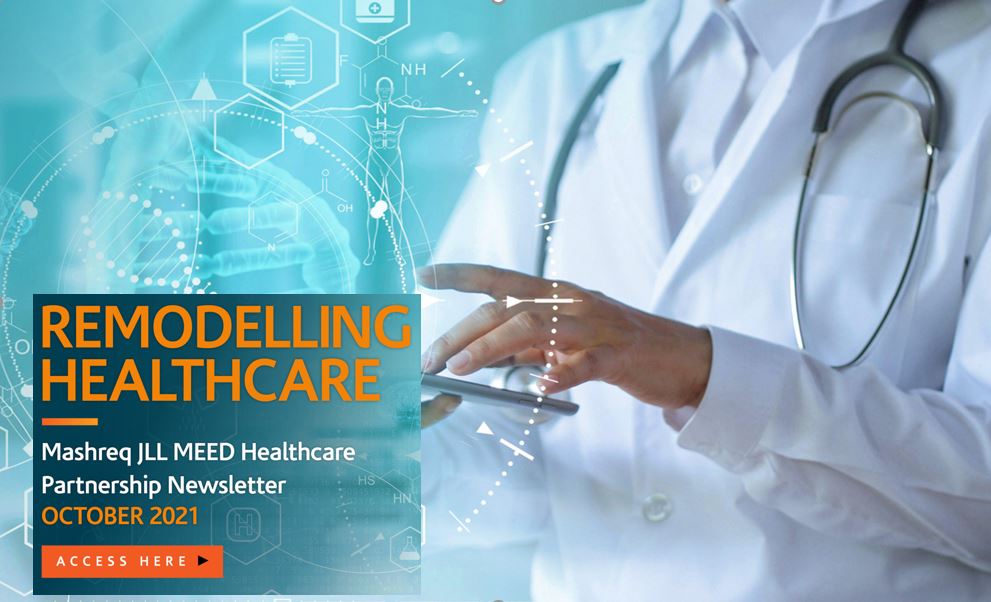 The Mashreq JLL MEED Healthcare Partnership is a knowledge-sharing initiative that aims to provide a platform for senior healthcare industry executives to discuss and address the challenges facing one of the fastest growing sectors in the Middle East.

This second newsletter provides you access to the last three months of industry-led insights from our research, connect series and snippets developed to support the industry.
RESEARCH: EMERGING FORMATS IN HEALTHCARE DELIVERY IN THE GCC
Emerging formats in Healthcare Delivery in the GCC is the second Mashreq Healthcare White Paper, in partnership with leading global consultants JLL.

The white paper talks about how various demand drivers are leading to realigning healthcare delivery towards newer formats to cater to the increasing healthcare requirements of the GCC population.
CONNECT SERIES: REMODELLING HEALTHCARE
GCC healthcare braces for transformation. Structural trends accelerated by the Covid-19 pandemic are prompting a shift in the way healthcare services are planned and delivered in the GCC region.

Latest webinar from Mashreq JLL MEED Healthcare Partnership discussed the changing delivery formats and disruptive trends in the GCC healthcare sector.
| | | |
| --- | --- | --- |
| Trend of increasing local pharmaceutical manufacturing capabilities in the GCC | | Growth of medical tourism in Dubai |
| Rapid reform in the healthcare market across the GCC is driving significant growth of the pharmaceutical market. | | Dubai is fast becoming a leading destination for medical tourism, both regionally and globally. The Emirate ranked 13th out of the 46 global destinations rated within the 2020-2021 Medical Tourism Index. |
| | | |
| --- | --- | --- |
| | | |
| | | |
| --- | --- | --- |
| Medical talent- Backbone of the healthcare ecosystem | | Rising demand of specialised laboratory diagnostics services in the GCC |
| The medical talent spectrum includes physicians, nurses, para-medical personnel, technicians, support staff and administrative staff etc. | | Given the dramatic transformations happening in the healthcare sector, clinical laboratories are undergoing similar changes, too. |
03 November, 2021 | .By MEHAK SRIVASTAVA