Disrupting Oil & Gas
11 February, 2019 | By Richard Thompson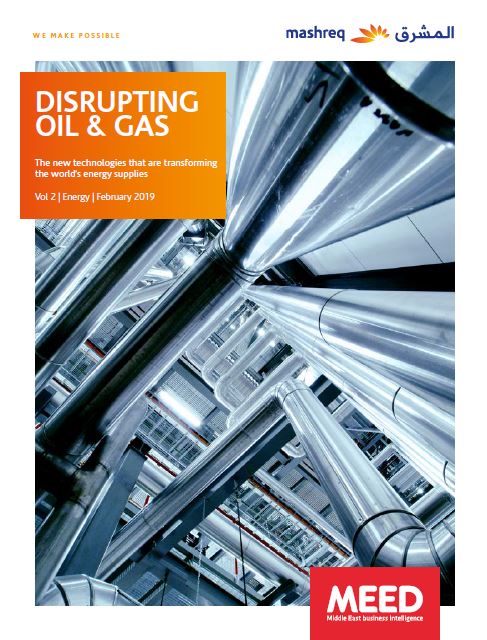 New downloadable report from MEED, in partnership with Mashreq, brings together a series of case studies on the deployment of technology in oil and gas

The global oil and gas industry is embracing the latest digital advances to drive productivity, efficiency and safety
The oil and gas industry has always been driven by the powerful combination of human endeavour and cutting-edge technology. It is the technology component that has been, increasingly, spiriting the industry forward.
As oil fields evolve and new energy sources emerge, it becomes more and more critical that the oil industry develops and harnesses new innovations in order to drive efficiency and productivity to support competitiveness.
A recent report by Wood Mackenzie, titled Digitalisation in Upstream: Show me the Money, highlights that digitalisation could achieve as much as $150bn in operations-related cost savings in the energy and natural resources sectors.
Speaking at the 2018 edition of the Abu Dhabi International Petroleum Exhibition & Conference (Adipec), the UAE Minister of State for Artificial Intelligence Omar Sultan al-Olama said: "Technology is going to change the impact of output and return in the energy scene globally. The factors are data, artificial intelligence (AI) and internet of things (IoT), to name a few, as well as blockchain and other emerging technologies." The minister noted that AI's contribution to the oil and gas sector could reach $2.85bn by 2020.The advances in digital technologies represent a new wave of change that is transforming traditional oil companies into technology firms covering new and alternative energy sources beyond just hydrocarbons.
In an increasingly competitive landscape, making better use of technology also promises reduced costs and improved returns. However, one cannot take a one-size-fits all approach here. Solutions will have to be customised by the client and provider to exploit the full potential of the technology at hand.
 Disrupting Oil & Gas is the second research report in the MEED/Mashreq Energy Partnership series. It looks at how new technologies are being utilised across the oil and gas industry and transforming the sector.
Covering a range of technologies such as drones, 3D printing, AI and IoT, this report aims to provide a detailed glimpse into the future of oil and gas through a series of case studies, each of them focusing on a different technology transforming the industry.
11 February, 2019 | .By Richard Thompson