Value of GCC power sector to grow significantly in 2018
10 April, 2018 | By ANDREW ROSCOE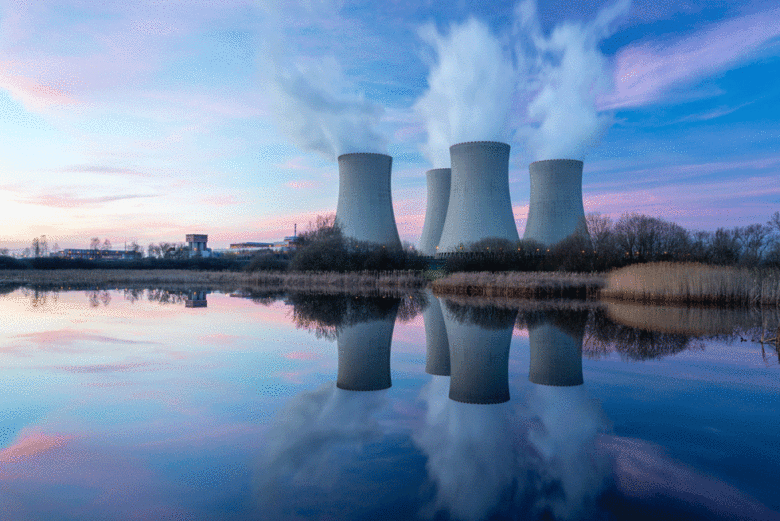 Governments are pushing ahead with several major conventional and alternative energy power projects to meet growing demand for electricity
The value of contract awards for power projects in the GCC is expected to grow significantly in 2018 as utilities push ahead with an ambitious raft of generation, and transmission and distribution (T&D) projects.
MEED Projects forecasts that up to $45bn-worth of power contracts are planned to be awarded in 2018, more than triple the $14bn awarded in 2017. While this total figure is unlikely to be awarded – due to delays with procurement processes or approvals – if even half of the contracts are signed it will signal the most lucrative year in terms of power project contract awards for a decade.
This prospective bumper year for the GCC's power sector follows the significant rebound already seen in the $14bn figure for power project contract awards in 2017 – partially reversing the dramatic drop in the value of contract awards to $8.8bn in 2016, from $19.5bn in 2015.
Annual value of GCC power projects contract awards ($bn)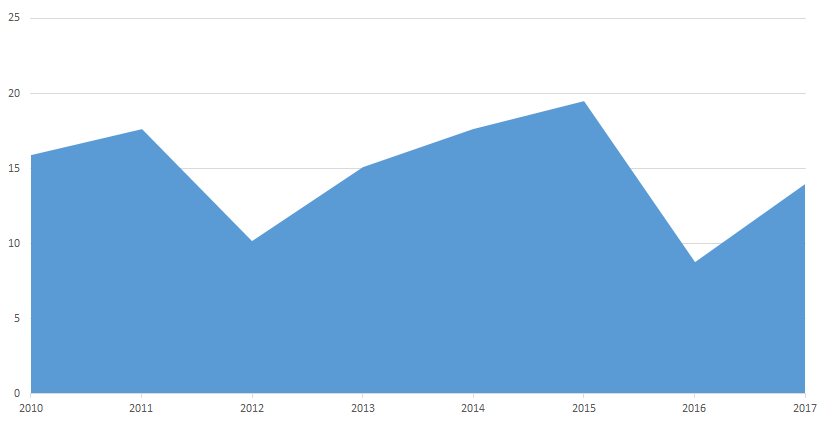 A significant reason for the forecasted uptick in awards in 2018 is the expected resurgence of Saudi Arabia's market, the region's largest utilities market. The value of contract awards for power schemes in the kingdom fell to $2.8bn and $2.3bn in 2016 and 2017 respectively, from $8.1bn in 2015 and $13.1bn in 2014.
While most utilities markets will see major projects awarded in cycles in line with demand targets, the recent fall in awards in Saudi Arabia is better explained by the significant reforms and changes that have occurred in the kingdom since 2016.
The launch of Vision 2030 and the 2020 National Transformation Programme (NTP) in 2016 are responsible for a fundamental shift in the way projects are procured in the kingdom's utilities sector.
Gaining independence
The wholesale shift towards the use of independent power producer (IPP) and independent water and power producer (IWPP) models to develop all future generation plants has delayed some major planned projects, such as the 3,850MW Taiba integrated solar and combined-cycle (ISCC) plant, in preparation for their development in partnership with the private sector.
The kingdom's plans to diversify its energy sector and reduce dependence on oil will also create opportunities for major power contracts in new technologies.
The creation of the Renewable Energy Project Development Office (Repdo) – which will develop the 9.5GW National Renewable Energy Programme (NREP) – has established a framework to deliver one of the region's most ambitious clean energy targets.
The contract for the kingdom's first project under the NREP, the 300MW Sakaka photovoltaic (PV) solar plant, was awarded for a world-record tariff in February, and bids are due in April for the kingdom's first major wind project.
Largest GCC power projects due for award in 2018
| | | | | |
| --- | --- | --- | --- | --- |
| Project | Country | Budget ($m) | Status | Due |
| Nuclear power reactor: package 1 | Saudi Arabia | 8,000 | Study | 2023 |
| Nuwaiseeb power and water desalination plant | Kuwait | 3,000 | Study | 2021 |
| Facility E IWPP | Qatar | 3,000 | Main contract PQ | 2020 |
| Combined-cycle power plant | UAE (northern emirates) | 2,500 | Design | 2020 |
| Shuqaiq power plant expansion: phase 1 | Saudi Arabia | 2,500 | Study | 2021 |
| Coal-fired IPP | UAE (RAK) | 2,178 | Main contract PQ | 2021 |
| Al-Rais power plant: phase 2 | Saudi Arabia | 2,000 | Study | 2024 |
| Al-Dur 2 IWPP | Bahrain | 2,000 | Main contract bid | 2020 |
| Jeddah South power plant expansion | Saudi Arabia | 1,500 | Main contract bid | 2021 |
| Gas-to-power facility | Oman | 1,000 | Main contract PQ | 2020 |
| Hamriyah IPP | UAE | 1,000 | Main contract PQ | 2021 |
| Al-Warsan waste-to-energy thermal recycling plant | UAE | 950 | Execution | 2021 |
| Duqm power and desalination plant | Oman | 800 | Bid evaluation | 2020 |
| Al-Abdaliya integrated solar combined-cycle power plant (CSP) | Kuwait | 720 | Design | 2021 |
| Saudi-Egypt power interconnection: Madina Tabuk Aqaba transmission line | Saudi Arabia | 650 | Bid evaluation | 2019 |
| REP: Round 1: phase 1: wind power plant at Dumat al-Janda | Saudi Arabia | 600 | Main contract bid | 2020 |
| Waste-to-energy facility in Sharjah | UAE | 505 | Design | 2020 |
| Shedgum power plant expansion | Saudi Arabia | 500 | Bid evaluation | 2020 |
| Solar PV IPP at Ibri | Oman | 500 | Main contract PQ | 2021 |
| Waste heat recovery project | UAE | 500 | Execution | 2023 |
Going nuclear
A development that has significantly boosted the value of expected contract awards is the kingdom's maiden nuclear power project.
The King Abdullah City for Atomic & Renewable Energy (KA-Care), which is now focusing on nuclear energy, sent a request for information to international companies in October for a 2.8GW nuclear reactor expected to cost between $8bn and $10bn to build.
While Riyadh has stated it is hoping to award the first construction contract in 2018, it is likely to be 2019 at the earliest before any deal is made, due to the complexities of developing the technology.
The kingdom is also expected to continue heavy investment in its T&D sector, as it pushes ahead with diversifying its industrial base and focuses on major new developments in remote areas.
Major contracts are scheduled to be awarded in 2018 for the estimated $2.1bn electricity interconnection with Egypt.
UAE pushes forward
The UAE has offered a stream of major power generation projects since 2014, as Dubai and Abu Dhabi both move ahead with programmes to diversify their energy portfolio for power supplies. In 2017, the UAE accounted for $6.6bn-worth of power projects, almost 43 per cent of the total value of contracts awarded in the GCC.
The main contributors to this were major solar projects, with Abu Dhabi selecting the consortium to develop the world's largest PV plant at Sweihan, and Dubai awarding the contract for a $3.8bn concentrated solar power (CSP) with energy storage scheme.
In 2018, Dubai is planning to move ahead with the tender for the third phase of its Hassyan coal-fired power plant after state utility Dubai Electricity & Water Authority (Dewa) received proposals for the advisory contract in February.
Abu Dhabi is meanwhile planning to begin the procurement process for a 1.5GW PV solar project. It will likely be the first major generation project for the Department of Energy, which in February replaced Abu Dhabi Electricity & Water Authority as the emirate's utility provider.
The UAE's northern emirates are also set to procure major power projects, with the Federal Electricity & Water Authority (Fewa) and the Sharjah Electricity & Water Authority (Sewa) moving ahead with plans for large gas and coal-fired power plants.
COUNTRY SHARE OF GCC POWER PROJECTS PIPELINE, 2018

Country
Value ($bn)
Percentage
Saudi Arabia
20,807
46%
UAE
11,156
25%
Kuwait
4,640
10%
Qatar
3,150
7%
Oman
2,925
6%
Bahrain
2,780
6%
GCC total
45,458
100%
Wider Gulf
In the coming year, contracts are also expected for major independent water and power projects (IWPPs) in Bahrain and Qatar. Bahrain has invited prequalified developers to submit proposals in May for the Al-Dur 2 IWPP, a decade after it awarded the contract for the first Al-Dur project.
Qatar is planning to invite bids and award the main developer contract for its planned 2,500MW Facility E IWPP, three years after it awarded the contract for the Facility D project. MEED recently reported that Doha had prequalified more than 10 firms to participate in the upcoming tender.
Kuwait offers a power projects market with much potential, but one that has continued to disappoint. Last year, tenders were cancelled for the planned Al-Abdaliyah ISCC and the country's second IWPP, Al-Zour North 2. The Al-Zour North 2 tender was cancelled more than a year after bids were received, leading many in the region's power sector to question the long-term prospects for winning work.
However, with the oil exporter continuing to experience high demand growth for electricity, necessity will dictate major power projects must proceed. The Ministry of Electricity & Water (MEW) forecasts that it will be required to install an additional 10.5GW of power generation capacity by 2024, and the procurement process for the next major plants is due to proceed in 2018.
MEED reported in March that the Kuwait Authority for Partnership Projects (KAPP) is seeking to appoint a transaction adviser to work on both the planned Al-Zour North phase 2/3 and Al-Khiran IWPPs. The MEW is also planning to develop a major power plant at Nuwaiseeb under a standard engineering, procurement and construction (EPC) contract.
While the growing requirement for electricity will ensure that demand for power plants and networks will remain robust, the value of contracts awarded in 2018 will depend on the ability of governments and utilities to engage with the private sector to provide financial support and deliver on new renewable and other alternative energy technologies.
10 April, 2018 | .By ANDREW ROSCOE