The Red Sea Development Company prepares to award $3bn of construction contracts
06 November, 2019 | By Colin Foreman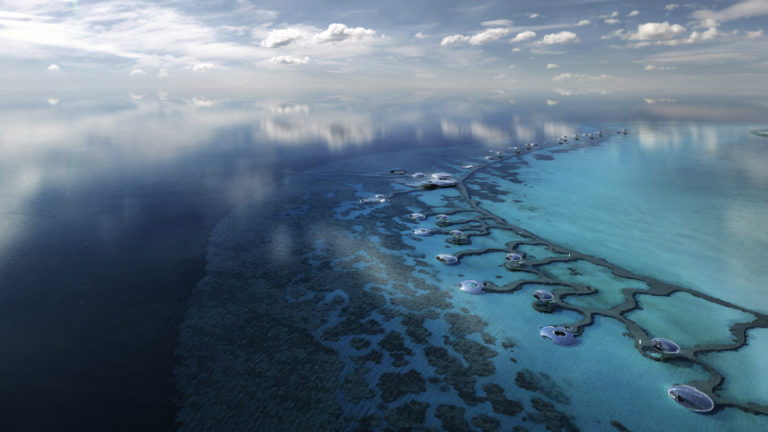 Upcoming contracts include work at the airport, infrastructure and building hotels across the 28,000 square-kilometre development
The Red Sea Development Company (TRSDC) is preparing to award close to SR12bn ($3.2bn) of construction contracts over the next year, adding to the SR2.5bn of orders already placed for the tourism development on Saudi Arabia's west coast.
"We have awarded hundreds of contracts. We have committed over SR2.5bn to date, but we are still at the start of our journey, and that is going to increase dramatically in the coming months," said TRSDC CEO John Pagano, speaking at a briefing at the Future Investment Initiative (FII) in Riyadh on 30 October. "Over the next year, close to SR12bn will be awarded."
The Red Sea Project and other major programmes of work planned in the kingdom mean Saudi Arabia is now a key target for construction companies in the region looking for new work.
"What I say to contractors is Saudi Arabia is where it is happening. There is going to be $1.5tn of construction spend over the next two, three or four decades and that is a huge amount of construction. This is the start of that process, so set up now because there is a long-term pipeline of work. We have enough work to keep most of these contractors busy as well, but there is a bigger picture for them so it is in their interests to make the effort to set up," said Pagano.
Upcoming contracts
For The Red Sea Project, the contracts to be tendered and awarded over the coming year include infrastructure works, a bridge, the airside and landside works for the development's dedicated airport, utilities, and a series of hotels across the 28,000 square-kilometre development.
The airside works for the airport will be the next major package to be tendered, and documents are due to be issued in November. Contractors have already prequalified for that contract.
The design contract for the airport has been awarded to the UK's Foster + Partners.
Due for completion in 2022, the airport will have the capacity to handle 1 million passengers a year. It has been designed so that passengers can access the resorts on the development as seamlessly and as efficiently as possible.
The airport project and other construction packages will require a substantial workforce. "At peak construction phase, we will have about 35,000 [people on site]," said Pagano.
Remote location
As the Red Sea Project is sited in a remote location 500 kilometres north of Jeddah, the workforce will have to be accommodated onsite and work has already started on staff accommodation buildings. In July, Saudi Amana Contracting was appointed to build accommodation and office buildings.
"The labour village we are building is for 10,000 and we are building a new town for up to 35,000 permanent workers that are going to be working at the resorts," said Pagano. "We are taking the approach that, wherever possible, we will use permanent construction. Build it earlier than we might have otherwise done and then use it in a temporary sense, so it will provide housing for the workers while we build and, at the end, we will renovate it and make it available for permanent housing and try to minimise the amount of waste."
Protecting the local environment is of paramount importance for The Red Sea Development Company and contractors looking to work on the project must conform to these principles. "They [future contractors working on the project] have to align with our values," said Pagano. "That is most important for us. We interrogate them in so far as their approach to the environment and the processes and procedures in place to ensure they conduct their operations in a manner that is consistent with our ambition to protect and enhance the environment."
Modular construction will also be used to reduce the amount of construction activity executed on site. "One of the things we are keenly focused on is coming up with new techniques and working with contractors that are really innovating," said Pagano. "We are looking for modular construction, whether it is 2D or 3D, where we can build volumetric prefinished construction, build offsite in a factory and deliver completed units. That is particularly important as we move to some of our outer islands that are more sensitive." Building offsite in a factory will minimise the project's environmental footprint, so that "will score very highly with us as we look for contractors", he added.
Finance requirements
For funding, TRSDC is taking on some debt to deliver the project. "We are in the process of finalising our senior debt package. It is going to be in excess of SR10bn. We are moving into the documentation phase and hope to have that in place sometime in the early part of next year," said Pagano.
"Between what we are getting from PIF, the PPP, which is another form of capital raising, and the debt package, we are good. That is not to say that we will not consider bond issues in the future, but as it stands right now that does not feature in our capital plans."
06 November, 2019 | .By Colin Foreman