Taking Abu Dhabi's success global
07 November, 2022 | By MEHAK SRIVASTAVA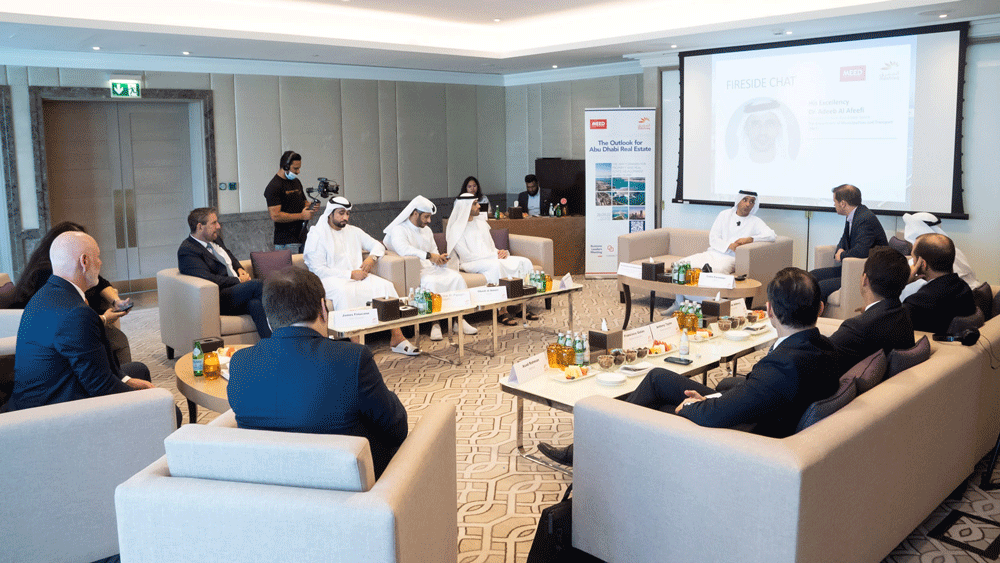 Abu Dhabi must promote its business readiness and investment potential if it is to put its real estate sector on the world stage
This article captures key highlights from the Abu Dhabi Real Estate Roundtable jointly held by MEED and Mashreq on 28 September. At the event, participants including government, business and financial stakeholders discussed the trends that are shaping the future of the emirate's real estate sector.
Abu Dhabi's real estate market is enjoying robust growth on the back of factors such as AA credit ratings, business conduciveness and the successful handling of the Covid-19 pandemic.
Its stakeholders are certain that the industry can do even better, however.
In the first half of 2022, the emirate recorded 7,474 property transactions amounting to more than AED22.5bn ($6.1bn), according to official figures from the Abu Dhabi Department of Municipalities & Transport (DMT).
As the industry regulator, DMT is charged with taking the emirate's real estate landscape to new heights by "constantly revising and assessing policies" based on global standards.
"The trick is to be fast and apply rules that support the real estate sector before others do. At the same time, we cannot just revamp systems or laws without keeping an eye on what is happening globally," Adeeb al-Afeefi, executive director of the real estate sector at DMT, told senior executives gathered at the Abu Dhabi Real Estate Roundtable, which was hosted by MEED and Mashreq on 28 September.
DMT governs the real estate sector in Abu Dhabi, ensuring a balance between supply and demand and providing services to local and international investors.
"The world today is a global village, and you cannot compete unless you are aware of what has been applied internationally, and the level of services you are expected to provide as government entities," Al-Afeefi said.
"We are working to promote Abu Dhabi's real estate market on a global level and the incredible investment opportunities it has to offer."
Promoting success
Other representatives of the Abu Dhabi real estate industry who attended the event agreed with Al-Afeefi.
"We have all the ingredients for foreign investment – from attractive destinations to green and sustainably rated mixed-use communities. What is now required is to promote all this and educate those outside on how to turn a meaningful profit here," said Ali Mohamed Amin Fikree, senior vice-president for UAE real estate at sovereign investor Mubadala Investment Company.
A senior representative from a real estate development company added: "There is no denying that real estate in Abu Dhabi is booming, particularly for off-plan and certain communities. The key is keeping that going and consistently being competitive against our neighbours."
We are working to promote Abu Dhabi's real estate market on a global level and the incredible investment opportunities it has to offer
Adeeb al-Afeefi, Abu Dhabi Department of Municipalities & Transport
In recent years, Abu Dhabi's stable economic environment has drawn the attention of both individual and institutional investors.
According to data from DMT, Yas Island recorded AED1.8bn-worth of property transactions in the first half of 2022. This was followed by Saadiyat Island with AED1.2bn and Al-Shamkha with AED1bn. Reem Island recorded property transactions worth AED872m, and Khalifa City and Al-Raha Beach secured transactions worth AED310m and AED300m, respectively.
Yet there is still a need to "promote Abu Dhabi's success stories", said Mubadala's Fikree.
Al-Maryah Island, Mubadala's flagship real estate mixed-use development, saw unit sales and large-scale transactional deals totalling AED5bn in the first nine months of 2022.
"Unit sales on developments that align to industry and sustainability standards continue to show success. But there is room for improvement with large-scale institutional transactions," Fikree said.
"Any sophisticated real estate investor looking to purchase plots for 'build to hold' opportunities needs assurance
that they can sell the final product once it has achieved its full value potential.
"This is why we need to promote examples of where we have been successful, just as we have done recently on the sale of the four office towers in Abu Dhabi Global Market (ADGM) on Al-Maryah Island. This instils market confidence and paves the way for global capital and investment."
In February, US-based Apollo Global Management announced a $1.4bn investment in Aldar Properties, followed by the acquisition of an 11.1 per cent minority stake in subsidiary Aldar Investment Properties. In the following months, Aldar Properties acquired four Grade A commercial towers in Al-Maryah Island's ADGM. The deal, valued at AED4.3bn, represented one of the most significant real estate transactions in the UAE.
In 2021, Abu Dhabi was recognised as one of the "top global improvers" by JLL International's Global Real Estate Transparency Index. Since 2020, the emirate has risen in the ranking from 48 to 45 overall thanks to the government's effort to enhance corporate and real estate sustainability through initiatives such as regulatory changes, digitalisation of services and access to data.
Abu Dhabi was also ranked as the most liveable city in the Middle East in 2021 by the Global Liveability Index, moving seven places up in the global quality of life ranking.
In January 2022, it was ranked as the safest city in the world in which to live, work and invest for the sixth consecutive year by the crowd-sourced Numbeo Safety Index.
Supporting framework
While Al-Afeefi does not deny the impact of global and regional issues facing the local market, he noted that what will set Abu Dhabi apart going forwards is the way in which it deals with challenges.
In recent years, DMT has undertaken strategic policy and regulatory changes to enable investments from across the globe. For example, together with the Abu Dhabi Judicial Department, it has established a Real Estate Dispute Settlement Centre to help facilitate amicable agreements outside of courts.
The emirate has also established an educational centre that specialises in training brokers, surveyors and other real estate professionals.
"A very important change that we are currently undertaking is the revision to the real estate regulation that was introduced in 2019, which is now under review by the executive council," Al-Afeefi added.
"Typically, policy revisions can take up to a decade – here we decided to move quickly because of factors we've seen locally and globally, and this new update will give us greater authority to manoeuvre changing conditions and to provide better operating conditions for investors and developers."
07 November, 2022 | .By MEHAK SRIVASTAVA