Sustainability shapes Ras al-Khaimah real estate
02 January, 2023 | By MEHAK SRIVASTAVA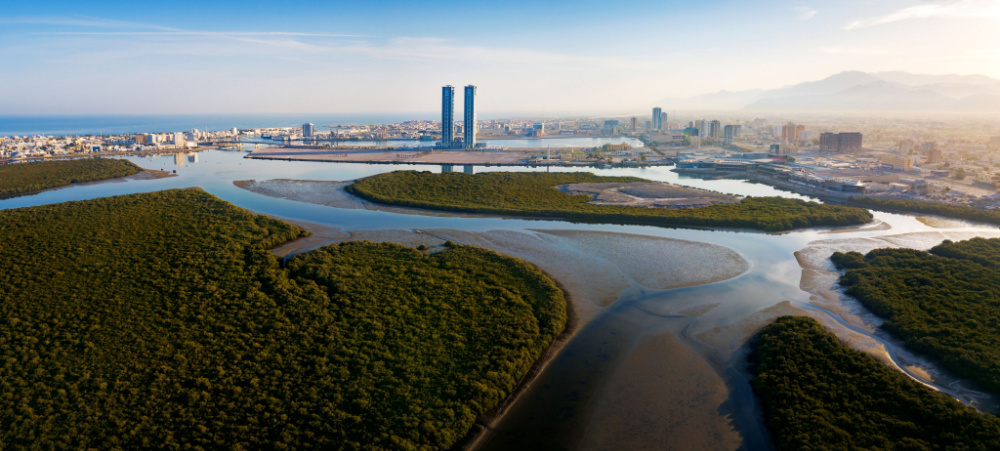 The emirate's growing real estate sector can benefit from leveraging sustainable practices from the outset
This article is the fourth in a series that captures key highlights from the RAK Real Estate Business Leaders Forum jointly held by MEED, Mashreq and Stirling Hospitality Advisors on 28 October, discussing the trends shaping the way forward for the emirate's real estate sector. Participants at the closed-door event included stakeholders such as Marjan, Al-Hamra Group, RAK Properties and Abu Dhabi National Hotels (ADNH)
A pressing question posed during the Ras al-Khaimah Real Estate Business Leaders Forum sparked discussions on the long-term environmental impact of the emirate's real estate sector.
"What is the level of ambition when it comes to sustainability? And are we willing to learn from the mistakes of other emirates?" asked one attendee at the forum.
Witnessing a meteoric rise in recent months, Ras al-Khaimah's real estate sector is on a steady upward trajectory on the back of significant project announcements, including the integrated Wynn resort development on Al-Marjan Island launched in January 2022.
Both panellists and attendees at the forum laud the appeal of the emirate's natural landscape and welcome business environment.
Experts are also in unison that measures have to be put into place to ensure "the environment is not harmed by new developments".
"Sustainability is already key for Al-Marjan Island," said Abdulla al-Abdouli, CEO of Marjan. "It's not just a word or criteria to be fulfilled – it is an action that we've already taken."
Al-Abdouli explained how the island was designed with four waterway channels to ensure water quality and preserve surrounding marine ecology.
"At every stage of development, we ensure the environment is not harmed. We have followed international standards of marine ecology when the island was formed and will continue to do so with future reclamations as well."
Sameh Muhtadi, CEO of real estate developer RAK Properties, takes on a similar tone.
"Taking care of the planet is as critical to us as taking care of our clients or employees," he said. "There are low-hanging fruits, such as reusing water for landscaping and recycling plastics, that can be an easy way to begin the journey towards sustainability.
"But equally relevant is establishing a committee to oversee best practices within the organisation. As major developers, we owe it to our industry and to Ras al-Khaimah to imbibe greater sustainability in our projects."
Building green
Regulations and policymakers have an equally relevant role to play when it comes to levying better environmental practices.
Introduced in 2019, the Barjeel green building regulations mandate energy and water saving targets as part of Ras al-Khaimah's Energy Efficiency and Renewable Energy Strategy 2040. The regulations aim to reduce water and energy consumption by 30 per cent in all new buildings in the emirate.
The recently awarded Rove Hotel is the first hotel project on Al-Marjan Island to be built as per the Barjeel standards.
Al-Abdouli credits the Ras al-Khaimah Municipality for seeing through the regulations.
"The regulations also include an incentive in the form of reduced fees. We find this approach to be very effective – it encourages developers, investors and owners to build more efficiently."
A challenge, however, is to cost-justify sustainable solutions deployed in new developments.
"As a developer, we've tried to incorporate greater sustainability in our villa projects, but customers are unwilling to pay the higher costs typically associated with such solutions," said Al-Hamra Group's CEO Benoy Kurien during the Ras al-Khaimah Real Estate Business Leaders Forum. "Building sustainably costs more. And ultimately, we are forced to reduce margins in a highly competitive environment."
Kurien emphasised the need for greater awareness, especially with the newer generation of buyers.
"The long-term benefits will only be seen if end-users change their mindset. Until then, developers will have to take up the mantle and drive a top-down approach."
And this currently remains to be the case. Stakeholders such as Abu Dhabi National Hotels (ADNH), an Abu Dhabi-based hotel developer and asset manager, have decided to integrate sustainability criteria into the scope of their planned 1,000-key resort project on Al-Marjan Island.
"I'm certain that even the brand that comes in to operate the hotel will have criteria that project stakeholders will need to abide by," said ADNH CEO Khalid Anib.
The AED1bn resort by ADNH will include two hotels sharing a single back of the house and will be operated by a yet-to-be-shortlisted operator in a franchise model. Construction is expected to commence in 2023.
"As an industry, we must learn how to deliver our projects within time and budget," said one attendee at the forum. "We can build sustainability in our contracts, ensuring it is a win-win situation for all.
"There is a massive opportunity to deliver things the right way in Ras al-Khaimah. All we need to do is put things in the right place now."
Ras al-Khaimah is actively integrating sustainability into its targeted strategy to grow its tourism sector. Led by the Ras al-Khaimah Tourism Development Authority (Raktda), the emirate mapped out a Sustainable Tourism Destination Strategy in September 2021, to serve as guiding principles for tourism infrastructure development and activities.

The strategy is also in line with Raktda's announcement of 20 new sustainable tourism projects valued at AED500m.

In December 2021, government entities, hotels and supporting industry members in the emirate gathered at the 2021 Global Citizen Forum to collectively see through the strategy's delivery by 2025.
Guiding principles: Sustainable Tourism Destination Strategy 2025
Protecting and enhancing the emirate's cultural and natural heritage
Delivering new sustainable tourism developments
Working with business, government and community partners to ensure economic returns from tourism investment and the development of human capital
Regular measurement and benchmarking
Minimising energy, water usage and waste generation across the destination
Respecting and safeguarding local culture and communities
02 January, 2023 | .By MEHAK SRIVASTAVA