Solar schemes no longer just vanity projects
23 July, 2019 | By Andrew Roscoe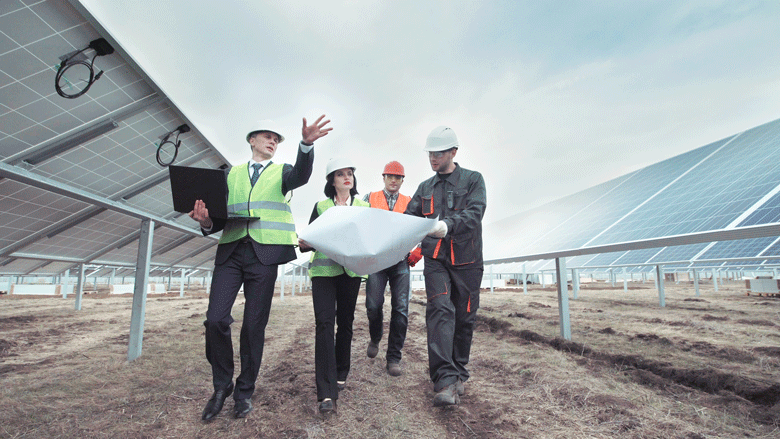 Abu Dhabi is pursuing more solar records with the launch of the procurement process for a planned 2GW solar project in Al-Dhafra
Days after commissioning the world's largest single-site solar project, Abu Dhabi initiated the procurement process for an even bigger, 2GW solar project to be located in Al-Dhafra.
The recently completed 1.17GW Sweihan photovoltaic (PV) solar plant attracted a world record-low tariff in September 2016. While the actual Sweihan tariff will be higher as the price will be based on evaluated weighted levelised electricity costs, which include adjustments for electrical energy provided, the 2.42$c/kWh tariff was the first time that an unsubsidised PV tariff had broken through the $3cent barrier.
This was not the first time that Abu Dhabi had pioneered the development of clean energy in the Gulf. The emirate was the first country in the Middle East and North Africa to install a utility-scale solar plant in 2013, when it commissioned the 100MW Shams concentrated solar power (CSP) project – which, at the time, was the largest CSP installation in the world.
While the latest 2GW project will generate more headlines, it also provides a clear indication of the emirate's strategy for producing energy. The peak power produced from the emirate's large PV plants will enable increased flexibility in the grid, with 5.6GW of baseload capacity due to come online in the next few years from the Barakah nuclear project being developed in Abu Dhabi's western region.
Increased grid flexibility will complement Abu Dhabi's move to decouple power and water, with contracts awarded in May for the world's largest reverse osmosis desalination plant at Taweelah.
The latest project shows that solar schemes are no longer simply vanity projects for the Gulf's oil-rich countries, but form a key part of long-term energy goals.
23 July, 2019 | .By Andrew Roscoe