Refinancing GCC retail
15 February, 2022 | By Richard Thompson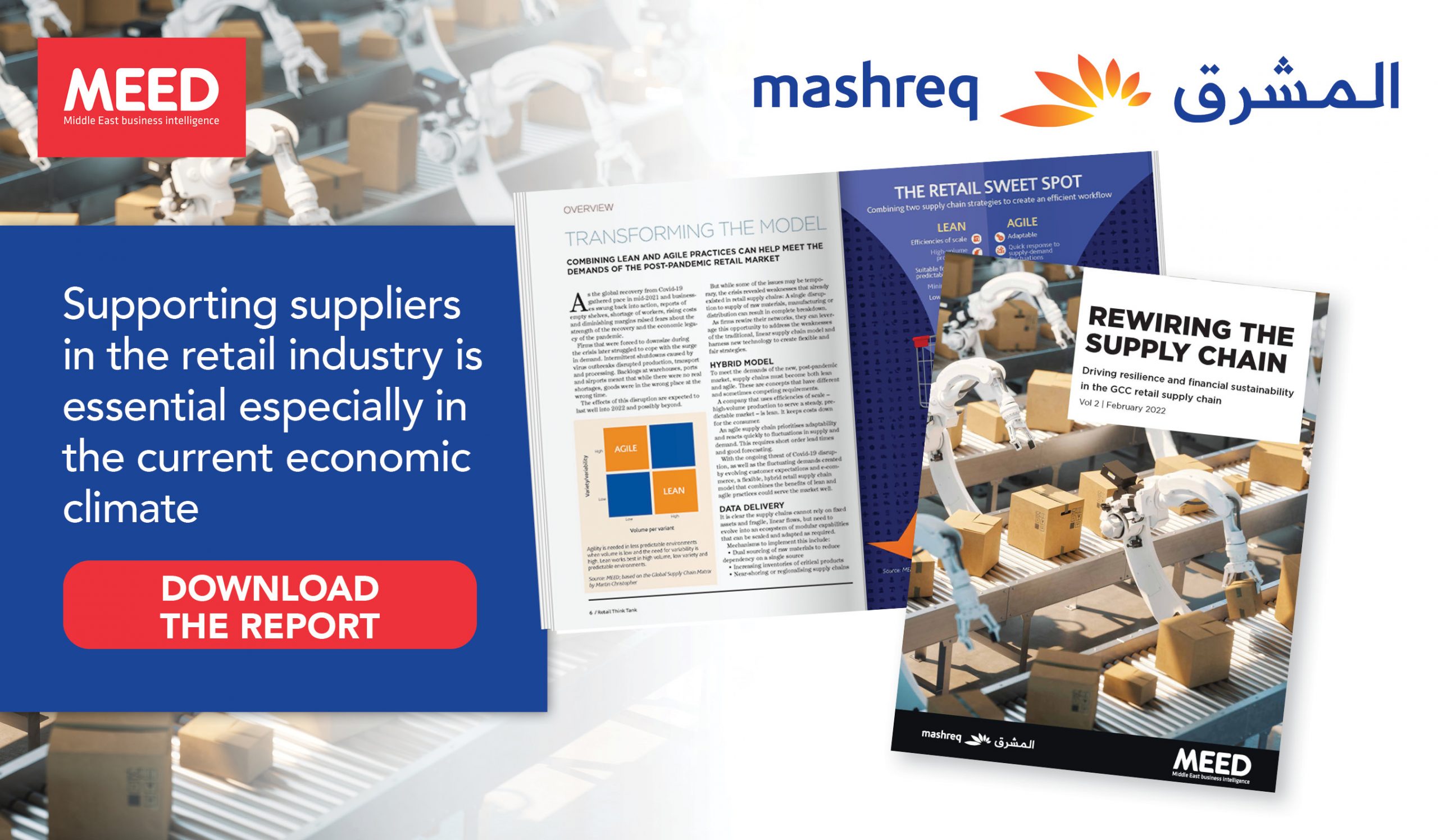 The second white paper from the UAE Retail Think Tank has recommended 26 actions to improve the resilience and sustainability of the retail industry in the GCC
Download your copy of the white paper here
Retailers in the GCC must come together with their banks to provide easier access to working capital to suppliers and manufacturers, a retail industry think tank has said.
In a white paper published in February 2022, the UAE Retail Industry Think Tank called for retailers and bankers to introduce supply chain finance programmes to make it easier for retail suppliers and buyers to gain access to capital.
The call for improved supply chain finance mechanisms is one of the 26 recommendations detailed in 'Rewiring the Supply Chain: Driving resilience and financial sustainability in the GCC retail supply chain', the second white paper published by UAE Retail Think Tank.
The think tank, which is organised by MEED in partnership with Mashreq Bank, says that retail suppliers are facing increasing financial pressure from the need to satisfy consumer expectations of the instant delivery of online purchases.
The need to hold increased volumes of stock to meet just-in-time delivery requirements is locking up the working capital of suppliers and manufacturers, making it increasingly difficult for them to finance their day-to-day operations.
The situation has been made worse by the disruption to shipping times caused by the Covid-19 pandemic.
The resultant tightening of liquidity is pushing many suppliers, many of which are small and medium sized enterprises (SMEs) to the point of bankruptcy, says the think tank.
The UAE Retail Industry Think Tank warns that without permanent support mechanisms in place, many businesses in the supply chain will collapse, damaging the entire retail ecosystem.
Explore findings from the first UAE Retail Think Tank
The white paper highlights the need to improve the resilience of the retail sector in the GCC and recommends several strategic actions that will introduce improve flexibility and efficiency in the retail industry supply chain. These include:
Dual sourcing of raw materials to reduce dependency on a single source
Increasing inventories of critical products
Near-shoring or regionalising supply chains
Increased investment in digital infrastructure
Greater use of data
Greater use of digital data technology will improve communication and visibility across the supply chain and will enable stakeholders to respond more quickly to market fluctuations and consumer demand.
Key recommendations from Rewiring the Supply Chain: Driving resilience and financial sustainability in the GCC retail supply chain:
Agility: Retailers need to adopt a hybrid model that combines both lean and agile practices and allows them to balance costs and demand. Achieving this will require diversification of supply base, third-party partnerships and outsourcing, and moving finishing processes closer to consumers.
Enablers: Industry stakeholders need to implement digital technology across the supply chain, to streamline feedback, transactions and monitoring processes. Greater investments in digital infrastructure are needed to enable this.
Supporting suppliers: Supply chain finance mechanisms, risk assessments and standardising environmental, societal and governance (ESG) compliance can help suppliers become more competitive and thrive in the post-pandemic landscape.
Logistics: Inefficiencies in storage and distribution networks can introduce complications across the supply chain. Solutions such as digital fleet management, nearshoring, improving warehousing capacity and centralised distribution hubs can enable a robust logistics network.
Collaboration: Retailers and their suppliers have much to benefit from by working together. Data-sharing is one critical component, to allow stakeholders to manage supply and demand more efficiently. Collaboration between physical stores and online retailers meanwhile can lead to customer collection hubs, avoiding the need for last-mile delivery and grouping costs.
Download your copy of the white paper here
15 February, 2022 | .By Richard Thompson