Regulating Construction: Adapting to New Standards
12 February, 2019 | By Richard Thompson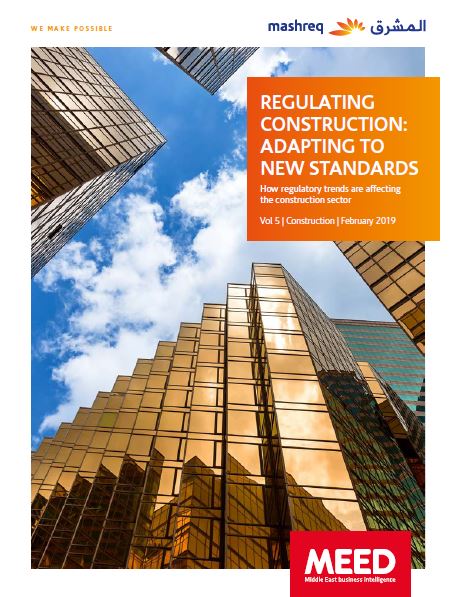 Regulatory changes pose challenges for companies and regulators. But they also provide opportunities
The Gulf construction industry is facing an important transition as it seeks to iron out the chronic weaknesses exposed by the downturn in regional project spending that followed the 2014 collapse in oil prices.
At the same time, the traditionally-slow-to-change industry is seeking to utilise new technologies such as digital design software, 3D printing and drones in order to improve productivity and efficiency.
While much of the transformation taking place in GCC construction is coming from within the industry, there are also changes taking place outside the industry that require action. Increasing regulatory standards and new legislation require construction companies to reform in order to avoid penalties.
Over the past two years, the MEED/Mashreq Construction Partnership has looked at how the construction industry in the UAE is responding to these challenges by harnessing new technologies in its planning, design and construction process. It has also examined the opportunity to transform client/contractor relations and improve project delivery with a fairer balance of risk allocation in contracts and earlier contractor involvement in the design phase of a project.
In our latest report which you can download here, the partnership looks at the role of government in shaping construction in the region through regulation and enforcement.
From financial rules and accountancy standards, through to environmental protection and health and safety on site, government regulation has a major impact on every aspect of the construction industry.
Take, for instance, the recently introduced Basel III regulations in the UAE, a gamechanger from both a banking and contractual perspective. While the regulatory framework improves a bank's ability to deal with financial stress and credit crisis—such as the one faced in 2007-08—the regulations increase borrowing costs for the construction sector, with long-term implications for the entire industry.
The upcoming Dubai Expo 2020 has turned international gaze towards the region, forcing contractors to adopt best industry practices. Health and safety, technology and innovation are the frontrunners here, but lack of clarity on the part of the regulators makes it difficult to gauge the standard or level of implementation.
At the same time, increased regulations can also lead to higher cost for all players, an expense not everyone is willing to bear.
As the region seeks to raise standards to match the highest levels of international scrutiny, it also raises the bar for construction companies to improve standards and to innovate to find more efficient ways of working.
EXECUTIVE SUMMARY
As international standards are tightened, greater consistency is required in enforcement of regulations
■ Regulations establish transparency and uniformity when it comes to stakeholder roles, duties and ethical responsibilities.
■ The global economic crisis of 2007-08 has forced the international banking and financing sector to re-evaluate its stance on capital requirements and contracting finance.
■ Banking regulations such as Basel III and International Financial Reporting Standard (IFRS) 9 were brought into force to focus on risk assessment of borrowers, which directly translates into increased cost of borrowing for contractors.
■ IFRS 15 defines revenue recognition periods based on the percentage of construction work completed rather than units delivered to a customer. This has helped smooth overall revenue recognition and reduce earnings volatility for listed companies. But many small and medium-sized enterprises (SMEs) are yet to adopt these standards.
■ Transitional changes have affected construction relationships in the year since valueadded tax (VAT) was introduced in the UAE and Saudi Arabia on 1 January 2018. Existing construction projects had to factor in extra costs, affecting already tightened cash flow.
■ Adoption of VAT regulations in member states such as Bahrain, where VAT has been implemented starting 1 January 2019, will impact cross-border transactions and investments.
■ Weak enforcement of regulations is a deep-seated problem for the impact of laws relating to health, safety and environment. Timely inspections can help keep the stakeholders in check.
■ In the UAE, there is additional inconsistency in standards and enforcement of regulations
across different emirates. A federal regulatory body could help curb this issue.
■ High-profile, world-level events such as Dubai Expo 2020 are boosting regulatory improvements
and adoption of best industry practice.
12 February, 2019 | .By Richard Thompson