Prospects start to brighten for GCC contractors
02 November, 2021 | By Richard Thompson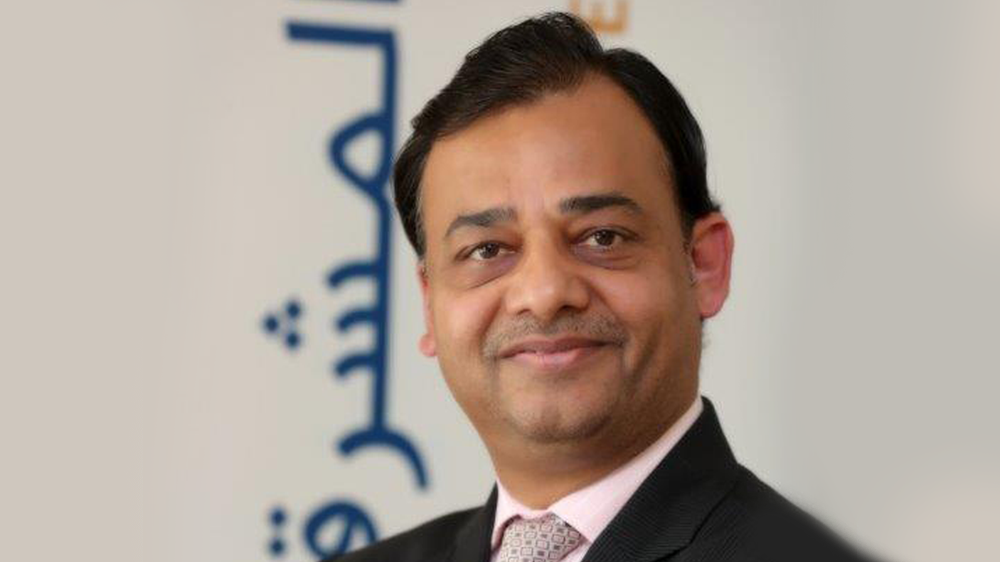 Outlook improving for contractors in the GCC, though challenges remain
Q&A with Arun Mathur, Senior vice-president and head of contracting finance, Mashreq Bank
Q: What state is the GCC construction market in at the end of 2021?
After five years of muted project spending and 20 months of Covid-19, the contractor market is not in the best shape. But the outlook for the next 12-18 months is improving, with stabilising oil prices and successful vaccination drives.
Nearly $100bn-worth of construction contracts are at some stage of procurement and I anticipate the majority will be awarded by the end of 2022. One of the unexpected outcomes of Covid-19 is the faster adoption of digital technologies by construction companies, which includes building information modelling, internet of things and drones to improve safety and surveying.
Going forward, companies need to be agile and flexible, so that they display better resilience in managing their cost structures, communicate effectively with their stakeholders, outsource to reduce costs and use digital tools.
Q: How has Mashreq Bank supported contractors through the recent challenges?
We have tried to remain close to our customers and understand their problems. Whenever a contractor has faced an issue, we have supported them by providing additional funding lines and ensured they have the necessary tools to complete the project.
Q: Where do you see project opportunities in the region?
We are interested in projects that are strategic in nature and add economic value to the region. In the UAE, our home market, major projects to be awarded include the Borouge petrochemicals project and the subsea transmission line project.
But we are also looking closely at our presence outside the UAE. In Saudi Arabia, the $500bn Neom future city and the Qiddiya entertainment city project, as well as other Vision 2030 masterplan projects, are of key interest. We are also reviewing projects in Kuwait, Qatar and Bahrain.
Outside the GCC, we expect to see investments in Egypt as a growing economy. Projects related to water, wastewater and sewage treatment are already under way or in the pipeline. We see foreign investments flowing into the country. We are supporting contractors working on the upgrade of Alexandria airport, which is supported by the Japanese export credit agencies (ECAs).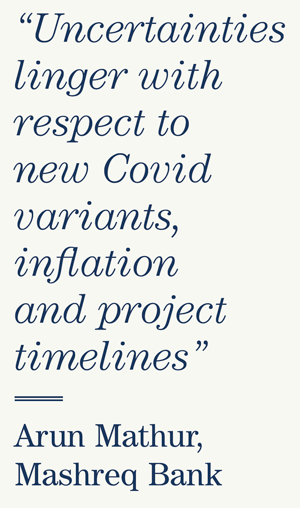 Q: What challenges face the contracting sector in the coming years?
Things are improving, but at the same time uncertainties linger, especially with respect to new Covid variants, inflation and project timelines.
People are particularly worried about inflation. We are discussing cost plus contracts with our clients. But again, that is a rarity in this market.
We advise our clients to share more details upfront, especially when it comes to major commodities or raw materials for projects. We encourage them to engage with our treasury teams, to help provide them with hedging solutions to ensure cost stays under control.
Q: Are the needs and focus of contractor clients changing?
The focus is on decarbonisation and renewable energy. Even in terms of financing, we see greater awareness of environmental, social and governance (ESG) factors, which many investors consider as a non-financial element before committing new investments.
Green financing is gaining prominence. And these investors are interested in projects that can help limit
carbon content. From a project point of view and a new investment point of view, this is very relevant.
Localisation is another important area. Many projects, especially in oil and gas, have In-Country Value
requirements. When it comes to large projects, international contractors are tying up with local players to ensure they achieve localisation targets.
Q: How has Mashreq Bank's approach to contractor financing adapted to market conditions?
Due diligence has increased in terms of understanding contractors' risk profile.
Next, when it comes to projects that are of economic value and strategic, the bank will continue to support them. And once we back a contractor on a project, we will provide the entire range or suite of working capital facilities required to successfully complete the project.
What we need is greater clarity from the contractor on requirements upfront, as well as stronger communication with the project owners.
Contracting finance has been a dedicated segment in the bank since 1991. We understand the requirements of the contractors very well.
And in case a contractor has additional requirements even in the middle of the project, we are happy to
support them.
Q: Is there a shortage of money?
Financing is scarcer. But different procurement methods are coming up, including the likes of public-private partnerships (PPP) and build, operate, transfer (BOT) models. Indeed, there are talks of the Bahrain metro being financed as a PPP.
We have previously seen that PPP projects were mainly limited to water and power developments, but are now being extended to other segments too.
I also see ECAs financing projects in the region. In fact, we have supported one of our clients for the Yanbu 4 project in Saudi Arabia, where the Export-Import Bank of Korea is providing part financing to ensure the project progresses without any impediments.
02 November, 2021 | .By Richard Thompson