Overview of Dental Care Services in the UAE
29 August, 2021 | By Mashreq in Knowledge Partnership with JLL
Dental health is integral to the general health and well-being of the population. Certain lifestyle choices affect dental health such as tobacco use, excessive alcohol use, and poor dietary choices such as high consumption of sugar etc. Also, prevalence of chronic conditions such as diabetes led to many adverse oral conditions.
Comparison of key UAE regions to benchmarks in other developed countries shows a clear gap in the dental care segment[1]: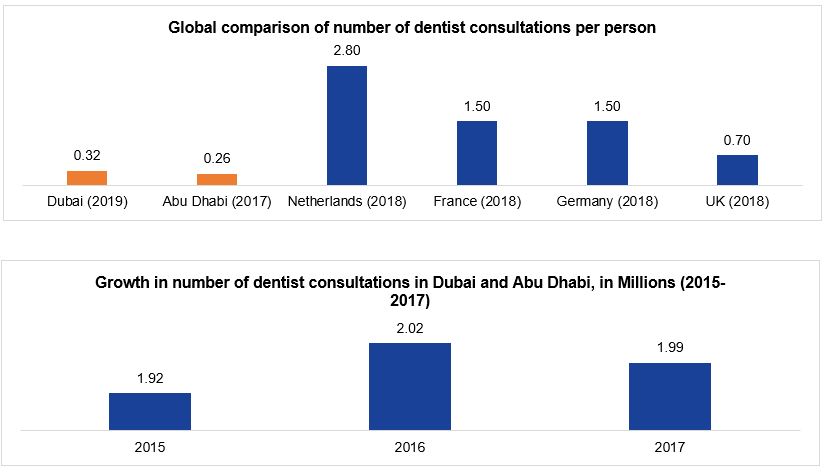 The combined outpatient consultations have grown at a CAGR of 1.6% between 2015 and 2017 in Dubai and Abu Dhabi[2], indicating comparatively slower growth in the dental care segment as compared to other specialties.
General consultations and diagnosis comprise majority of dental care volumes in the other countries like UK and Germany, indicating stress on primary care and prevention. Whereas current dental service offerings in the UAE are focused on treatment rather than prevention. Key reasons for the gap in dental care segment are:
Lack of awareness about importance of dental treatments
Minimal focus on annual health check ups
High cost of dental treatment
Limited insurance coverage for even basic dentistry
Lack of awareness about current insurance coverage and limits
Various formats of dental centres available in the UAE are mentioned below.

Specialised centres are gaining significance and many chains currently exist in the market. UAE is a major medical tourism destination and dental services being one of the most sought-after services, the segment is expected to evolve further. The country needs to build an effective health infrastructure that meets the oral health needs of its population and integrates oral health effectively into overall health.
[1] OECD Health Statistics 2020; Eurostat Database, Annual DHA health report, 2019, DoH- Abu Dhabi report-2017 as per latest availability of data, JLL- Healthcare Analysis
[2] Annual DHA health report, DoH- Abu Dhabi report, OP visit data has been available till 2017 only for Abu Dhabi. Hence, similar period has been considered for Dubai to analyse the combined number of visits, JLL- Healthcare Analsyis
29 August, 2021 | .By Mashreq in Knowledge Partnership with JLL