Optimising value from oil assets with tertiary recovery
29 January, 2018 | By INDRAJIT SEN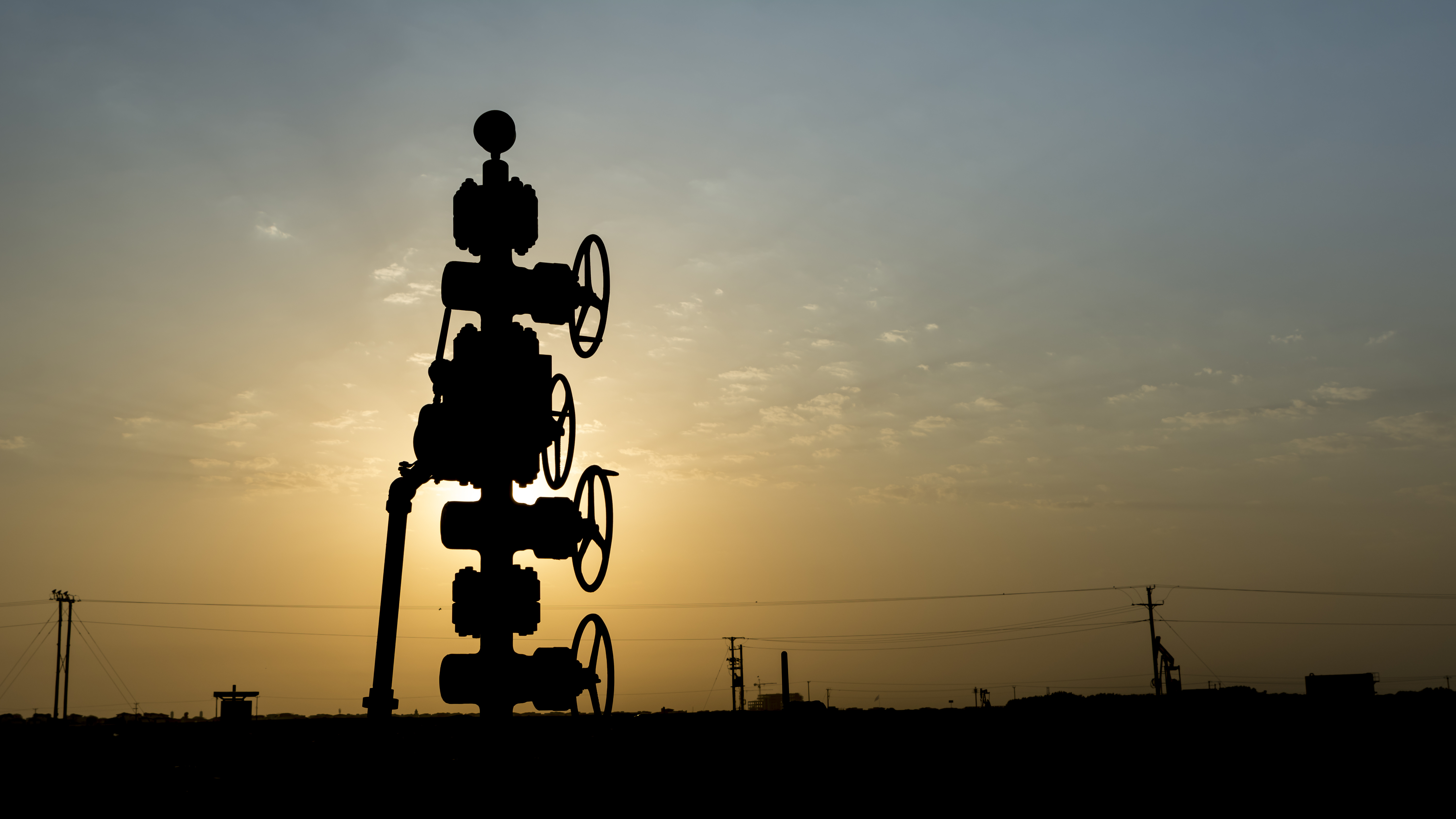 Enhanced oil recovery represents the leading front for oil extraction capacity expansion in the Gulf
Enhanced oil recovery (EOR) in the Middle East took a leap forward in November with the completion of the first phase of Oman's Miraah solar-powered thermal injection project. This scaled-up scheme by Petroleum Development Oman (PDO) and GlassPoint is now delivering steam for injection into the Amal West oil field at a 55 per cent cost saving compared to the efficiencies achieved in its already successful pilot phase.
The project is just the latest in a series of EOR programmes springing up across the Gulf in a demonstration of the growing viability and increasingly mainstream role of tertiary recovery in extraction.
The situation is a far cry from the state of play a few years ago, when, despite its sporadic use on Middle East oil and gas projects since as early as the 1960s, EOR remained on the sidelines of routine extractive operations.
Since the drop in crude oil prices from late 2014, however, EOR has been embraced by Gulf oil majors as a way of both optimising the productivity of their oil fields and maximising the value of their returns.
Tertiary recovery
With the global average oil recovery rate from an onshore oil field using primary and secondary extraction methods hovering at about 30 per cent, it is no longer feasible for national oil companies (NOCs) to leave 60-70 per cent of an oil asset behind. This means turning to tertiary oil recovery methods to boost oil extraction.
The growing alignment of EOR with the broader strategic objectives of the GCC's oil and gas reform agenda has also organically led to tertiary recovery taking up a preeminent role in the efforts being made by NOCs to make the most of their assets.
Kuwait's assets
One NOC with ambitious plans is Kuwait Oil Company (KOC), which has adopted an EOR strategy balancing chemical-injection and thermal-based methodologies to boost oil production from 3.2 million barrels a day (b/d) to about 4 million b/d by 2020.
KOC's reservoir assets in the north of the country are largely heavy oil, which is challenging to extract. In August last year, the company began to address this by exploring the use of chemical EOR to ramp up production from its northern assets from 300,000 b/d to 1 million b/d – mainly through injecting surfactants, nano-chemicals and polymer flooding.
KOC's Lower Fars heavy oil development project – an estimated $7bn scheme to tap into the also northerly Ratqa field – is also using a solar-generated steam injection method akin to PDO's efforts.
The bulk of the Ratqa field's reserves are located in the Lower Fars reservoir, which is a shallow-depth, multi-stacked sandstone reservoir containing oil of varying viscosities. KOC is developing the field in phases through solar EOR, with the first phase slated to produce 60,000 b/d of oil in mid-2019, before rising to an ultimate output of 250,000 b/d by 2030.
Aramco trials
Saudi Arabia, on the other hand, is currently restraining its output to 10 million b/d, as part of its commitment to the Opec/non-Opec agreement to reduce global oil supply – making it a seemingly unlikely time for technological exploration. Despite this, Saudi Aramco is also conducting trials of EOR methodologies in a bid to drive greater value from its oil assets.
Aramco is known to be testing chemical-injection methods at the Ghawar oil field, as well as investing in a 'SmartWater flooding technology' to be used in the future – in an example of an EOR project aimed at long-term operational efficiency.
It has been reported that Bahrain may also be looking at EOR to boost output from the Bahrain Field, the first oil field to be discovered in the Gulf.
Adnoc's plans
The EOR roadmap of the Abu Dhabi National Oil Company (Adnoc) is another prime example of the future gazing of the regional oil industry.
Much like Aramco, Adnoc has high-yielding oil assets and is one of the few NOCs that can boast of up to 50 per cent recovery rates from its oil fields using primary and secondary extraction procedures. In spite of this, the UAE oil giant intends to aim for a recovery rate of 70 per cent, with the additional 20 per cent to be provided by a mix of chemical and gas-based EOR.
Huge potential
Adnoc has been using EOR since 1996, and in 2009 became the first NOC in the world to replace rich gas with carbon dioxide (CO2) for gas injection-based EOR. The company has 10 EOR projects under way across Adnoc's onshore fields including Sahil, Bab and Northeast Bab, according to Ayesha al-Marzouqi, manager of Adnoc's enhanced oil recovery department.
"We are currently producing about 200,000 b/d from EOR activities, from a total of 3 million b/d. This tells you that this is a very modest production [6.66 per cent of total output] and shows the great potential that we have in our reservoirs," she tells MEED.
Adnoc is now working towards developing EOR concepts customised to its specific upstream requirements, and is planning to commission a series of four EOR pilot projects beginning in 2021.
Al-Marzouqi details: "We have simultaneous injection of polymer and water in the Asab field; another pilot of simultaneous injection of polymers and gas in the Bab field; a pilot of simultaneous injection of water and gas at Buhaisa field; and water alternating gas at another reservoir in the Asab field. The expectation is that we are going to evaluate the results of those pilots in the middle of the next decade, and then we are going to decide on the full-field development of those four concepts."
Oman geology
Despite other Gulf producers taking bold steps towards mastering EOR, Oman remains the regional leader in the sector, driven by its urgent need to salvage oil trapped in tricky geological formations and its maturing reservoirs.
The pioneering Miraah project at Oman's southern Amal oil field has been planned as a sequenced programme, with the development of each steam-generation system in independent blocks, to support immediate operational commencement.
GlassPoint's use of its signature greenhouse structures to house the project's reflective mirrors also grants it significant operational cost and performance advantages over exposed solar designs. Upon full completion, Miraah will deliver 1,021MW of peak thermal energy to generate 6,000 tonnes of steam a day, to be used for heavy oil production.
The project is also furthering Omanisation goals. As Ben Bierman, acting CEO of GlassPoint, notes: "This project is helping to put Oman on the global solar energy map, creating new jobs and developing expertise in solar technology innovation, project deployment and manufacturing."
The success of any EOR methodology, however, depends on tailoring it to the geological demands of the reservoir, as well as the balance achieved between a scheme's cost and the NOC's broader oil production goals.
Field testing
Research and development plays a key role in improving EOR, and Gulf oil players are investing substantial resources in the development of well informed, empirical approaches to their EOR implementation.
"Adnoc is working in collaboration with leading UAE and foreign universities around the world," says Al-Marzouqi. "We are carrying out projects with Harvard University on low saline water-based EOR and carbonated water EOR. We have another project on polymer flooding with Bergen University in Norway and Khalifa University in Abu Dhabi, and we have a project with Rice University on foam injection. We also have a project on digital rock physics (DRP) with Imperial College, London."
Adnoc is also looking to ride the digitalisation wave sweeping the oil segment, and should the oil major's direction be mirrored across the Gulf, the region's EOR will be transformed by digital concepts.
"When we talk about digitalisation, we have evaluated the current water flood performance using data-driven analysis techniques and artificial intelligence. We have done this in four of our onshore reservoirs: Buhaisa, Bab, Asab and Northeast Bab. Adnoc is on the path of digital transformation, and seeks to get value from the Big Data that we have," says Al-Marzouqi.
"We are approaching [EOR with] data-driven modelling and artificial intelligence (AI). Another example of AI is DRP; we are studying the rocks from the micro to the macro scale. This will help us understand our rock properties better, which will reduce costs, increase efficiency, and allow us to design our models more rapidly than before. We understand that digital technologies are something new, but Adnoc is working on all opportunities in this area."
EOR clearly represents the leading front for oil extraction capacity expansion in the Gulf, and a key focus of investment by the region's NOCs, and all signs suggest EOR's star will only continue to rise.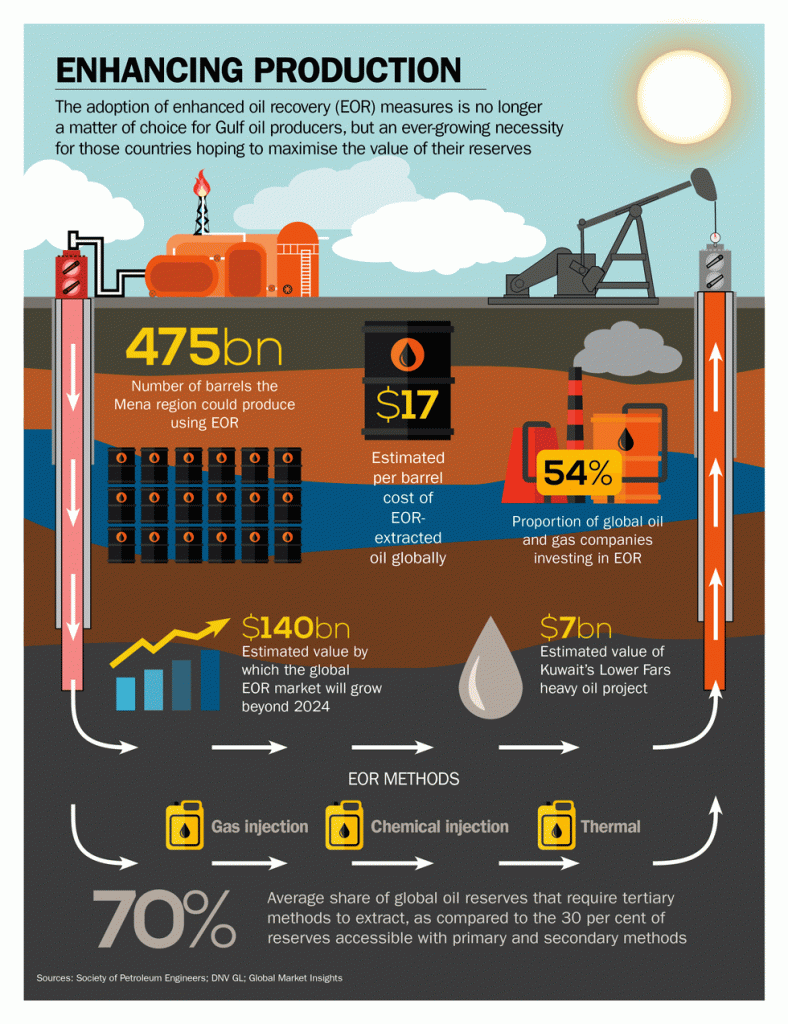 29 January, 2018 | .By INDRAJIT SEN