Oman construction shows signs of recovery
12 January, 2020 | By Colin Foreman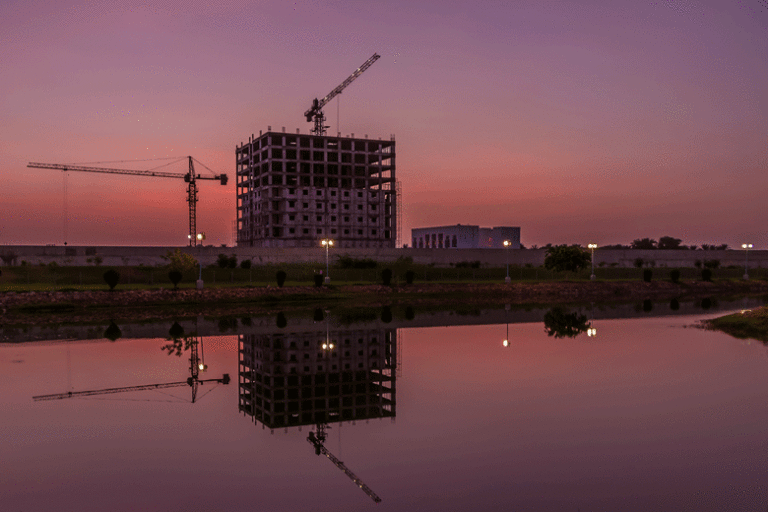 An improvement in non-hydrocarbon GDP growth is benefiting the sultanate's construction sector, with $2.4bn of contract awards so far this year and more expected in 2020
Oman's construction market has endured a rough ride over the past five years as the sultanate's economy struggled with the challenge of persistently low oil prices.
Since 2014, there has been a steady decline in the total value of construction contracts awarded in Oman. At the same time, the value of contracts completed has increased as work finishes on projects that were started during the peak years of 2013 and 2014.
Construction and transport contract awards in the sultanate totalled $9.2bn in 2014. Taken together with the $3bn of contracts that were completed that year, there was a net gain of $6.2bn of projects.
In 2015, the net gain turned into a loss of about $2bn of contracts, with $51.bn of awards and $7.1bn of completions, and by 2018 there was a net loss of nearly $6bn of contracts, with $8bn of completions and just $2bn of awards.
Green shoots
After four bad years, the numbers for 2019 show signs of recovery. The Washington-based IMF said in April that Oman's economy is gradually recovering after oil prices bottomed in early 2016. The fund added that the increase in non-hydrocarbon GDP growth reflected higher confidence driven by a rebound in oil prices and higher government spending.
The improvement in non-hydrocarbon GDP growth has been tracked by the construction sector, and by 4 December 2019 there had been $2.4bn of contract awards and $2.8bn of contract completions, giving a net loss of about $400m.
As the outlook improves, the challenge for construction companies will be identifying where the opportunities for future work will come from.
Industrial base
Over the past four years, the focus of investment in Oman has been on developing the sultanate's industrial base, primarily at Duqm where new port facilities are being built to support an array of projects, including the special economic zone's refinery scheme. While these schemes are industrial and oil and gas projects, they have created significant volumes of work for the construction and transport sectors, with contracts for the port, roads and other supporting infrastructure.
Duqm is not the only industrial area being developing in Oman. There are also plans to expand industrial areas in Sohar, Rusayl and Barka.
Sohar expansion
For Sohar, there is an expansion to the existing port and free zone that will extend the port's waterfront area on its southern boundaries and increase the free zone's 20 square-kilometre land area by 10 per cent.
Sohar Industrial Port Company (SIPC) tendered the dredging, reclamation and shore protection contract for the second phase of the Sohar Port South development in 2019. Work for the first phase started in 2018 after SIPC awarded the construction contract to Belgium's Dredging International.
Rusayl PPP
For Rusayl Industrial City, the Public Establishment for Industrial Estates (Madayn) has awarded Oman Investment & Development Holding Company (Mubadrah) a public-private partnership (PPP) contract to manage and expand the industrial centre, which is located about 20km outside of Muscat and covers an area of about 8 sq km. The deal covers the existing operations at the industrial city and the development of new buildings and infrastructure.
Barka hub
In Barka, the 52 sq km Khazaen Economic City is also being developed as a PPP project. Positioned between Muscat and Sohar, the development is envisaged as Oman's northern logistics hub, connecting many key projects across the sultanate through its planned dry port facilities. It also includes the establishment of residential, commercial and industrial zones, as well as a business hub.
Further PPP activity
The PPP model is being used to develop other construction projects too. Oman Global Logistics Group (Asyad) has invited firms to bid for a 50-year contract to design, build, finance, maintain and transfer a proposed transport hub that also includes mixed-use, commercial and residential buildings, hotels, public facilities, retail shops and offices.
The Burj al-Sahwa transport hub is to be located on approximately 41,952 square metres of land in the Seeb area of Muscat.
The most high-profile real estate scheme is the Mina al-Sultan Qaboos project in Muscat.
UAE-based developer Damac is developing the project and this year selected Kuwait's SSH to carry out design consultancy services for the buildings and components of Zone 1 – Bab al-Mina. The Bab al-Mina zone covers a built-up area of approximately 150,000 sq m and includes a four-star hotel, residential blocks comprising 430 units, and several retail and entertainment offerings.
Traditional contracts
Investors are also developing projects on a more traditional basis. India's Larsen & Toubro has been awarded the contract to build the 150-key Mandarin Oriental hotel in Muscat for local development company Eagle Hills Muscat, which is a partnership between Abu Dhabi's Eagle Hills and the local Izz International.
Larger, longer-term schemes are also planned. In June 2018, Oman Tourism Development Company (Omran) and Dubai-based Majid al-Futtaim (Maf) formed a joint venture to develop the RO5bn ($13bn) western area of the Madinat al-Irfan development in Muscat.
The mixed-use development will cover an area of 4.5 sq km next to the Oman Convention & Exhibition Centre (OCEC) and will be completed in three stages over a 20-year period. It will have 11,000 residential units comprising villas, townhouses and apartments, 100,000 sq m of retail space and 700,000 sq m of office space, as well as a number of cultural and lifestyle offerings.
12 January, 2020 | .By Colin Foreman