New strategies tackle rising water demand
19 January, 2020 | By Andrew Roscoe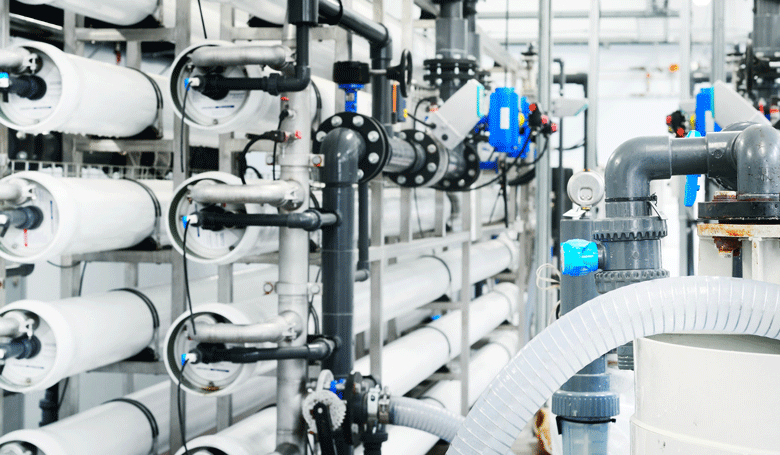 Governments are looking at decoupling water and power production as well as encouraging private investment to meet rising demand
Meeting the rising demand for water will remain one of the most pressing concerns for governments in the Middle East and North Africa in 2020.
As demand for water increases, groundwater reserves are depleting and utilities are pushing ahead with major programmes to increase desalination and water treatment capacities. MEED estimates demand in the GCC will rise by a total of 62 per cent between 2017 and 2025, which will require installed desalination capacity to reach 4,563 million imperial gallons a day (MIGD), an increase of 65 per cent on current capacity.
While the GCC has relied on desalination to meet a significant proportion of its water needs for half a century, Arab countries in North Africa are also increasingly seeking to develop desalination capacity to meet rapid demand growth.
The approach to developing desalination projects is changing significantly, with utilities moving to decouple water production from power generation to conserve energy and increase grid flexibility. Governments are also striving to improve wastewater infrastructure and increase levels of treated sewage effluent (TSE) reuse to reduce pressure on desalination and groundwater supplies.
The procurement models for developing water infrastructure are also changing, with the private sector to drive investment in new projects in 2020.
One of the key trends in the region's water sector is the decoupling of water production from power generation. Traditionally, the Gulf's utilities desalinated water through energy-intensive thermal processes, mainly multi-effect distillation or multi-stage flash, where water production was connected to large power plants.
However, almost all of the most recent and planned desalination projects in the region are reverse osmosis (RO) plants, where water is filtered through membranes. RO is much less energy-intensive and allows utilities to separate desalination facilities from power plants. The separation of the desalination process from power generation increases the flexibility and efficiency of grids, reducing energy costs and carbon emissions.
In late October, Abu Dhabi's Emirates Water & Electricity Company announced that financial close had been reached for the $869m Taweelah independent water project (IWP), the emirate's first standalone desalination plant to be developed by the private sector. The 200MIGD plant will be the world's largest RO desalination facility and will increase the flexibility of Abu Dhabi's utilities network, with significant power capacity due to come online from major photovoltaic (PV) solar projects and the 5.8GW Barakah nuclear power plant in the coming years.
Market opportunities
Unsurprisingly, Saudi Arabia, the region's largest utilities market and the world's largest producer of desalinated water, is offering the most lucrative opportunities for investors and contractors. The advent of IWPs in 2019 has already had an impact on contract awards in the kingdom's water sector, with $5.2bn-worth of contract awards for the first 10 months of 2019, up significantly on the $3.8bn awarded for the whole of 2018.
The signing of the deal for the Rabigh 3 IWP in December 2018 marked the first standalone desalination public-private partnership (PPP) in the kingdom. A consortium led by local developer Acwa Power signed the final agreements in March for the 500,000 cubic-metre-a-day (cm/d) project, which will require a total investment of $700m.
The Rabigh 3 award was followed in January by the award of the 450,000-cm/d Shuqaiq 3 IWP. The winning team was led by Japan's Marubeni Corporation and the local Abdul Latif Jameel.
Following the successful award of the Rabigh and Shuqaiq projects, Saudi Water Partnerships Company (SWPC), formerly named Water & Electricity Company (WEC), invited developers to submit proposals for the planned 450,000-cm/d Yanbu 4 IWP and the proposed 600,000-cm/d Jubail 3A IWP.
SWPC received bids from seven international consortiums for the Yanbu 4 IWP in October, and is due to receive proposals for the Jubail 3A scheme in early December. SWPC is planning to follow the submission of bids for the Jubail 3A project by issuing a tender for the next phase, the 570,000-cm/d Jubail 3B IWP, in the first quarter of 2020.
Following in the footsteps of neighbouring emirate Abu Dhabi, Dubai Electricity & Water Authority (Dewa) has invited prequalified developers to submit bids for Dubai's first privately financed desalination project – the 120MIGD Hassyan IWP – by 30 January.
Outside the Gulf, several contract awards for desalination and water treatment projects have contributed to unprecedented spending in the North African water sector. Egypt, which relies on the River Nile for more than 90 per cent of its water needs, is moving ahead with desalination projects and other water schemes such as agricultural run-off projects to diversify its sources of water.
According to regional projects tracker MEED Projects, $2.6bn of construction contracts were awarded for water projects in Egypt from January 2017 to July 2019, more than double the $1.2bn of deals inked in 2014-16. This significant step-up in investment shows the increasing demand for water across North Africa's most populous country. Investment in Egypt's water sector is expected to increase over the next two decades, with the launch of a National Plan for Water Resources in 2017, which set out initial plans for $20bn of projects by 2037.
While Egypt is pushing ahead with its water development programme through standard state-funded engineering, procurement and construction contracts due to the inability of its PPP Central Unit to make progress with plans, other North African states are relying on the private sector to deliver infrastructure.
Tunisia's Sonede let deals worth a total of $455m in 2018 for two desalination plants in Sousse and Zarrat Gabes. In September 2019, Tunisian Chemical Group received prequalification entries for a further desalination scheme in Gabes. The 25,000-cm/d project, which will be designed so it can be expanded to 50,000 cm/d, will be developed as a PPP project.
Algeria has commissioned 11 desalination projects since 2003, bringing the proportion of desalinated water in total supplies to about 17 per cent. The country is planning to tender two 300,000-cm/d desalination plants, which will be located in Zeralda and Bilda and are planned to be developed under build, operate, transfer (BOT) contracts.
PPP framework
A new theme to emerge for the region's water sector in 2019 is the potential for private sector investment in water transmission and storage projects. In addition to spearheading Saudi Arabia's IWP and PPP sewage treatment programmes, SWPC is planning to procure water infrastructure using PPP structures.
In August, the company appointed a consultant for a planned independent strategic water reservoir (ISWR) programe. The programme is expected to involve the development of six ISWRs, which will have the capacity to store almost 20 million cubic metres of water. While Saudi Arabia has established a handful of major water reservoirs in recent years, this is the first time it will develop storage facilities in partnership with the private sector.
Riyadh is also planning to develop three water transmission pipelines through a PPP model, the first projects of this type in the Middle East. SWPC received bids for the advisory services deal in August, and is expected to appoint an advisory team by the end of 2019. While a few water transmission pipeline projects have been developed as part of PPP projects globally, they have always been bundled along with a supply project and are part of a bulk water supply agreement rather than a separate concession.
The unprecedented PPP water transmission projects are the latest example of a regional utility seeking to devolve more responsibility for delivering infrastructure to the private sector. With Riyadh also committed to sell off existing water assets to the private sector, we can expect to see more innovative methods of delivering and operating regional water assets in the coming years.
19 January, 2020 | .By Andrew Roscoe