Ten Minutes into the Future of Energy
17 October, 2019 | By Richard Thompson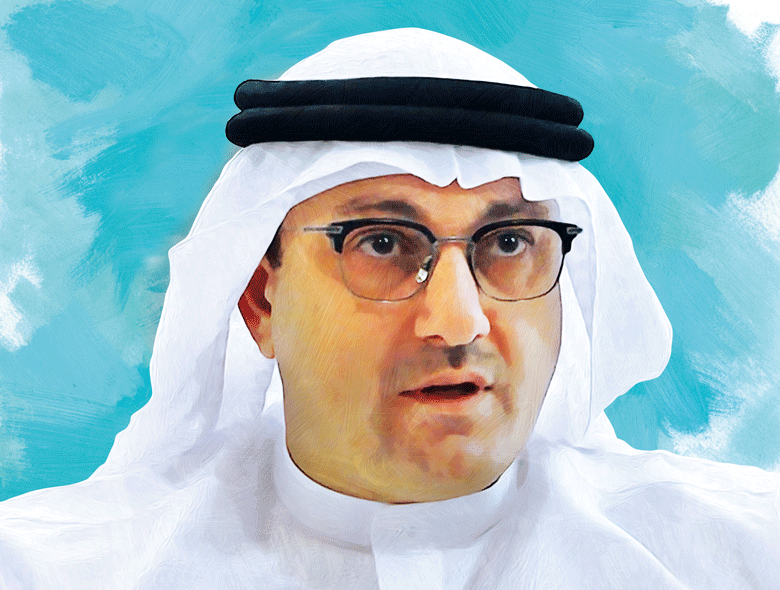 CEO Mohamed al-Ramahi tells MEED he plans to increase Masdar's international investments in renewable energy
Visitors to the headquarters of Masdar (Abu Dhabi Future Energy Company) cannot fail to notice the bright, blue-and-white boxes waiting silently outside the front entrance of the facility, contrasted starkly against the building's beige and concrete tones. 
They are a new generation of ultra-efficient electric buses developed by Masdar together with Abu Dhabi-based manufacturer Haifalat and Germany's Siemens. Combining a lightweight body and temperature-resistant, water-cooled batteries, the Eco-bus has been designed to provide sustainable mass transport in extremely hot and humid climates.
The Eco-bus is just one of countless sustainable technology innovations being tested and demonstrated by Masdar and for anyone visiting the city, it is always worth setting aside extra time to explore the campus.
Established in 2006 to promote renewable energy and sustainable urban development, Masdar has over the past 13 years established itself, and the UAE, as a leading player in shaping the future of global energy. 
Technology testbed
As well as investing in utility-scale, renewable energy projects across the Middle East and North Africa and internationally, Masdar provides a testbed for sustainable technology innovation that allows both developers and regulators to get to grips with new and disruptive green technologies ranging from driverless vehicles to smart electricity grids.
"We have the ability to implement future technologies within our community and test solutions," says Masdar CEO Mohamed al-Ramahi. "We provide reports, analysis and research around the solutions to the regulators. And if it makes sense, the regulator will make the necessary changes to implement these solutions." 
The Eco-bus is not the only eye-catching expression of future mobility on show at Masdar City. Elsewhere, visitors will find the pioneering bubble cars of the city's 2getthere driverless personal rapid transit system, which has been operating since 2010. The artistically inclined might be drawn to the organic curves of energy-efficient architecture that helps ensure water and energy demand is 40 per cent lower than that of the average building in Abu Dhabi, while others will be interested in the solar energy technology on display. 
Watch the full interview below
"We have a mandate to take the technology solutions that we believe will be used as part of our future advancement, and make them more commercially viable," says Al-Ramahi.
"I think that is key. We cannot just buy a solution for the sake of buying a solution. If we believe that something is the right solution, we ask what we need to do to make it commercially viable to ensure the sustainability of the solution and its implementation."
Owned by the Abu Dhabi government's Mubadala Investment Company, Masdar seeks to be both a catalyst for renewable energy in the region and an early adopter of advanced clean technologies at scale internationally.
In a 10-year career at Masdar, Al-Ramahi has played an instrumental role in the company's emergence over the past decade. After driving substantial profit growth across the organisation, Al-Ramahi succeeded Ahmad Belhoul as CEO in February 2016. His appointment coincided with Masdar's 10th anniversary and further expansion of the firm's commercial portfolio as well as the award of several large-scale renewable energy projects.
As CEO, Al-Ramahi is responsible for Masdar's strategic development – no easy task in a market that is being rapidly transformed and splintered by new energy sources and technology. 
Access to energy
He says the biggest challenges facing global energy today are also the biggest opportunities for Masdar. One such challenge is the lack of access to reliable energy supplies. 
"With population growth, we have an absolute growth in demand, so efficiency is a key issue," he says. "We are becoming more efficient, particularly in urban communities in developed nations. But there are more than 600 million people around the world who have limited or no access to power. The challenge is to provide them with access to energy. Accessibility means distribution networks, grids, high voltage, medium voltage, and so on.
"So the enhancement of infrastructure that will transport energy to the end customer is needed," he says. "But it requires a lot of capital. It requires the right policies, and the right regulations to enable investors and developers to provide such infrastructure."
Renewable energy has a big role to play in meeting that challenge, he says. "You can move renewable energy into places that do not have infrastructure. Distributed solar, distributed wind, along with micro grids, are solutions that are available and they are competitive."
Many people question the reliability of renewable energy supplies, but Al-Ramahi disagrees. "It is reliable," he says. "And if you club it with electrical storage, which is available and also reliable, you can provide a sustainable base load of electricity."
Masdar has invested about $12bn in renewable energy projects, and has a renewable energy portfolio of 4GW of clean energy in operation and under-development across 25 countries. These projects displace nearly 5.4 million tonnes of carbon dioxide a year. The total electricity production of all Masdar's solar and wind projects is just over 10,680GWh annually. 
The company delivered the region's first solar photovoltaic (PV) plant, the 10MW Masdar City solar plant, and in April 2013 delivered the region's first concentrated solar power (CSP) plant, the 100MW Shams 1 in Abu Dhabi.
In June 2016, the Masdar-led Shuaa Energy 2 consortium with EDF Renewables was chosen to partner Dubai Electricity & Water Authority to develop the 800MW third phase of the Mohammed bin Rashid al-Maktoum Solar Park in Dubai, after quoting a record-low price for solar power generation of 2.99 $cents a kWh. The project will be one of the world's largest solar power plants in terms of electricity output when completed in 2020. 
Masdar is also on schedule to deliver Jordan's largest solar power plant, the 200MW Baynouna solar energy project, near Amman. The PV farm will power an estimated 160,000 homes and displace 360,000 tonnes of carbon dioxide emissions each year when completed in 2020.
In May, the Moroccan Agency for Sustainable Energy announced that a consortium of Masdar, EDF Renewables and Green of Africa had been awarded the contract to design, build, finance and operate the Noor Midelt phase 1 multi-technologies solar power plant. The 800MW project is the world's first advanced hybrid of CSP and PV technologies. It will provide dispatchable solar energy during the day and for five hours after sunset for a record-low tariff at peak hours of MD0.68 per kWh. "It is basically CSP thermal storage and it is a hybrid solution technology," says Al-Ramahi. 
"So can renewable energy play a role as a base load solution with competitive pricing today? Definitely, yes."
Transforming the grid
Smart grids that share energy among local communities will be another key transformation. "Homes in the future will talk to other homes within the neighbourhood," says Al-Ramahi. "You will sell your power, your access to power to your neighbour and buy power from your neighbour whenever you need it. All connected to smart grids. With smart metering, everybody's talking to each other. It's all digital. It's all big data. And then artificial intelligence manages the whole system. It is already here. You cannot ignore it. In my view, it all depends on deregulation of the state itself, which will allow that flexibility," he says.
Al-Ramahi says utilities still have a vital role because scale matters. "With scale you have efficiencies. With scale, you become more competitive. So you will have both."
Al-Ramahi plans to increase Masdar's international investments and says the company is currently involved in bidding for renewable energy projects in Tunisia and Uzbekistan. 
Saudi Arabia is a significant growth market for renewable energy investment. Together with EDF, Masdar was recently shortlisted by the kingdom's Renewable Energy Project Development Office as the preferred bidder for its 400MW Dumat al-Jandal wind project. One of the first renewable energy projects awarded under Saudi Arabia's 9.5GW pipeline of clean energy projects by 2023, the wind project will be developed under a 20-year power-purchase agreement with Saudi Power Procurement Company.
"There are several [other] projects coming up in Saudi Arabia and we are looking forward to getting more projects in the kingdom," says Al-Ramahi.
But with the UAE seeking to have 50 per cent of its energy mix coming from renewable and clean energy sources by 2050, Masdar's home market promises many opportunities.
"The UAE has a clear plan," he says. "And Masdar will continue to play a very important role in ensuring that the UAE achieves its target." 
17 October, 2019 | .By Richard Thompson