Middle East contract awards: September 2018
17 October, 2018 | By RICHARD THOMPSON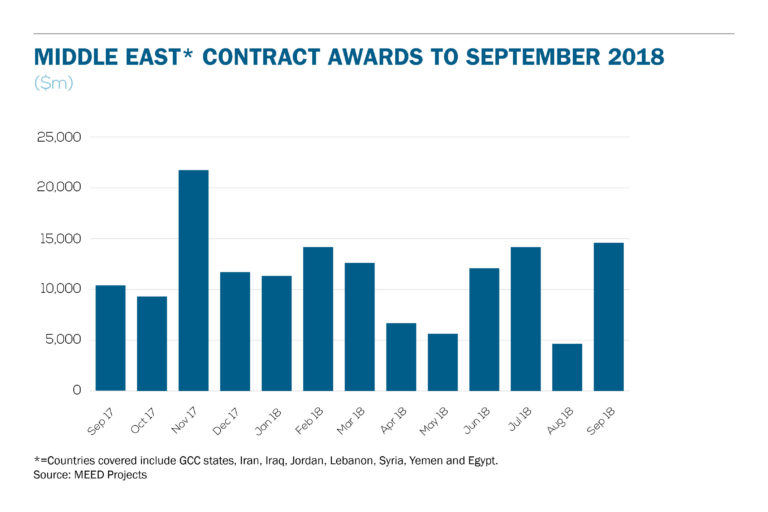 Egypt leads value of deals signed
Egypt helped the Middle East record the highest value of deals let to date in 2018, with the country's $7.8bn of contracts signed forming the largest contribution to the $14.6bn of deals awarded in the region in September.
September contract awards by country

Country
Award ($m)
Egypt
7,773
UAE
2,656
Iran
1,976
Saudi Arabia
817
Qatar
564
Kuwait
454
Bahrain
283
Oman
64
While the UAE added its usual $2bn-plus of contract awards to the total, the rest of the GCC failed to break the $1bn mark, with usual heavyweight Saudi Arabia signing only $817m of deals. This left Iran to bring up the total value of contracts let in the region, with the Islamic Republic awarding almost $2bn of deals.
The construction sector recorded the second-largest value of contracts signed in September, with $4.6bn of deals let. The largest was a $2.9bn contract awarded by Egypt's Administrative Capital City for Urban Development to CSCEC to construct the second phase of the central business district at The Capital Cairo development.The petrochemicals sector dominated the value of contracts signed in September, with the largest deal let in Egypt a $4.9bn contract awarded by the Ministry of Petroleum & Mineral Resources to China State Construction & Engineering Corporation (CSCEC) to build an 8 million-tonne refining and petrochemicals plant in the Suez Canal Economic Zone. Looking forward, the chemicals industry is predicted to present huge growth potential, with Abu Dhabi National Oil Company and other regional producers expecting petrochemicals to provide significant growth in the next two decades.
The transport industry recorded the third-largest value of deals let in September, with the largest a $1.4bn contract signed between Islamic Republic of Iran Railways and Italy's Ferrovie dello Stato Italiane for the construction of a high-speed rail project between the cities of Qom and Arak in Iran.
In keeping with the upward trend in monthly contract awards, the value of deals let in the third quarter of 2018 slightly surpassed the value recorded in the same period last year, with $33.4bn of contracts signed in the third quarter this year compared with $33.3bn in the third quarter of 2017.
Within the GCC, however, the trend for the remainder of the year appears grim, according to regional projects tracker MEED Projects. The tracker forecasts that on a pro rata basis, the value of awards in the bloc is unlikely reach $100bn this year, let alone the $120bn required to match last year's total, or the figure of $113bn recorded in 2016. While the UAE, Saudi Arabia and Bahrain are predicted to perform as expected, Kuwait, Qatar and Oman are forecast to do considerably worse than anticipated.
Contract awards as reported on meedprojects.com

Country Name
Project
Industry
Contract Value ($m)
Qatar
ASHGHAL – Health Center Package 6 (Al Meshaf )
Construction
30
UAE
Private Developer – Mall in Al Nahda (Permit number : 2018/1005)
Construction
10
Saudi Arabia
Al Madina Al Munawarah Development Authority – Wadi Al Aqeeq Rehabilitation
Transport
133
UAE
Al Falah Plaza – Lulu Hypermarket & Department Store at Al Saja'a
Construction
24
UAE
Transco : Shamkha – Sweihan 400kV OHL And Associated Substations (N-15924)
Power
50
Qatar
ASHGHAL – National Laboratories Building (BA 2017 C004G)
Construction
66
UAE
Al Fahim Group – Avani Hotel Suites & Branded Residences   (Plot No. A/002/038)
Construction
100
Qatar
ASHGHAL – LRDP – Doha West: West Muaither (Al Manaseer) P03
Transport
134
Kuwait
PAHW – Sabah Al Ahmed Township: 390 Apartment Complex (PAHW/M/1128-2017/2018)
Construction
110
Iran
IIRR – Qom-Arak High-Speed Rail Network
Transport
1,370
Kuwait
PAHW – West Abdullah Al-Mubarak : Public Buildings at Block 01,05&06 (Sector NA)
Construction
120
UAE
Deyaar – Midtown : Bella Rose
Construction
80
UAE
Binghatti Developers – Binghatti Boutique at Al Jaddaf
Construction
20
UAE
Binghatti Developers – Jumeirah Village Circle : Binghatti Gate
Construction
24
UAE
Private Developer – Dubailand: Residential Building at Majan (Plot No 6453197)
Construction
26
Saudi Arabia
RCJ&Y – P&C Of Red Crescent Building & Completion Of RIC Facilities
Construction
28
UAE
Dubai Properties – Dubailand : Villanova: Amaranta 3
Construction
120
UAE
Wasl – La Mer : Andaz Hotel
Construction
62
Saudi Arabia
RCJ&Y – Jubail Industrial City: Schools In Jalmudah & Mutrafiah
Construction
30
UAE
Borouge – Anteo Production Plant In Ruwais
Chemical
80
Egypt
Al Dau Development – Al Dau Strand
Construction
70
Qatar
ASHGHAL – Health Center Package 7 (Ain Khalid)
Construction
24
Saudi Arabia
Saudi Aramco – Labor Accommodation and Supporting Facilities Zone F1 (Package 8)
Construction
160
Saudi Arabia
Saudi Aramco – Labor Accommodation and Supporting Facilities Zone E (Package 9)
Construction
80
Egypt
ACCUD – The Capital Cairo: Central Business District Phase 2
Construction
2,800
Egypt
NREA – 26 MW PV Power Plant in Kom Ombo
Power
23
Egypt
MoP – Oil Refining and Petrochemical Complex in Suez Canal Economic Zone
Chemical
4,880
Iran
National Iranian Oil Company – Goureh – Jask Pipeline: Phase1 – Khuzestan
Oil
280
Saudi Arabia
RCJ&Y – Catering, Auditorium & Recreation Facilities (Tender No. 097-C76R)
Construction
100
UAE
Nakheel – Dragon City : Dragon Towers
Construction
150
UAE
Adnoc Onshore – OGD 0 & OGD II : Replacement of Aging Network
Gas
35
UAE
Transco – Mirfa Pumping Station & Pipeline to Madinat Zayed (N14673.2)
Water
38
UAE
Lootah Real Estate – DIP : Ewan Residence (Plot No : 598-1776)
Construction
10
Saudi Arabia
MMRA – Nakheel City (Dates)
Construction
26
Kuwait
PAHW – 400/132/11 kV Transformer Station at South Al Mutlaa (2Z)
Power
48
Qatar
Ashghal – Health Center at Al Wakra: Package 11
Construction
12
UAE
Aurora Real Estate – Hyati Avenue in JVC
Construction
5
Saudi Arabia
Saudi Aramco – MFD : Tanajib Gas Plant – Temporary Construction Facilities
Transport
100
Qatar
ASHGHAL – Health Center Package 10 (Al Sadd)
Construction
46
Iran
IIPGC – Crystal Melamine Petrochemical Park
Chemical
326
UAE
ADPC – Khalifa Port: 33/11 kV Substation (Tender No. 2101/235)
Power
19
Oman
PEIE – Expansion of Raysut Industrial Estate-Raysut 2(Tender-1/2018/PEIE/HQ-1)
Transport
40
UAE
Adnoc LNG – IGD Expansion 2
Gas
860
UAE
Nakheel – Dubai Waterfront: Madinat Al Arab (Infrastructure Works)
Transport
140
UAE
Nakheel – Jumeirah Park : The Hub
Construction
9
Kuwait
PAHW – 400/132/11 kV Transformer Station at South Al Mutlaa (4Z)
Power
48
Bahrain
MOW – SKBS Highway Widening Phase-1 (Al Farooq to Saar Interchange)
Transport
203
Saudi Arabia
SABIC – Yanbu Technology Center
Industrial
80
Saudi Arabia
Saudi Aramco – Offices and Supporting Facilities Zone F2 (Package 7)
Construction
80
UAE
Nshama – Town Square: Sama Townhouses
Construction
80
Bahrain
BAPCO – Refinery Upgrade: Asphalt Unit
Oil
80
Qatar
ASHGHAL – LRDP – Doha West: West Muaither (Al Manaseer) P02
Transport
153
Qatar
ASHGHAL – LRDP – Doha West : West Muaither (Al Manaseer) P01
Transport
99
UAE
Dar Al Khaleej – Warehouse & Office Building in Production City
Construction
12
Oman
SEZAD – Service Road at Aman District in Duqm (Tender No. 2/2018)
Transport
24
UAE
Park Line – Dubai Supreme Court complex
Construction
60
UAE
Pyrotec – Warehouse at JAFZA (Plot no. S60106)
Industrial
15
Kuwait
PAHW – 400/132/11 kV Transformer Station at South Al Mutlaa (3Z)
Power
48
UAE
SEWA – Layyah Power Station
Power
599
UAE
ARADA – Aljada Urban District: Infrastructure Package: Phase 1
Transport
28
Kuwait
KOC – 132/11 kV Substation & Associated Electrical Line Works in SE (Nos.3)
Power
80
Total
The full value for 61 projects across the Mena region
14,587
Data from meedprojects.com as of 10 October 2018. For more information, visit MEED Projects 
17 October, 2018 | .By RICHARD THOMPSON