Healthcare market assessment of KSA
30 June, 2022 | By Mashreq in Knowledge Partnership with JLL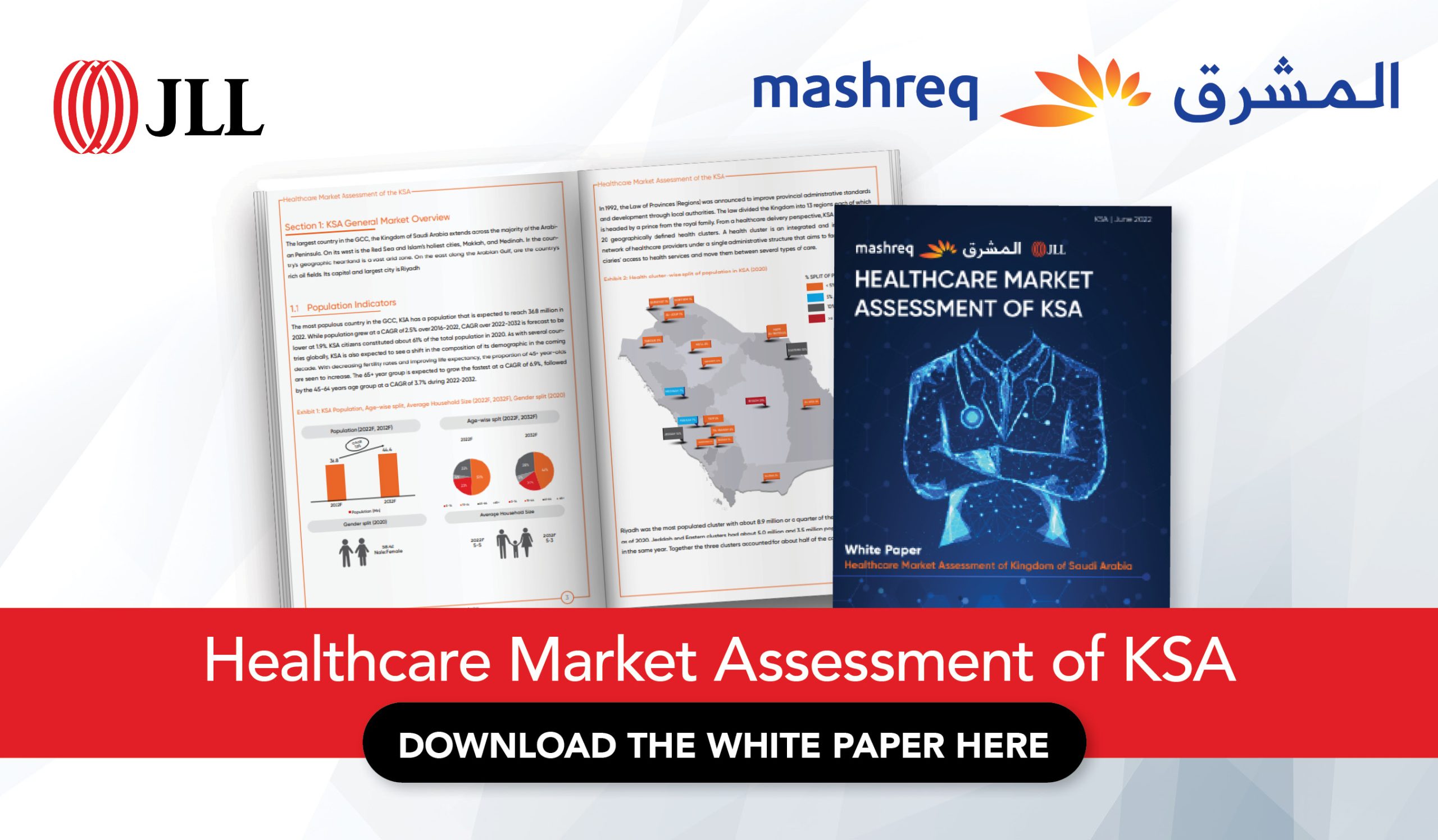 A large youth base and a rapidly ageing population with prevalence of chronic diseases are expected to triple healthcare demand in the next 10 years.
Rising prevalence of chronic diseases, untapped potential for localisation, and a well-established regulator ensuring ease of doing business, all add to the value proposition of investing in the healthcare market of KSA.
Going further, market growth will be driven by the following key opportunities:
PPP initiatives: Healthcare remains a top priority in the KSA with increasing private sector participation through various PPP initiatives leading to growth of the healthcare infrastructure
Specialised healthcare formats like Dental, Dermatology, Extended care etc.
Establishment of medical cities and COEs in specialties like Cardiac sciences, Orthopaedics, Oncology etc.
Primary healthcare: Focus on family and community medicine along with preventive health and wellness
Healthcare retail segment
Local manufacturing capabilities in pharmaceuticals, medical equipment, and consumables
Medical research in new areas of healthcare applications like Stem cell in specialties like Oncology, Organ transplant, Immunology etc.
Healthcare providers that have a high focus on high-end technology (clinical and IT) will have an advantage in the market as upgraded clinical technology helps significantly in attracting patients as well as star doctors and sta­ff in addition to ensuring best patient outcomes. Ensuring smooth patient pathways and patient flow within healthcare facilities will help providers in differentiating their service off­erings and being aligned with KSA's healthcare transformation vision. Increasing insurance penetration in future would boost the healthcare market access.
The standardisation of healthcare delivery through establishment of New Model of Care will further ensure quality of care in the Kingdom.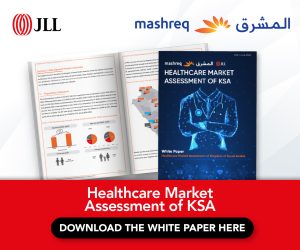 Opportunity also exists in the underserved health regions of the KSA, like development of healthcare clusters in Riyadh 3rd region, Baha region, Asir region and Alqunfudhah region etc. Also, there are greenfield projects coming up in underserved regions, like Abha Private Hospital project, Sulaiman Al Habib group's Al-Kharj Hospital etc. signifying growing opportunities in remote areas as players are increasingly investing in these underserved regions. Growth in these markets is also expected to drive the overall growth in the healthcare market in KSA.
30 June, 2022 | .By Mashreq in Knowledge Partnership with JLL