Gulf Projects Index plunges amid Covid-19
11 June, 2020 | By NEHA BHATIA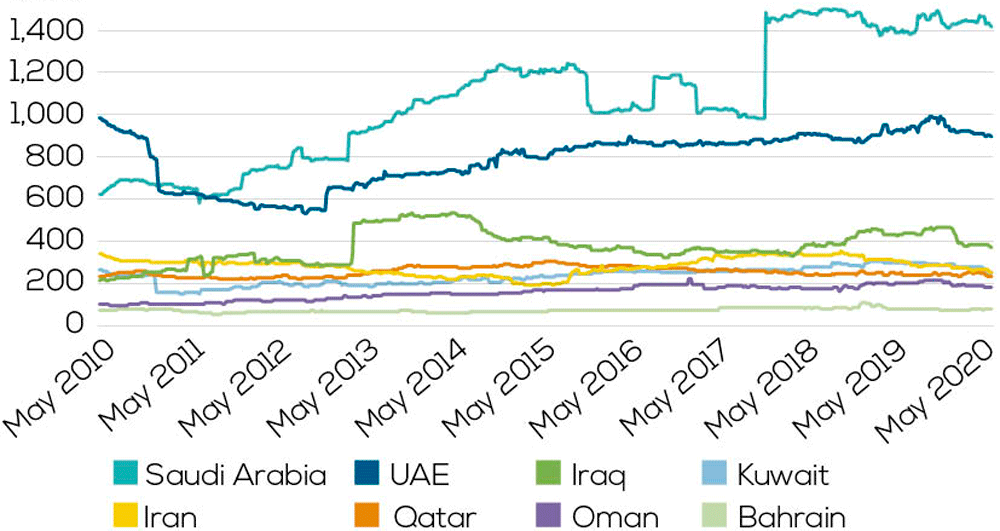 Global pandemic heralds project market declines across the board in the Gulf, as regional spending cuts and falling business confidence hit hard
Data shows value of projects planned or under way ($bn)
---
The value of the Gulf Projects Index declined by 2.9 per cent in the four weeks to 15 May, declining to $3.65tn from $3.76tn on 17 April.
Year-on-year, the market's value has declined by 5.4 per cent from $3.86tn, with Iran (-17.5 per cent), Iraq and Kuwait (-14.9 per cent each) experiencing the worst declines during the 12-month period.
All markets in the GCC, plus Iran and Iraq, witnessed declines between 17 April and 15 May. The value of the projects market in all six GCC states declined by 2.72 per cent from $3.1tn to $3tn over the period.
Region-wide declines
Kuwait's projects market was the worst performer of all eight countries tracked by the Gulf Projects Index, falling by 6.6 per cent to reach $251.4bn, down from $269.2bn in April.
Qatar was the second-worst performer, declining by 6.28 per cent from $245.3bn to $229.9bn.
Iran, the regional epicentre of the Covid-19 pandemic, fell by 5.18 per cent, with the value of its projects market dropping to $248.2bn on 15 May, down from $261.8bn on 17 April.
In Saudi Arabia, the projects market declined by 3.05 per cent to $1.41tn on 15 May, down from $1.45tn on 17 April. Further decline is likely after Riyadh's 11 May announcement of spending cuts worth $27bn and a three-fold hike in the rate of value-added tax to 15 per cent.
The cuts include the cancellation, extension or postponing of operating and capital expenditures.
Iraq, meanwhile, declined by 2.91 per cent to hit $367.7bn, down from $378.8bn in April.
In Oman, the projects market declined by 1.49 per cent to $178.4bn on 15 May, down from $181.1bn on 17 April, following the announcement of spending cuts worth $1.3bn in late April and a further round of cuts in May.
Bahrain's and the UAE's projects market noted the lowest declines, sliding by 0.39 per cent and 0.5 per cent, respectively, during the period.
Overall, the GCC market shed $27bn in project work from 1 January through to 10 May this year, with $57bn of contracts completed, but only $30bn of contracts awarded, according to data from regional projects tracker MEED Projects.
Once again, the most heavily affected market has been Kuwait, where there was an $11bn drop in activity due to the completion of $13bn-worth of contracts, but the award of just $2bn in new work.
11 June, 2020 | .By NEHA BHATIA