Gulf airlines reach a plateau
27 November, 2019 | By Colin Foreman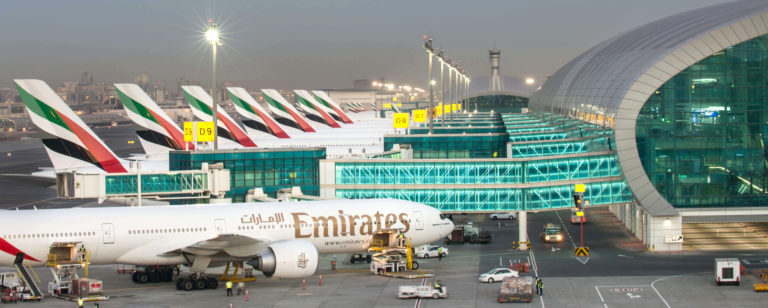 Gulf airlines are responding to new market conditions with increased cooperation
The headline number made good reading when Emirates Airline released its results for the first half of its financial year on 7 November.
The Dubai-based airline reported a profit of AED862m ($235m), which was 282 per cent higher compared with the same period last year.
Although profits grew, thanks largely to a decline in fuel prices, revenue dipped. At AED47.3bn, the top line figure is down by 3 per cent when compared with the corresponding period last year.
While the airline attributed the mixed performance to negative currency movements, the 45-day closure of one of the two runways at Dubai International airport between April and May, and geopolitical uncertainty, the levelling of revenues is the latest sign that  Gulf aviation is plateauing.
This brings to an end the sector's golden era when airline and airport capacity grew sharply with large aircraft orders and airport expansion projects.
Emirates Airlines' revenues are not the only indicator of the transition to a maturing market. Flydubai, which has been greatly affected by the grounding of the Boeing 737 Max aircraft, reported a loss of AED196.7m on flat revenues of AED2.8bn for the first half of this year.
Passenger footfall
For traffic, the number of passengers passing through Dubai International airport in 2018 grew by a mere 1 per cent to 89.1 million, missing the 2.3 per cent forecast set at the beginning of the year.
This growth is significantly lower than the 5.5 per cent figure recorded in 2016-17, and 15.2 per cent in 2012-13, one of the airport's best-performing years to date.
Away from Dubai, in addition to making a loss, Abu Dhabi's Etihad Airways' revenue for 2018 dipped to $5.86bn, compared with $6bn the previous year. Most other state-owned Gulf carriers do not release detailed financial results.
With less headroom for growth, Gulf aviation risks being disrupted. Having successfully leveraged its geographical location to disrupt traditional carriers in North America, Europe and Asia, the Gulf's flag carriers are increasingly challenged by the growth in point-to-point travel and low-cost airlines. These accounted for a 17 per cent share of seat capacity to and from the Middle East in 2018, compared with only 8 per cent in 2009.
The first wave of competition from regional low-cost carriers was largely benign, with players offering products and services that complimented rather than competed with the major carriers, especially when there was common ownership.
For example, Dubai-based Flydubai, which began operating in 2009, is owned by Investment Corporation of Dubai (ICD), which also owns Emirates Airline. Similarly, Jeddah-based Flyadeal, which began operating in 2017, is owned by Saudi flag carrier Saudia.
Outside contenders
While the potential threat from low-cost carriers from the region can be contained, there is also the challenge from low-cost carriers from outside the region. These airlines have been empowered by new aircraft that allow them to fly further more cheaply. The latest sign of this growing challenge came on 23 October, when Indian budget carrier SpiceJet and Ras al-Khaimah International airport signed a partnership agreement to launch a Ras al-Khaimah-based airline that will serve as SpiceJet's first international hub. That move, which is still pending regulatory approval, could prove disruptive by providing a low-cost alternative for traffic between India and Western Europe.
"There is traffic between Ras al-Khaimah and Europe already. We also think this is a way of connecting India with certain points in Europe so we will see how it works, but it looks like an interesting possibility," said Ajay Singh, chairman and managing director of Spicejet, at a press conference in Ras al-Khaimah on 23 October.
Ras al-Khaimah is about 2.5 hours' flying time closer to Europe than India and, once the safety issues with the Boeing 737 Max aircraft are resolved, SpiceJet will have the range to reach Europe affordably, Singh added. "Using this as a base, [passengers] can get to Western Europe – that is the target," he said.
This will give passengers travelling between India and Europe a low-cost alternative to existing routes. In addition to direct flights between Europe and India operated by Indian and European airlines, Gulf-based airlines have been a popular option connecting India and other global destinations including Europe.
Ras al-Khaimah has insisted that its plans will complement other Gulf airports and airlines, and that in the early stages its proposed airline will not have the network to trouble major traditional Gulf-based airlines, or other regional low-cost players.
That may change in the future as the yet-to-be-named SpiceJet/Ras al-Khaimah airline grows its network to connect more destinations in India and the Far East with cities in Western Europe.
While SpiceJet's plans could disrupt Gulf aviation, they also reinforce the region's pivotal position in global aviation. Although the market may remain challenged in the short to medium term, the long-term prognosis remains positive as a growing number of people travel by air. India and China account for most of this growth, and the two markets, together with Africa – which is also growing strongly – are well served by airlines in the Gulf.
Codesharing deals
In the meantime, regional airlines must respond to the challenges ahead and existing players are becoming more open to working together. Codesharing is one tactic. The most high-profile example came in 2017, when Emirates and Flydubai formally coordinated their efforts with a codesharing arrangement. Three years later, 5.27 million passengers have used the joint network, and the two airlines plan to deepen their collaboration with more commercial activities.
"Moving forward, both Emirates and Flydubai will continue to develop the partnership to deliver even better customer journeys and better value for travellers and all stakeholders," said Sheikh Ahmed bin Saeed al-Maktoum, chairman and chief executive of Emirates Group and chairman of Flydubai.
In October 2018, Etihad Airways and Saudia began a codeshare agreement and, in October this year, the two airlines agreed to 12 new codeshare routes for destinations such as Amsterdam, Baku, Brussels, Dublin, Hong Kong, Kathmandu, Bangkok, Phuket, Nagoya, Tokyo and Seoul.
There have also been other cooperation deals. On 16 October, Etihad Aviation Group, the owner of Etihad Airways, and Sharjah-based low-cost carrier Air Arabia announced the launch of Abu Dhabi's first low-cost airline.
Air Arabia Abu Dhabi will be an independent joint venture company that will operate as a low-cost passenger airline with its hub at Abu Dhabi International airport. It is intended to complement Etihad Airways' services and will cater to the growing low-cost travel market segment in the region.
Another example was in 2018, when Emirates Group Security signed a memorandum of understanding with Etihad Aviation Group to cooperate on aviation security.
While these moves are important, the bigger question that arises from talk of cooperation and consolidation in the UAE is a merger of Etihad Airways and Emirates. In September 2018, it was reported that talks between the two UAE airlines are at a preliminary stage, and the potential merger would involve Emirates acquiring the main business of Etihad while Etihad would retain its maintenance arm.
Speculation about a merger has moved on little since, but with plateauing growth and competition from outside the region, cooperation will likely dominate the agenda for the region's aviation sector.
27 November, 2019 | .By Colin Foreman