Growing support for renewables leads to lucrative opportunities
25 December, 2018 | By Andrew Roscoe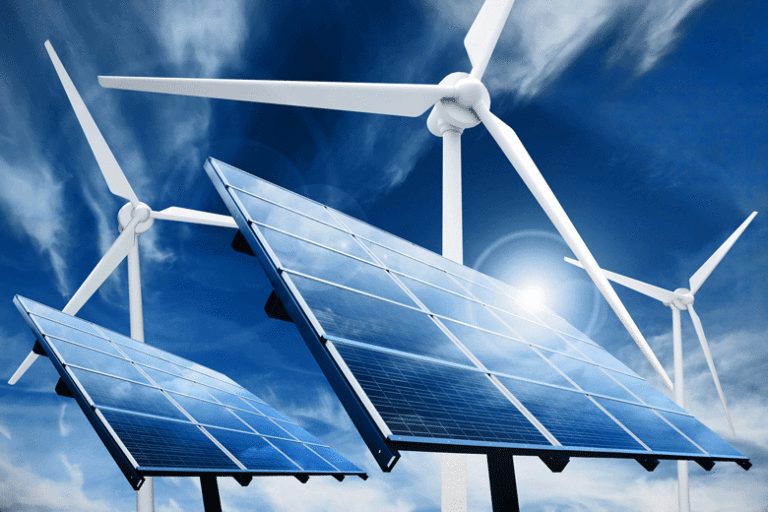 While the development of clean energy in the Middle East is still at an early stage, it is emerging as one of the most competitive renewables markets in the world
With competition rising and costs continuing to fall, renewable energy, particularly in the form of solar and wind power, is quickly becoming the preferred source of energy for powering national grids worldwide. 
Over the past decade, solar and wind power have transformed from their roles as expensive, supplemental power sources to become mainstream power generation technologies that have achieved cost parity with conventional thermal power generation. 
Now, thanks to rapidly advancing technology, renewable energy is undergoing its second major revolution as it becomes established as the first  choice for power generation. 
According to data from the International Renewable Energy Agency (Irena), 167GW of renewable energy capacity was installed globally in 2017, amounting to 61 per cent of the net power additions. This was more than double the capacity of new fossil fuel plants, which accounted for 27 per cent.
Although the development of clean energy in the Middle East is still in its nascent stage, it is quickly emerging as one of the most competitive and lucrative renewables markets in the world, with installed solar and wind capacity reaching 2,350MW and 434MW respectively in 2017, up from just 91MW and 104MW in 2010.
The growing support for renewables is being converted into lucrative business opportunities, with $91.6bn of renewables projects at various stages of planning and execution.
Falling costs
While the drive for reducing carbon emissions has become an increasingly important priority, epitomised by regional support for the 2015 Paris agreement, the growth of renewables in the hydrocarbon-rich Middle East can be explained by simple economics.
"The primary drivers for renewables, particularly solar and wind, in the Middle East are economic ones," says CEO of UAE-based consultant Qamar Energy, Robin Mills. "It is becoming so cheap, it is very attractive versus oil and gas-powered generation, and there is increased technical confidence as we see more projects reach completion."
According to Irena, the levelised cost of electricity (LCOE) of utility-scale photovoltaic (PV) solar has fallen 73 per cent since 2010, and costs are expected to fall further as technology improves and the base of experienced renewable energy developers increases. 
World-record tariffs
The Middle East is driving much of the cost reduction, with new projects in Dubai, Abu Dhabi and Saudi Arabia all breaking world-record tariffs for solar generation since 2015.
The most recent record was set in early 2017 for the 300MW Sakaka PV solar project, the first project under Saudi Arabia's ambitious National Renewable Energy Programme (NREP). The winning tariff, submitted by local developer Acwa Power, of 2.34 $cents a kilowatt hour ($c/kWh) was less than half of the record-breaking 5.85 $c/kWh tariff the same firm achieved in 2015 for a 200MW PV project in Dubai.
The latest PV tariffs are significantly lower than the minimum LCOE of 8.2 $c/kWh and 9.8 $c/kWh for using liquefied natural gas (LNG) and oil respectively for power generation, according to Irena data. 
The competitive price of wind power in the Middle East and North Africa (Mena) region also became evident in 2015, with a consortium led by France's Engie submitting the lowest tariff of 4.1 $c/kWh, one of the lowest tariffs submitted for wind power generation in the world. The record was almost halved in August when a consortium led by France's EDF and the UAE's Masdar submitted a bid of 2.996 $c/kWh for Saudi Arabia's first wind project.
According to chief investment officer at Acwa Power, Rajit Nanda, there is room for tariffs to fall further. "Tariffs will continue to drop over the medium term, although the rate of tariff reduction is expected to slow down compared to the extraordinary freefall we have witnessed in global solar prices since the Dubai 200MW project. Wind tariffs are going to be a surprise package in the near term for tariff reductions."
Energy security
In addition to the falling cost of alternative power, the race to diversify energy resources is being driven by a region-wide shortage of readily available gas for power generation. Some of the region's largest oil producers, such as the UAE and Kuwait, are turning to LNG imports, and others such as Saudi Arabia are investing in developing more costly unconventional gas resources to meet the rising demand.
"The move to diversify is due to the increasing demand for tightening gas supplies. One reason for this is that governments are seeking to preserve gas resources for use in higher-value petrochemicals and industrial projects," says a regional energy consultant.
"And secondly, increasing geopolitical tensions, both regionally and internationally, are leading regional governments to diversify their energy baskets. This is why renewables, nuclear and even coal are now being considered for power generation."
Increasing volatility in oil markets is also spurring demand for renewable energy across the region, with governments seeking to boost economic security by harnessing the hydrocarbons export market.
"When oil prices fall, it encourages economic reforms, and renewables are part of that," explains Mills. "When the [oil] price is higher, you can make more from exporting, so renewables will continue strong growth, regardless of oil prices."
Storage solutions
While the drop in solar and wind technologies has led all the region's utilities to launch clean energy projects, the intermittent nature of renewables means that much of the installed global capacity can be used in tandem with significant baseload capacity. In light of this, the region's utilities are matching renewables capacity with plans for further gas-fired plants, as well as nuclear and coal-fired generation schemes.
However, attention has already turned to the prospect of developing cost-effective storage solutions for renewables that would allow clean energy sources to produce electricity 24 hours a day. Dubai laid down a regional marker for renewable energy storage in late 2017 when it awarded the contract for its first concentrated solar power (CSP) project with storage. The thermal solar project will store heat energy for up to 15 hours, enabling electricity to be dispatched at night. 
Acwa Power, which was awarded the contract to develop the $4.4bn plant for a record CSP tariff of 7.3 $c/kWh, says similar projects can be delivered elsewhere in the region.
"The success of the CSP project in Dubai, achieved at grid parity tariffs, will hopefully stimulate interest in the only economically viable, dispatchable renewable energy option for the region from other procurers."
While CSP offers a high-capacity storage solution today, battery storage for wind and PV solar is regarded by many as the future for solving the intermittency issues of clean energy. The installation of a Tesla 100MW storage battery system at the Hornsdale wind project in Australia in early 2018 has provided a blueprint for the future of clean energy battery storage, which until recently has suffered from concerns about efficiency and cost.
Jordan will lead the Middle East's foray into utility-scale battery storage in 2019 as it presses ahead with a tender for a planned electrical storage project for renewable energy in the Ma'an development area southwest of Amman. Bids for the project, which will store energy for solar and wind and have a power capacity of 30MW, are due on 20 January.
Increased efficiency
As much of the world's focus on the Middle East's energy sector remains fixed on oil production cuts, the region's utilities will push ahead with plans to increase renewables capacity while seeking to capitalise on the latest innovations to increase efficiency across the entire power-water nexus.
"Key markets like Saudi Arabia, Dubai, Abu Dhabi and Oman will proceed with their planned solar PV and wind independent power producer procurements, with potentially 2-3GW of capacity expected to be tendered over the next 12-15 months," says Nanda.
"Furthermore, as an emerging development, we are also seeing greater interest in solar desalination, which would feed the rapidly growing regional water demand using renewable power."
With key Mena clients and energy providers due to gather for the World Future Energy Summit in Abu Dhabi in January, the world is eagerly waiting for the region's ambitious renewable energy plans to turn into reality. 
25 December, 2018 | .By Andrew Roscoe