GCC sheds $27bn as project completions outpace awards
01 June, 2020 | By Colin Foreman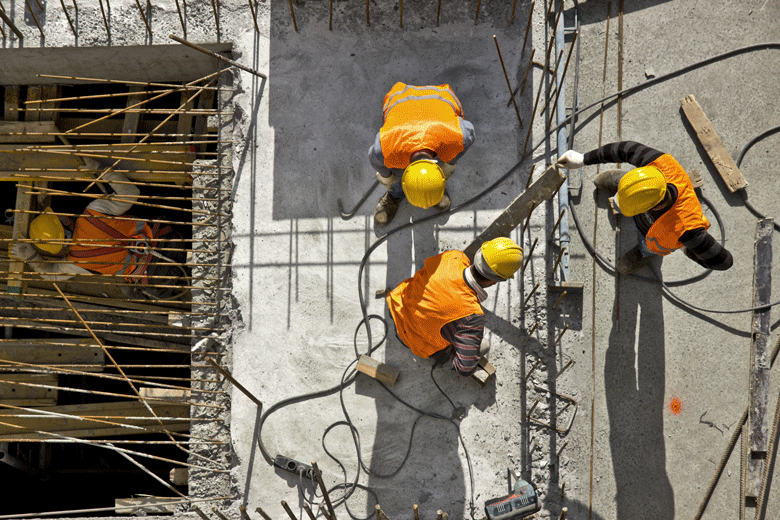 The market has not allowed contractors to replace the work they have completed this year
The GCC has shed $27bn of project work across all sectors as contracts are completed and new awards slow as the region struggles with the impact of the Covid-19 pandemic.
According to data from regional project's tracker MEED Projects, there were $57bn of contracts completed this year up until 10 May, while during the same period there were $30bn of contract awards. Figures show that contractors and construction companies working in the GCC have not been able to fully replace the work they have completed this year.
'There are very few opportunities at the moment. We were tracking a number of major projects at the start of this year, and while tendering continues I do not expect them to be awarded on schedule' Regional contractor
Contractors were struggling to secure new orders before the Covid-19 pandemic hit the region. Since the virus began to affect the region in mid-March, there has been a slowdown in contract awards, while at the same time work has continued on projects – exacerbating the spread between awards and completions.
"There are very few opportunities at the moment," says a regional contractor. "We were tracking a number of major projects at the start of this year, and while tendering continues I do not expect them to be awarded on schedule."
Contract completions exceeded award in five out of six GCC markets. Bahrain, the region's smallest projects market, expanded slightly with $932m of awards and $925m of completions.
The two markets that have shed the most work are Kuwait and the UAE. There was an $11bn drop in activity in Kuwait with $13bn of contracts completed and $2bn of awards, and in the UAE, there were $19bn of contracts completed and $10bn of awards, giving a $9bn reduction in activity so far this year.
Refinery complete
In April, state-owned downstream operator Kuwait National Petroleum Company (KNPC) completed a $4.7bn upgrade of its Mina al-Ahmadi refinery. The contract for the upgrade, known as package 3, was awarded in 2014 to a consortium of Japan's JGC Corporation, and South Korea's GS Engineering & Construction and SK Engineering & Construction.
In the UAE, the largest single completion was $3bn of work at the Barakah nuclear energy plant in Abu Dhabi. The UAE is building four units at Barakah, and in February, Enec said the project's overall construction completion rate was more than 93 per cent.
Oman also had a significant drop in activity with $7.5bn of awards and $1.5bn of completions.
The other two GCC markets were finely balanced with completions only marginally exceeding awards. In Saudi Arabia, there were $12bn of completions and $11.5bn of awards. The awards total in Saudi Arabia was the largest in the region, reflecting the kingdom's importance for consultants and contractors when looking for new work opportunities in the future.
In Qatar, there were $4bn of completions and $3.5bn of contract awards.
On a sector basis, the worst performing sector is oil, gas and petrochemicals. For the year up until 10 May, there were $24bn of contract completions and $5bn of awards, which means contractors have been unable to replace nearly $20bn of project activity this year.
The outlook for the oil and gas market has been particularly hampered in recent months following the drop in oil demand and the sharp fall in oil prices. The price of Brent crude was $51 a barrel on 24 February; on 4 May the price was $20.
The construction and transport market has also contracted, with $25bn of completions and $17bn of awards.
The most resilient sector has been power and water, with $7.7bn of completions and $7.5bn of awards.
Project changes
To make matters worse for contractors, contract awards are being value engineered, re-negotiated or cancelled.
The most high-profile contract cancellation came in the oil and gas sector when in April Abu Dhabi National Oil Company (Adnoc) terminated two engineering, procurement and construction (EPC) contracts it had awarded in February for its $1.65bn Dalma sour gas field development project. The contractors affected were UK-headquartered Petrofac and Malaysian contractor Sapura.
Construction projects have also been affected and, in Dubai, a series of recent contract awards have been suspended. These projects cover the construction of real estate assets such as hotels, apartment buildings and villas that property developers no longer want completed on schedule.
Contractors have also been asked to reduce their prices. "We have been told to reduce our price on a recently awarded contract," says a UAE building contractor. "Prices were rock bottom before the Covid-19 crisis, so I am not sure if we can achieve the savings that the client wants, but we will try."
01 June, 2020 | .By Colin Foreman