The Future of Middle East Energy
20 September, 2018 | By RICHARD THOMPSON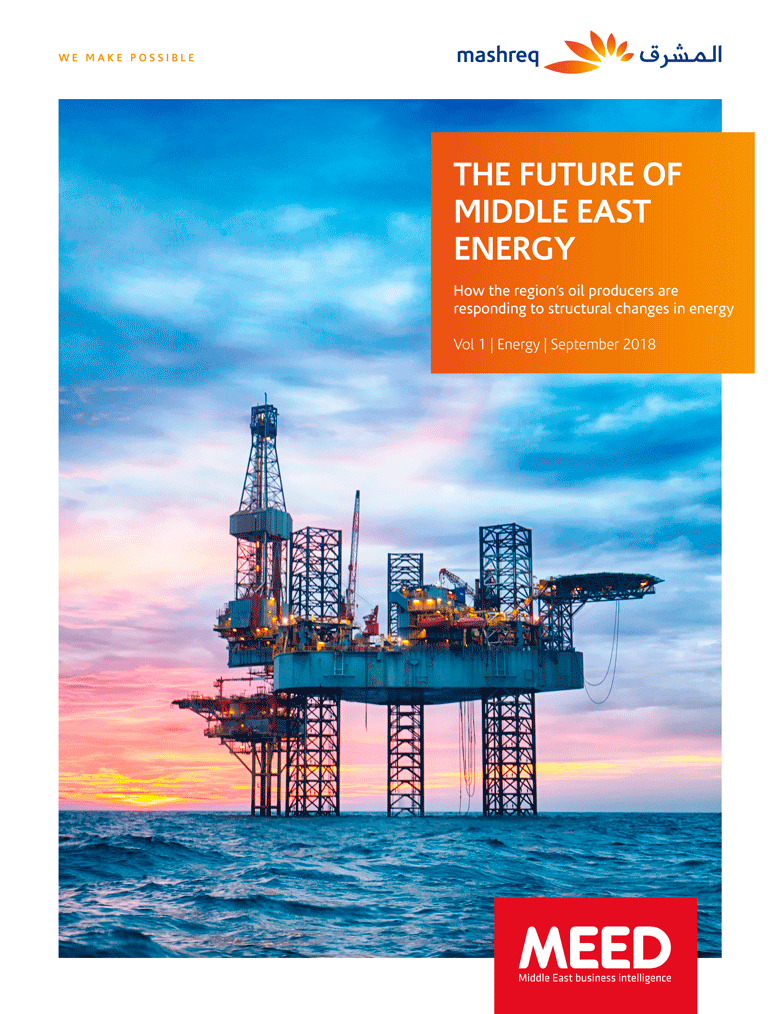 New downloadable report from MEED, in partnership with Mashreq, examines how the region's oil producers are responding to changing energy demand.

The fundamentals of future energy demand look good for Middle East oil producers.
Global demand for energy is projected to rise at an average rate of about 1.5 per cent a year until 2050, driven by population growth that is expected to see the number of people in the world ballooning to about 10 billion by 2050, up from about 6 billion people today.
And throughout the coming three decades, oil, which currently provides about 31 per cent of global energy, will continue to be the dominant source of energy. Oil demand is forecast to reach about 104.7 million barrels a day (b/d) by 2023, up from about 98.9 million b/d in 2017.
But despite the positive outlook, the region's oil producers must tread carefully. Few things are ever as simple as they appear at first, and certainly not in the world's energy markets.
While oil will remain the world's most important source of energy, demand for oil is set to slow sharply from the mid-2020s as new sources of energy become available, and as tighter fuel-efficiency standards are implemented and more energy-efficient forms of transport are adopted, such as electric vehicles.
Looking East
Fundamental changes are already taking place in the nature of energy demand.
As the Middle East's traditional customers in North America and Western Europe become less dependent on the region's oil, the focus of the region's oil producers is shifting eastwards, towards the huge, high-growth markets of Asia, and in particular India and China, where rapid population growth and increasing wealth is driving long-term growth in demand for crude, refined products and petrochemicals.
The fall in oil prices in 2014 has exposed the dangers of reliance on crude export revenues and regional producers are seeking new revenue streams. As a result, petrochemicals has returned to the forefront of plans, with demand expected to grow 150 per cent by 2040.In addition, the shift to gas-fired power plants, the electrification of vehicles and cleaner transportation fuels are all contributing to a rapidly changing picture for Middle East oil producers.
The return of petrochemicals
Middle East producers are looking to secure a bigger share of Asia's fast-growing market for polymers, and players such as Saudi Aramco, Abu Dhabi National Oil Company and Kuwait Petroleum Corporation are taking a long-term view, changing the calculus of downstream integration.
Access to cut-priced feedstock will be a key competitive advantage for the region. As will a willingness to stump up the cash if needed, or tap into debt markets.
Oil producers are redrawing their strategies in response to the structural changes in both energy demand and oil supply that are transforming the fundamentals of the energy markets.
In The Future of Middle East Energy report, MEED in partnership with Mashreq, examines the strategic plans under development by the region's national oil companies, and what these plans mean for investors and businesses in the region, from international oil companies to oil field services firms, and engineering, procurement and construction contractors.
20 September, 2018 | .By RICHARD THOMPSON