ENERGY CLUB 3: Renewables on the rise in Mena
30 May, 2019 | By Richard Thompson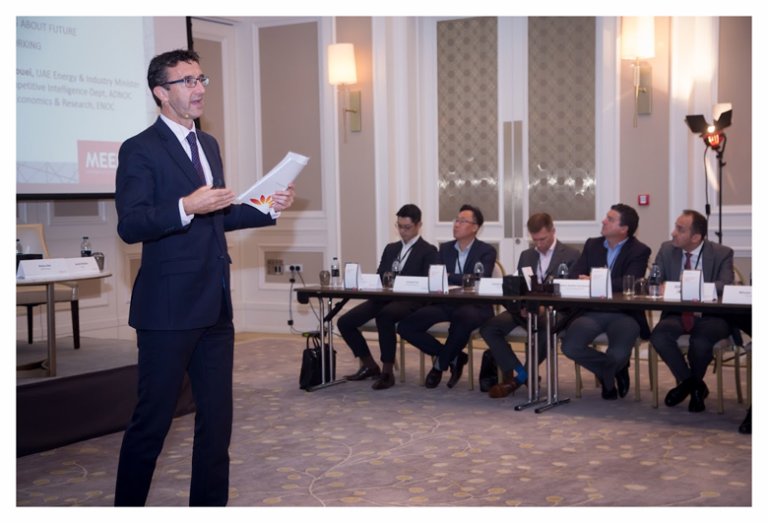 The third Mashreq Energy Club focused on the rise of renewables in the region
The falling costs of clean energy technologies is driving the shift towards renewable energy across the Middle East and North Africa (Mena) region, with governments launching some of the most ambitious renewables programmes in the world.
The rapid rise of renewables in the region was the focus of the discussion at the third Mashreq Energy Club, held in Dubai's Address Boulevard Hotel on 1 May. Bringing together experts from the public and private sector, the key discussion points included emerging trends in the region's burgeoning clean energy sector, financing models and opportunities and challenges facing utilities and developers in integrating clean energy into existing grids.
Renewables find success
The growth of renewables has been facilitated by the region's utilities consistently achieving world record low tariffs for utility-scale solar and wind projects. With the cost of solar and wind technologies having dropped my more than 70 per cent over the past decade, the cost of producing energy from these technologies has now fallen below the costs of producing electricity from conventional oil and gas powered power plants.
In addition to falling technology costs, participants at the energy club highlighted the success of regional utilities in adopting competitive independent power producer (IPP) models to tender and award contracts. The smaller size and lower risk of developing renewable energy projects has ensured regional and international banks are keen to support developers in delivering some of the world's most ambitious clean energy schemes.
Major PV projects in Dubai, Abu Dhabi and Saudi Arabia have all broken records for tariff prices, with the cost having fallen to below $3cents a kilowatt hour.
While the growth in renewable energy across the region is well documented, as installed capacity increases utilities are facing a challenge in balancing peak-renewable energy with existing thermal power plants. Abu Dhabi's power market was discussed as a prime example of a regional utilities model set to face an evolution in the coming years.
Currently powered almost exclusively by gas-fired power plants, Abu Dhabi's grid will have the additions of significant PV solar capacity in the next five years with a 1.5GW PV project expected to follow the 1.17GW Sweihan PV plant, which is nearing commissioning.
More than 5GW of nuclear power is also due to come online in the next two years as the federal Baraka nuclear plant edges towards completion.
While power grids have traditionally been based around base-load electricity, the emergence of peak-power renewables and the decoupling of water desalination and power production is set to give grid owners and operators more flexibility over the supply of electricity and water.
In Abu Dhabi, power production is set to be driven by PV solar in tandem with combined-cycle gas turbine (CCGT) power plants, with CCGT power set to evolve to a mid-merit load power supply by 2030.
The UAE capital recently awarded contracts for its first independent water producer (IWP) project, the 200MIGD Taweelah IWP project – which will be the largest reverse osmosis (RO) plant in the world. The move towards separate water production is being adopted across the region as utilities seek to embrace the lower energy costs and increased flexibility that RO technology brings.
The development of RO water supplies will also complement the development of renewable energy, with utility-scale desalination projects already underway that will be powered by renewables.
While solar power is driving the race for clean energy in the UAE, significant wind capacity is being developed in Egypt, Jordan and Saudi Arabia. Dubai is moving ahead with plans to develop the GCC's first hydropower project, and a number of Gulf states are seeking to develop waste-to-energy and biofuel in the coming years to supplement major solar and wind programmes.
Storage solutions
While clean energy is being adopted on an increasingly large-scale, the game-changer will be when storage technologies are cost-effective and viable for utility scale plants. Concentrated solar power (CSP), which is being developed in Morocco and Dubai, offers storage of energy for up to 16 hours. However, while the Dubai project was able to receive a record tariff, CSP is still significantly more expensive than PV solar. The total cost of the Dubai CSP project is estimated to be about $4.4bn.
There was some debate between the participants at the Mashreq event over the potential for CSP across the region as a viable long-term energy source, with some feeling it had an important role to play and others feeling that its high cost would prohibit the development of the technology.
There was unanimous agreement, however, that electrical battery storage will offer the best option for enabling solar and wind energy to be dispatched to the grid for 24 hours. While, battery storage technology has not reached cost-effectives yet, the recent tender for an electrical storage project in Jordan shows that the development of utility-scale renewable energy projects with storage may be feasible sooner than many had anticipated.
Diversification drive
In addition to diversifying energy production, the development of renewable energy will offer increasing opportunities for regional governments to diversify their economies. Saudi Arabia is planning to develop solar manufacturing plants, with its upcoming renewable energy programme to include significant local material and labour requirements.
With the development of a renewable energy sector set to offer opportunities for business and employment, training local populations in manufacturing and operating clean energy technologies will become increasingly important.
Regional and international connections
Forecasts suggest that the development of renewables and other sources of power generation such as nuclear will lead to significant total excess power in the GCC by 2025. However, many countries in the wider region, such as Iraq, Syria and Lebanon, face significant challenges in reducing supply deficits and electricity shortages.
The mismatch in supply and demand between regional states will provide increasing opportunities for electricity interconnections. While the GCC interconnection infrastructure is already in place, projects, such as an interconnection between Saudi Arabia and Egypt, are currently in the planning stages.
There will also be the opportunity for regional utilities to export electricity to Europe and other neighbours as they build up significant renewable energy capacity. Subsidised electricity, politics and insufficient grids will remain significant obstacles to regional and international interconnections.
Watch the club highlights video for a summary of the key issues discussed at the meeting.
Key highlights:
Falling costs of renewable energy technology are leading to a significant pick up in clean energy across the region with increasingly ambitious renewables targets being launched across the Middle East and North Africa (Mena)
Solar photovoltaic (PV) and wind power are finding greatest favour among regional utilities, although hydropower and waste-to-energy are also increasingly being looked as alternative energy sources
As installed renewable energy capacity across the region increases – integrating peak renewable energy sources into grids powered by existing thermal power plants will become an increasingly important task
Abu Dhabi's power sector will be transformed from a cogeneration thermal-power dominated system to one led by solar PV and combined-cycle gas turbines (CCGT). The role of CCGT will evolve considerably, shifting from a baseload energy provider in the year 2020 to a mid-merit load following power source by 2030
The development of renewables and other sources of power generation such as nuclear are likely to lead to excessive power supply in many regional countries by 2025. This will enable the opportunity for regulated inter-regional and international interconnection of power grids
A GCC-wide regulation through bilateral ties can help authorities plan for the region's power capacity
30 May, 2019 | .By Richard Thompson