ENERGY CLUB 2: Oil & Gas Transformation
01 April, 2019 | By Richard Thompson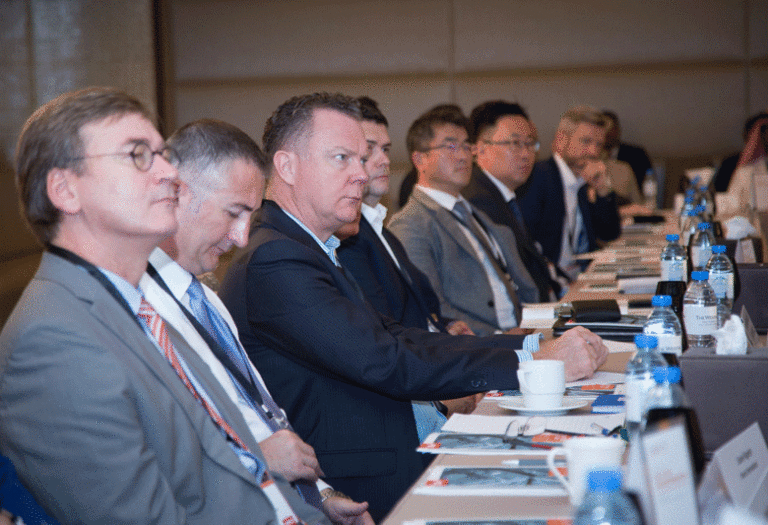 Industry experts gathered in Abu Dhabi to discuss disruptive trends in the oil and gas sector
Oil companies in the Gulf must change the way they work if they are to make the most of the latest technological innovations.
That is the primary conclusion of senior oil industry stakeholders gathered on 6 February at the Westin Abu Dhabi Golf Resort & Spa at the second Mashreq Energy Club.
The Mashreq Energy Club sought to identify key transformations disrupting the Middle East oil and gas industry, and discuss strategies to enable them.
Emerging digital technologies such as artificial intelligence (AI), blockchain, and additive manufacturing (3D printing) were all identified as important disruptive technologies in which the industry should be investing.
Representatives from leading companies including Adnoc, IBM, OMV and ENI said that organisational inertia and closed minds are hindering the introduction of new technology in the oil and gas sector.
Read the complete feature, published in the April edition of MEED Business Review, here
The executives warned that while there is no lack of awareness of the new technologies in the oil and gas industry, entrenched industry practices represent major barriers to their adoption.
Attendees said that it is necessary to change attitudes towards the adoption of new technology in order to maximise its benefits.
"Technology is just the tip of the iceberg," said one expert. "What matters is the culture, organisation and the people."
Delegates called for better collaboration between companies and said that higher levels of training would help to change attitudes towards new technology.
They said that hiring younger staff could reduce resistance to innovation and help companies identify opportunities presented by technology.
Deployment of new innovations should not only be driven by the top management, they said, but also by lower-level staff involved in day-to-day operations, who are the main users of technologies.
It is critical to involve operational engineers from a primary stage, in order to incorporate their suggestions, while also familiarising them with the new technology.
One executive noted that the better use of technology allowed the team to "focus on understanding data, identifying patterns and giving results".
"I want to save the 'brains' for intelligence, not use them for inspection and capturing data," she said.
Club delegates noted there were strides being taken by the oil and gas industry to enable industry progress such as more and more companies introducing positions such as 'digital officers' and innovation departments.
Increasing partnerships with research centres, universities and start-ups, were also recognised as being important developments for identifying the best way forward.
Club delegates called for greater inclusion of female workers in the oil and gas industry, saying that better female representation would ensure new approaches in the male-dominated industry.
Technology such as AI, blockchain and 3D printing are increasingly seen as investment and development areas in the oil and gas sector
An underlying issue is a non-committal attitude towards technology. It is difficult to replace existing processes with newer practices simply because cultural attitudes are tough to change
Deployment of technology should be driven top-down, to establish long-term commitment. Further, engineers and other operational-level workers should be involved and trained in relevant technologies
Increased collaboration among industry stakeholders is one way to bring about change in the industry. Organisations can learn from each other through cross-industry partnerships and even jointly fund research and drive investments in technology
Preparing for future trends and exploiting potential technology can be achieved through partnerships with academia and startups
Young minds in the industry can help bring fresh perspective to the table. The younger generation is more open to the change brought about by technology and is eager to innovate
Creation of posts such as 'chief digital officer' and the establishment of innovation departments within organisations are positive indicators of change
The female workforce is increasingly regarded as equally competent in the traditionally male-dominated oil and gas industry
01 April, 2019 | .By Richard Thompson