Dubai inaugurates Middle East's first industrial-scale concrete 3D printing plant
26 June, 2019 | By MEHAK SRIVASTAVA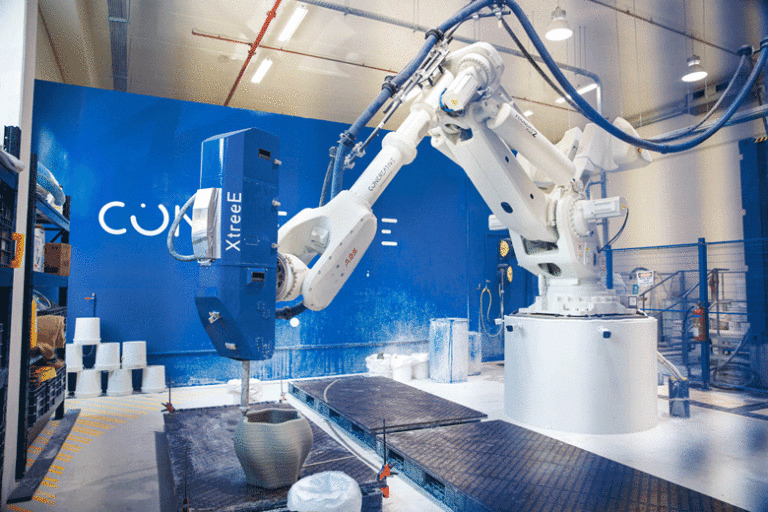 Construction contractor and tech firms collaborate to establish large-scale production centre in Dubai
The Middle East's first large-scale concrete additive manufacturing unit has been inaugurated in Dubai.
UAE-based Concreative unveiled the unit on 18 June at its Nad al-Hammar factory in Dubai.
Concreative is a joint venture between France's Freyssinet, local engineering consultant Econstruct, and architectural and fit-out firm Draw Link, also local.
The facility incorporates a new robot system that allows complex concrete shapes up to 4.5 metres in height and 6 metres in length to be 3D printed layer by layer.
The system uses French startup XtreeE's hardware and software additive manufacturing systems combined with a six-axis ABB robotic arm.
The 3D-printed concrete elements are produced at the facility and then transported to the project site where they are assembled.
Concreative has developed special concrete mix for the unit together with Swiss cement producer LafargeHolcim. The technology is patented by XtreeE and is industrialised in its pilot plant in France.
The establishment of Concreative in Dubai was prompted by the launch of the emirate's 3D printing strategy in April 2016.
The strategy sets a target of 25 per cent of new buildings constructed in the emirate using 3D printing by 2030.
"We wanted to create a company that could match the vision of the country and its leadership, [especially] keeping in line with the upcoming Expo 2020," says Concreative general manager Khalil Doghri, speaking at the inauguration of the plant.
Concreative's operations manager Vincent Malliet says concrete 3D printing is not being developed to compete with traditional construction or standard formwork processes, but instead offers a solution for creating customised shapes at a lower cost.
"The construction industry today will change not just because of 3D printing technology, but also thanks to better collaboration between architects and engineers," he says.
The announcement is the latest in the growing list of 3D printing initiatives taking place across Dubai.
Dubai-based Immensa Technology Labs has partnered with Lebanon's Consolidated Contractors Company (CCC) on a number of additive manufacturing projects, one of which involves inventory tracking and 3D printing spare parts for CCC's machinery fleet. Another project includes reviving concrete casting techniques by 3D printing standard formwork.
In April 2019, Belgian contractor Besix opened a 3D concrete printing studio in Dubai. Known as Besix 3D, the studio combines the engineering and construction capabilities of Besix with Swiss construction chemicals supplier Sika and the international 3D printing designer Witteveen+Bos.
26 June, 2019 | .By MEHAK SRIVASTAVA