Dubai construction on the front foot in 2019
09 April, 2019 | By COLIN FOREMAN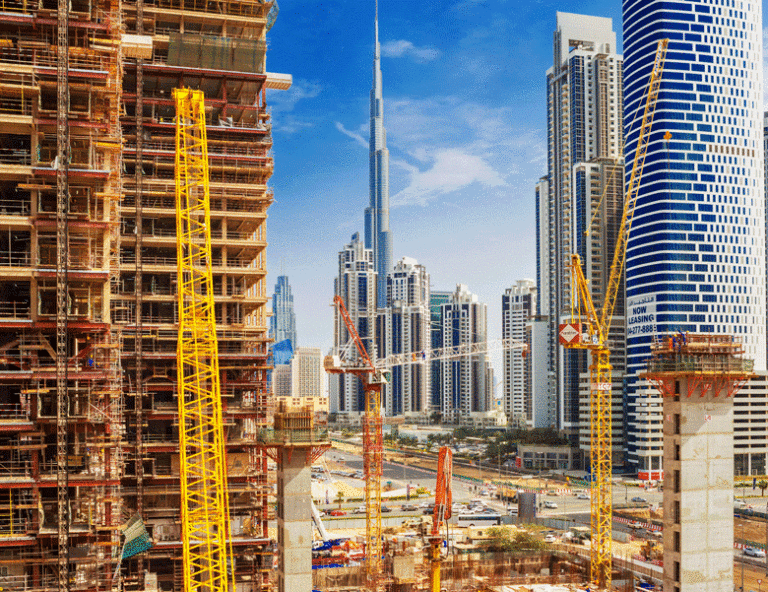 Dubai's construction market expanded in the first quarter and the emirate's leadership has committed to future projects
Dubai's construction sector returned to positive territory during the first quarter of this year with a net gain in the value of work under way in the emirate.
According to regional projects tracker MEED Projects, there were $3.3bn of construction and transport awards in Dubai during the first three months of the year, while there were $3bn of contracts completed – delivering a net gain of about $300m during the quarter.
The increase is a partial reversal of the net loss registered during the fourth quarter of 2018, when there was a net loss of $1.6bn because of awards values falling to $2.068bn. That is the lowest level since the fourth quarter of 2012, when Dubai was just starting to emerge from the fallout of the 2008 global financial crisis.
Overall for 2018 there was a net gain of $3.3bn, thanks to nearly $17bn of awards and $13bn of projects completed.
Government statistics also point to growth during 2018. In late March, the Dubai Statistics Centre said that spending in 2018 on infrastructure projects went up by 32 per cent compared to 2017.
For the broader economy, government spending helped drive GDP growth, with the Dubai Statistics Centre saying the construction sector grew by 4.5 per cent in 2018, and contributed 14.5 per cent to total economic growth of Dubai.
The statistics centre also said that construction costs increased last year. Its data shows that costs rose by 0.16 per cent during the fourth quarter of 2018 when compared with the previous quarter. On a yearly basis, costs rose by 6.06 per cent in the fourth quarter of last year when compared to the same period of 2017.
Construction concerns
Despite the positive data for the start of the year, concerns remain that the construction industry will produce fewer opportunities in 2019 as the property market continues to underperform and large-scale projects struggle to secure funding.
According to Cavendish Maxwell's House Price Index for February this year, the average annual house price in Dubai decreased by 10.6 per cent year-on-year in February 2019, with month-on-month declines of 1.8 per cent. Looking forward, the outlook for the property sector is dampened by new supply from completed projects.
For major projects, DXB Entertainments said in February that the AED2.6bn ($710m) Six Flags theme park it was planning to build at Dubai Parks & Resorts will not proceed after a syndicated finance facility for the project was withdrawn.
Indirectly addressing the concerns about future landmark projects, the emirate's leadership has signalled that it will continue to drive ahead with new projects. Most recently, UAE Vice-President, Prime Minister and Ruler of Dubai, Sheikh Mohammed bin Rashid al-Maktoum, said that Dubai will continue to launch iconic projects.
In a post on Twitter on 1 April from the opening of the Dubai Arena project, Sheikh Mohammed said: "We launched Dubai Arena, the largest indoor venue in the Middle East. We will keep launching new iconic landmarks and projects, and will continue to cement our position as a global destination for tourism, events, trade and knowledge-based economy."
Desert growth
In another tweet commenting on US-based Uber Technologies agreeing to acquire Dubai-headquartered ride-hailing company Careem for $3.1bn, Sheikh Mohammed referred to the long term nature of Dubai's projects and their ability to weather concerns about oversupply: "In 1999, many people questioned our idea to establish Dubai Internet City in the desert. Two years ago, Amazon acquired the multibillion-dirham http://Souq.com and today, Uber acquired Careem for AED11bn. These giant companies flourished from the 'desert' of Dubai."
Dubai is also launching new projects, and Sheikh Mohammed's comments follow the announcement of DIFC 2.0 on 7 January and Downtown Jumeira with the 550-metre tall Burj Jumeira a few weeks later on 31 January. While these projects did boost confidence, they are not expected to result in immediate opportunities for construction companies. For the Downtown Jumeira project, MEED reported in March that US-based design firm SOM has been awarded the contract to review the masterplan.
09 April, 2019 | .By COLIN FOREMAN