Digitising Hospitals
29 August, 2021 | By Mashreq in Knowledge Partnership with JLL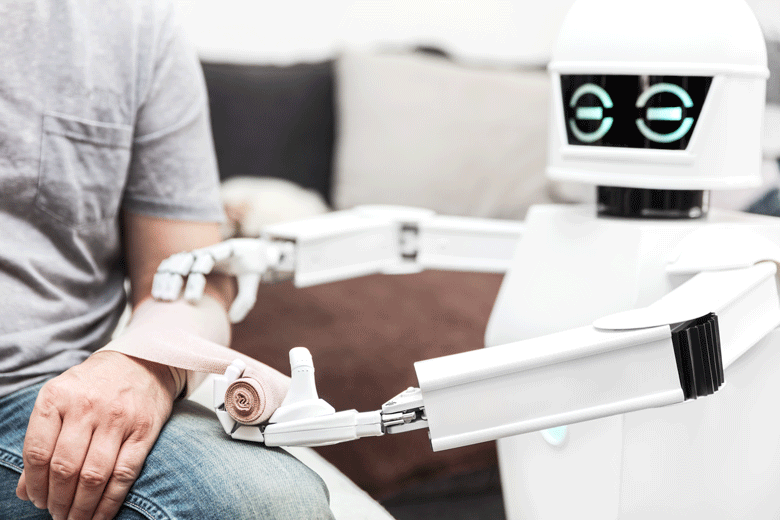 Right before the 20th century, specifically before the revolutionary discovery of Penicillin by Sir Alexander Fleming in 1928, the average lifespan of humans stood at a mere 48 years. That, thankfully, has changed drastically since then. With the introduction of new medicines, medical technologies, and major scientific breakthroughs, the life span of humans stands at 72.6 years today. While this is a major upgrade in total expected life years, it comes with a very hefty burden.
Increase in life expectancy has meant dealing with a fast-growing population, with many suffering from long-standing comorbidities, including complications from Diabetes, Hypertension, Dyslipidaemia and other non-communicable diseases. Moreover, extended life spans have also resulted in expensive treatments in the form of geriatric care. Currently, hospitals globally are under tremendous pressure facing major issues: ranging from reimbursement and cost problems, cashflow problems, over exceeding occupancy rates, an overworked workforce, all the way to basic patient satisfaction and suboptimal patient outcomes. To help with all the above, the hospitals started investing in digitising various departments, and the term "Smart Hospitals" was coined.
Smart Hospitals are facilities that optimise, redesign and/or build patient pathways and clinical processes, management systems and infrastructure by connecting all these factors digitally. These digital solutions revolve around 3 main pillars:
Data: Collection of various patient related data points, which are later fed into an AI system
Insights: Analysis of this data to reach optimal results and reduce valuable time
Access: Real-time access and sharing of analysed data by physicans, nurses, pharmaceutical companies, medical technology firms and even patients via various platforms, including mobile phones.
Investors in the USA have recognised the opportunity – venture capital funding for digital health solutions has increased exponentially, from about USD 1 billion in 2011 to more than USD 8 billion in 2018[1].

Smart Hospitals pave the way to what can be referred to as Patient Centric Personalised Management: making the patient the focal point to ensure satisfaction, prevention of disease and complications, and attempt to guarantee best outcomes. It ensures optimal usage of healthcare workers, beds and infrastructure, in addition to empowering research and development which has been poor in the region, compared to more advanced countries worldwide.
In the GCC also, various government authorities and private institutions are investing in digitising hospitals and adapting smart technologies to improve patient care. For e.g., Fakeeh University Hospital, that was opened in 2019, is a 350-bed smart hospital in Dubai. Its patients have access to tablets in each room to communicate with the healthcare team and can also use the hospital's mobile app to access their data.
Despite very advanced technology the healthcare sector is still plagued by inefficient analogue processes that cause various inadequacies across the board. Incorporating digital solutions in hospitals and healthcare related facilities to better optimise workforce and leverage expensive machinery to generate greater return on their investments should be on the top of healthcare providers to do list. This is especially relevant now considering the stress the pandemic has caused on all healthcare resources globally.
[1] "2018 Year End Funding Report: Is digital health in a bubble?", 2018, Rock Health
29 August, 2021 | .By Mashreq in Knowledge Partnership with JLL