Decarbonisation is the next phase for Mena construction
07 July, 2022 | By MEHAK SRIVASTAVA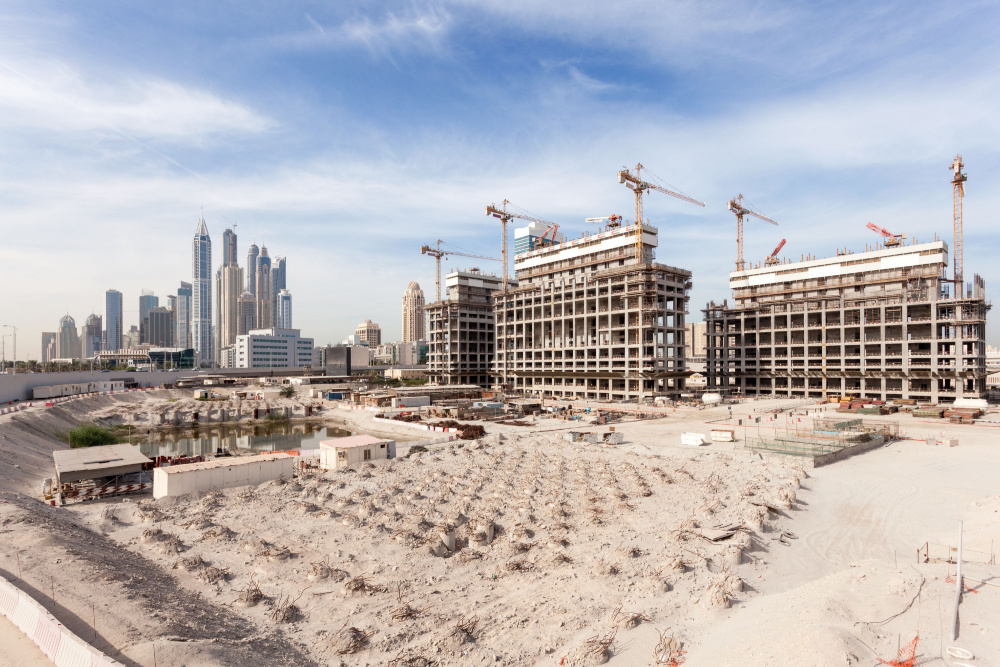 The region's construction and wider projects market must start incorporating sustainable practices in the planning and delivery of projects
As countries around the world commit to reducing their carbon emissions, the impetus to do the same is trickling down to individual sectors.
In the Middle East and North Africa (Mena), the construction and infrastructure market now finds itself at a turning point where it must align itself to national visions and climate change targets.
The job is easier said than done. These sectors remain dependent on conventional processes, consume high amounts of energy, and generate a considerable carbon .
For example, cement production alone is responsible for nearly 8 percent of all carbon emissions – in the UAE, it accounts for 6-7 per cent of the national carbon inventory.
And according to the Global Alliance of Buildings and Construction, the construction and operations of buildings contributes to 37 per cent of all energy-related carbon emissions.
Clients and larger engineering consultants are increasingly driving top-down change by incorporating or mandating sustainability requirements into their building regulations and designs. However, cost pressures mean that contractors and suppliers do not always receive the right support and incentives to adopt sustainable construction in practice.
Reassessing priorities
This has been compounded by the market's performance over the past half decade. Since the 2014 oil price crash, the construction sector has witnessed a decline in contract awards of more than 40 per cent.
Lower government capital expenditure has created an environment in which many clients have focused on building projects to time and with budgetary constraints rather than in a sustainable manner.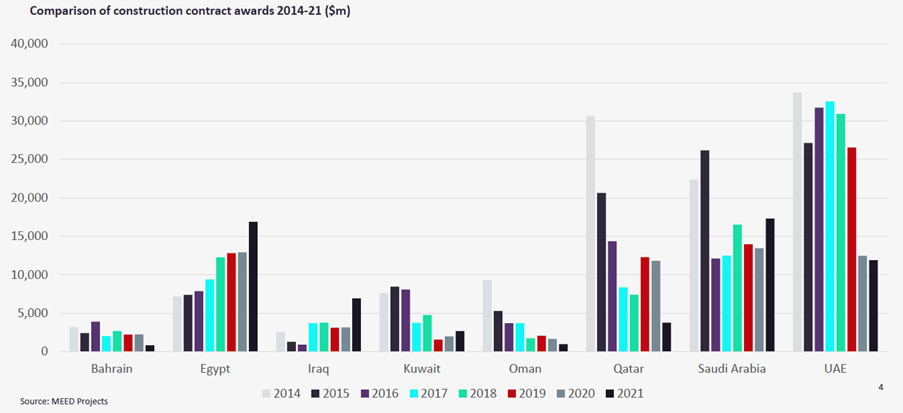 This will have to change going forward. Driven by strong demographic growth, demand for greater infrastructure capacity, economic diversification and the transition to cleaner energy, construction represents $2tn, or 52 per cent, of the region's future projects pipeline according to MEED Projects.
Critically, governments now have the funds to finance their project ambitions. With crude at more than $100 a barrel, nearly all Mena states are expected to post a budget surplus in 2022, the majority of which be allocated to capital expenditure.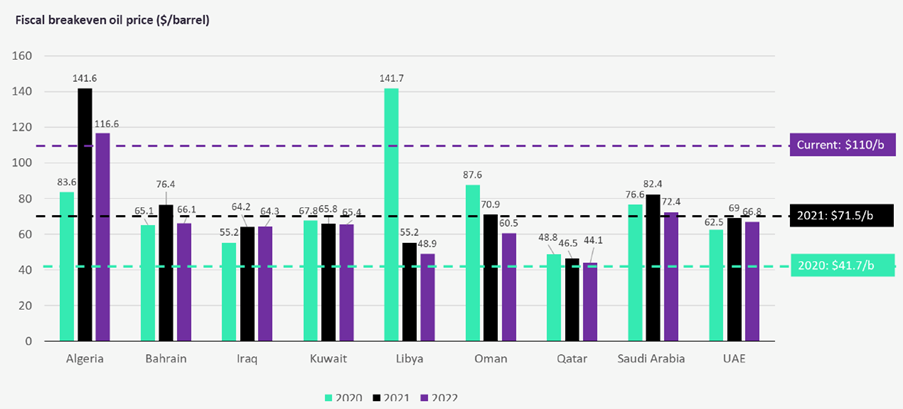 Therefore, the individual countries in the Mena region have the ideal conditions in place to set and meet their net-zero targets.
But to achieve these, they will have to become less dependent on fossil fuels and invest more in renewable energy sources, carbon capture, and carbon .
Of particular interest is hydrogen, seen as key to achieving carbon neutrality and boosting non-oil trade. In the immediate future, the focus is expected to be on producing and exporting hydrogen fuel to markets including Europe and East Asia.
Likewise, it is crucial that sectors such as construction collaborate with their policy-makers to devise effective strategies and create a cohesive strategy to build more sustainably.
Some countries are ahead of the curve. The UAE, for instance, aims to become a net-zero economy by 2050, and recently launched the National Dialogue for Climate Ambition (NDCA) to define and advance sectoral inclusion in achieving the target. Such platforms provide an opportunity for the industry to work closely with the government in realising common goals.
In the short-to-medium term, organisations must enforce their own business strategies centred around decarbonisation. This could include mandating alternatives to carbon-intensive building materials, introducing carbon metrics on projects, and investing in upskilling and training of their workforce.
Technologies also have an important role to play in lowering costs and improving efficiency. These include whole life-cycle building information modelling (BIM), digital twins, and use of solutions such as 3D printing, drones and predictive monitoring systems.
In the post-pandemic recovery phase, survival remains to be the priority for many project-focused businesses. But with the market entering a growth phase, they ultimately have very little choice but to act now if they are to deliver on their net zero promises.
Considerable investment may be required up front, but the benefits will undoubtedly be reaped in the long-term.
This article is a part of a series from the Construction Business Leaders Club held by MEED and Mashreq on 9 June in Dubai.
07 July, 2022 | .By MEHAK SRIVASTAVA