CONNECT SERIES: Supporting retail through the Covid crisis
04 June, 2020 | By Richard Thompson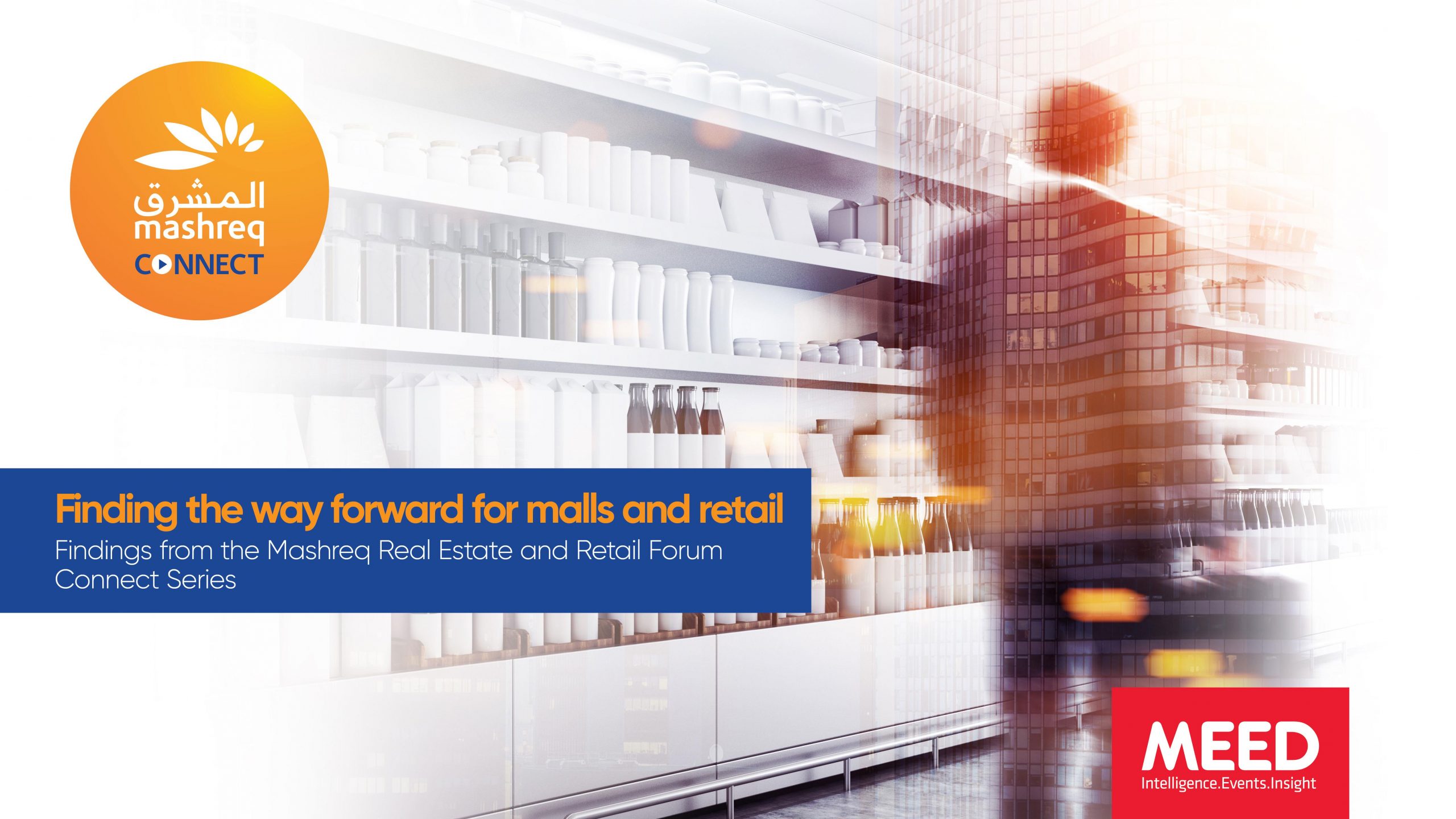 The Covid-19 crisis could not have come at a more difficult time for many traditional retailers in the UAE
Already facing challenges from the rise of online shopping and a growing oversupply of retail capacity, the lockdown measures introduced to stop the spread of the Covid-19 virus shut down revenue streams for many retailers as travel restrictions disrupted supply lines.
Throughout, retailers have had to maintain high operating costs and outgoings for rent, salaries and inventory procurement, which has placed many businesses under huge financial stress and has also raised questions about survival.
"For anybody in the retail industry [that] didn't make money in 2019, it is going to be very difficult for them to survive the year 2020," says chairman and CEO of Dubai-based retailer Apparel Group, Nilesh Ved.
But Covid-19 lockdowns have not had the same impact on all retail segments. Each category is facing its own set of challenges and opportunities.
Food/grocery
A surge in demand for household essentials and groceries due to panic buying and working from home has created a logistical problem for food retailers.
Satisfying the spike in demand for household goods while maintaining a steady supply of essential items has proved challenging for grocery stores and supermarkets as disruption to exports, or producers unable to work has forced retailers to re-examine their supply chain.
"Diversification of supply chain sources is the name of the game today for many essentials retailers," says head of the global strategy group at consultant KPMG Vikrant Rohatgi.
Luxury fashion
Non-essential sales in the region fell by 20 to 50 per cent in March, according to KPMG. The cancellation of fashion orders in the wake of store closures is creating a glut of unsold stock that could flood the market when trading picks up, pushing prices down further. This may create growth opportunities for budget retail and outlet malls, with the possibility of reduced competition for surviving businesses.
F&B
The food and beverage (F&B) sector has been the retail industry's biggest casualty of the lockdowns, with KPNG estimating falls in sales of 50 to 80 per cent in March while April saw as little as 10 to 20 per cent of normal turnover.
With restaurants currently capped at a maximum of 30 per cent capacity and many customers reluctant to return to traditional, public dining facilities, F&B outlets must adopt a strong delivery model in order to survive.
Electronics
Despite an initial surge in demand for electronics as people sought to enable working and studying from home at the start of the lockdown, KPMG recorded an overall 30 to 50 per cent drop in sales in March.
But while there is much to worry about in the retail sector, changes in customer behaviour are bringing about some surprising winners.
---
---
Online surge
Already a growing global trend, the Covid-19 crisis has propelled online retail forward by many years, say retailers, with online grocery shopping growing exponentially in March.
The biggest challenge facing retailers is finding delivery solutions in a market that was not prepared for such a sudden surge in demand.
"Given the advent of online retailing there's been a growing demand for delivery," says Rohatgi. "So this presents a unique challenge in maintaining efficient, but more importantly hygienic last mile delivery."
Disease prevention has been a major consideration as retailers seek to protect the health of employees and customers while completing orders. Digital payment methods, which have been slow to take off in the region, are becoming key to efficient online transactions.
Changing behaviour
Ved describes an interesting shift noted by Apparel Group's partners in China as a consequence of the Covid-19 outbreak. They report a rise in the number of people choosing to use private transport instead of public transport
"Car sales are going up like crazy," says Ved. "People now do not want to use Uber or shared services on the metros. That is a complete shift."
Survival mode
Faced with a collapse in revenues, retailers have move quickly to cut their costs in order to improve their chance of surviving the crisis intact. But even deep cuts may not be enough to ensure survival without additional supporting measures from lenders, creditors, landlords and government agencies.
"We are in a survival mode and not a profit-making mode," says Rohatgi. "Retailers are looking to get help from every stakeholder in their value chain and in the ecosystem that they can get help from now. We'll have to help each other to survive through the crisis."
Suppliers and retailers are in the same boat, struggling to maintain business continuity. Only a flexible approach to the relationship will ensure its longevity.
"Businesses are going out and having discussions with suppliers to see how payment terms can be extended considering the situation and again a lot of suppliers are sympathetic because they are in the middle of the same crisis," says Rohatgi.
Rent relief
One of the biggest business costs facing retailers in the region is rent. It is no surprise therefore that there is a lot of interest from retailers in how mall owners and operators are responding to the crisis.
Most mall operators have been swift to offer rent assistance. Within six days of the crisis being announced, Al-Futtaim Malls offered three month rent credits to eligible tenants at Dubai Festival City Mall and Festival Plaza, and on 18 May, Al-Bustan Centre in Dubai waived two months' rent for its tenants. But despite such action, concerns remain about how much relief mall operators will be available in the longer term.
Timothy Earnest, Group Director of Al-Futtaim Malls states that it is still very early in the crisis and too soon to discuss long-term strategy.
"For me to say this is the permanent change to mall business or any other business is quite premature because there are so many unknowns," says Earnest. "We are looking at a crisis that involves health, that involves personal economics as well as macroeconomics. This is a worldwide crisis."
Many of the models predicting changes in customer behaviour focus on the growth of e-commerce, but as Earnest points out, for the most part customers are being forced to shop online at the moment because they have no alternative.
When they do have a choice, they may decide that they prefer a bricks-and-mortar shopping experience.
Earnest says the focus for mall operators and developers is on strategic alignment with retailers, with disciplined store expansion, coordinated programmes to drive sales and an increased use of shared data.
Banks and government
Banks in the UAE also have been largely supportive to retailers so far.
"They have been discussing negotiating and helping [retailers] out," says Rohatgi. "Whether it is in terms of extending existing facilities or providing new lines of credit."
However, it is clear that a longer term a reduction in the cost of funding would be beneficial to the sector.
There are a lot of fixed costs relating to fees and licences in the region. The cost and complexity of doing business is significantly increased by the bureaucracy generated by the high number of separate jurisdictions. This also affects the ability of companies to react quickly and creatively to changing market conditions.
"For me to take even a permit for discount a promotion have to go to every state in the UAE," Ved says. "The innovations that the retailers need to do at this moment have to be much faster than [before]."
Ved went on to point out that even with zero costs, businesses would not survive without traffic.
"To bring traffic back to the shopping mall, we have to think very differently," he says. "The biggest issue today is health and safety. How do we make sure the customers feel safe coming to the shopping mall?"
Governments have been providing support and assistance to retailers across the region as they navigate the complex process of reintroducing customers to outlets in a controlled and safe manner. But at this stage, nobody can say with any certainty how long this situation will continue, or indeed, if Covid-19 will ever disappear, creating a permanent shift in the way business is done.
What is certain however is that more support will be needed from banks and governments as the situation plays out.
The first webinar in the Mashreq Real Estate and Retail Forum Connect Series, 'Finding The Way Forward for Malls & Retail', was set up to examine the pain points facing retailers in the UAE and to discuss the steps that can be taken by retailers, mall operators and developers to sustain the industry through the crisis and prepare for what comes next.
Panellists included:
Timothy G. Earnest, Group Director, Al-Futtaim Malls
Nilesh Ved, Chairman and CEO, Apparel Group
Vikrant Rohatgi, Head of Global Strategy Group, KPMG Lower Gulf
Zain Qureshi, Managing Director, Head of Real Estate Finance and Advisory, Investments and Agency Services, Mashreq Bank
Vivek Uberoi, Senior Vice President & Head Trading Corporates, Mashreq Bank
04 June, 2020 | .By Richard Thompson