CONNECT SERIES: Re-engineering construction in the GCC
01 July, 2020 | By Richard Thompson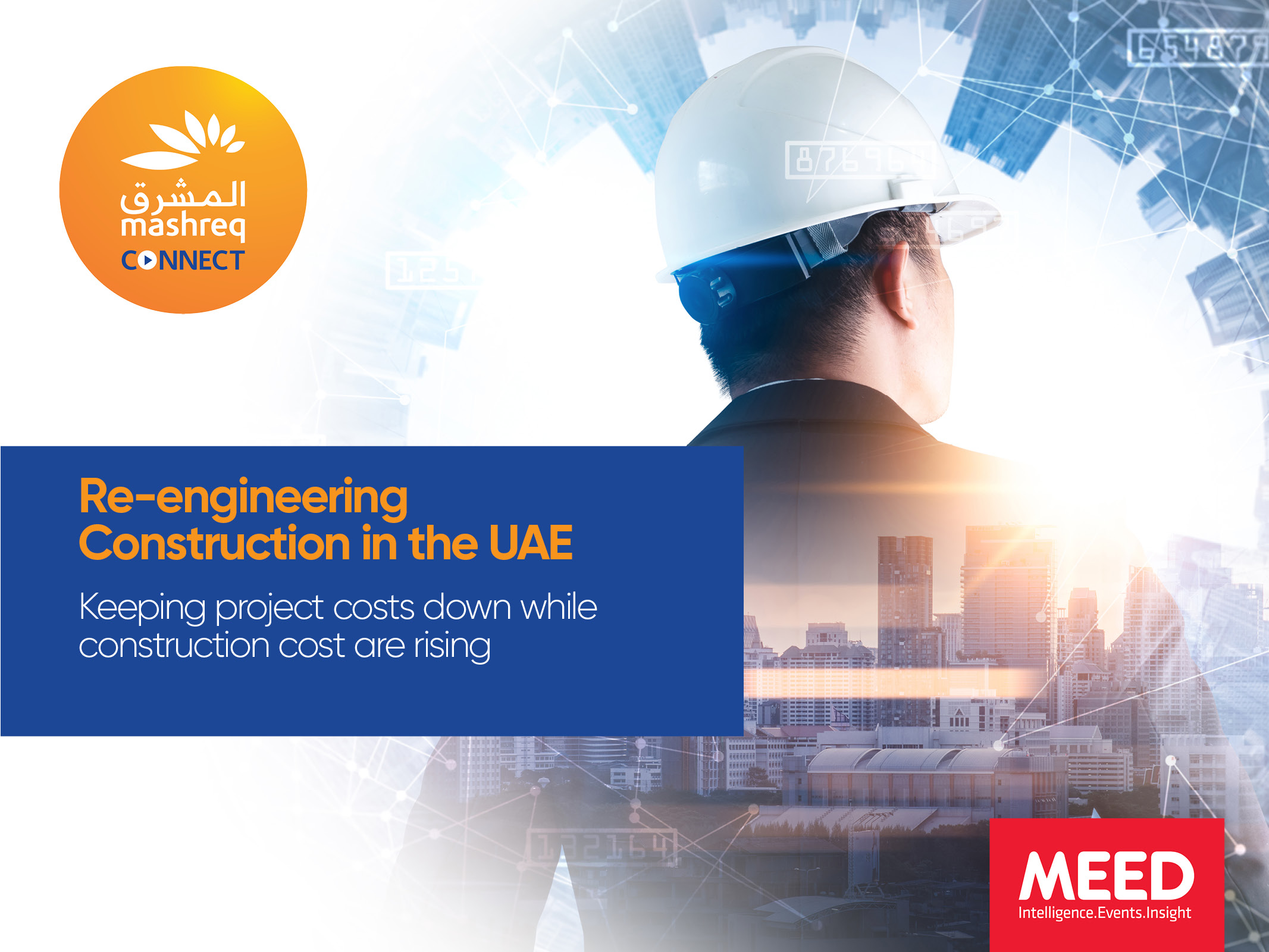 The process of transformation is already underway in the regional construction industry with Covid-19 accelerating the need for this change
Already facing severe cash-flow challenges after five years of recession in the GCC projects market, the financial impact of Covid-19 is pushing construction firms to the brink of bankruptcy.
With project owners facing budget cuts and a collapse in demand, architecture, engineering and project management firms as well as contractors and their suppliers are being impacted by payment delays and fewer new projects. At the same time, supply chain disruption and additional safety measures are pushing up construction costs.
As a result of Covid-19, shrinking profit margins have turned into unsustainable losses and if construction companies are to survive the crisis, it is critical that they find ways to reduce costs and minimise waste.
With an uncertain outlook for the GCC construction market, the fourth edition of the Mashreq Construction Club Connect Series of webinars looked at what construction companies can do to reshape their businesses for the challenges ahead.
Featuring the expert insights of Alec's CEO Kez Taylor, and McKinsey & Company's vice-president for major projects Ghassan Ziadat, Re-engineering construction in the GCC examined opportunities for construction companies to improve financial performance, increase productivity while maintaining safety and quality standards.

Changing market
Accounting for about 13 per cent of global GDP, construction is the biggest industry in the world, according to McKinsey Global Institute's (MGI) report 'The next normal in construction'.
Even before the Covid-19 outbreak however, the industry was struggling. Tightening budgets have pushed affordability and lower total cost of ownership to the top of the priority list for construction clients, who are increasingly demanding built structures that are adaptable, sustainable and digitalised.
At the same time, the construction industry in the region is facing a scarcity of skilled workers, low technology adoption rates, and stringent regulations in terms of localisation and sustainability. And while there are increasing calls for simplification and standardisation of processes in order to reduce costs, designers and contractors are all being asked to deliver more complex structures than ever before.
According to the MGI report, emerging disruptions such as innovation in new materials, digitalisation of processes and data-driven decision-making, and the entry of a new breed of players offering total solutions to clients are causing nine shifts that will shape future industry dynamics, as identified in MGI's report.
McKinsey Global Institute highlights nine shifts that will fundamentally change the construction industry
Moving to a product-based approach to projects is a long-term shift in the industry that is introducing the efficiencies of the production line to the construction sector.
"[In the current construction ecosystem] every project is bespoke, every project is treated in its own right," says Ziadat. "We repeat the same mistakes and we don't try to take advantage of economies of scale on treating projects as a portfolio."
There exist several challenges in applying a product-based approach to the region's construction industry, says Ziadat. These include limited demand at scale, the lack of standardisation, and a skills gap as a result of a lack of qualified labour, or restrictions in labour movement.
Ziadat says however that the demand for low-cost, affordable housing and minimal labour requirement provides an optimum environment to apply a product-based approach in the region.
The GCC construction industry is already shifting towards a more standardised, consolidated and integrated ecosystem, says Ziadat, driven by international players such as Katerra, a US construction technology company that uses unconventional industry processes.
According to MGI's research, more than 75 per cent of construction industry executives say that these nine shifts are likely to occur, and over 60 per cent say that they will occur within the next five years.
The economic fallout from the Covid-19 pandemic looks set to accelerate them.
Ziadat says that the cost savings and productivity gains generated by the transformational shifts in the construction industry will result in nearly $265bn worth of additional profits globally for companies that outperform competitors in efficiency.
Rework the system
"The construction industry is sitting on a massive opportunity to fix the broken industry that we are currently in," says Alec's Taylor. "But the big challenge is how we might go about doing that."
MGI's nine transformational shifts in construction are relevant and can be implemented across geographies, including in the region, says Taylor. But the construction industry must first accept that it has a problem, he says.
Taylor says that a top-down approach is needed, from the project owner/developer at the top, down to the designers, contractors, suppliers and the operator, in order to calculate, and then eliminate, the full extent of waste that is generated through the lifetime of a project.
A good place to start, he says, is to educate construction clients that the cheapest starting price will only lead to conflicts further down the road.
Taylor says that Alec is developing processes to identify where waste is occurring, and then 'collecting it', in order to be able to reduce and eliminate it more quickly.
The process begins, he says, by identifying what an optimum performance should be in order to have a benchmark.
For instance, one common practice in the region is for construction activity to commence on a project before the designs have been completed. As a consequence, contractors must prepare the 'shop-drawing' and send them back to the designer for review. Taylor says that this iterative process wastes a lot of management time and effort that could be saved if the initial design was optimum and accurate in the first place.
The cost savings and productivity gains generated by the transformational shifts in the construction industry will result in nearly $265bn worth of additional profits globally for companies that outperform competitors in efficiency
The Alec CEO says that companies should seek to avoid the 'value-engineering' mindset, where continuous design refinements are introduced in order to reduce costs, by implementing the most-effective design solutions from the outset of a project.
Forward with technology
Project owners, designers and construction contractors can achieve 'quick wins' through greater collaboration with their clients and project designers, and through implementation of building information modelling (BIM) from day one of the development.
BIM models and collaboration can be enhanced through the incorporation of advanced layers, such as cost estimation and scheduling modules.
Taylor says that it is important to correctly implement technologies such as BIM, which requires awareness and equipping engineers to become 'BIM-literate'
Construction personnel can stay up-to-date with the changing environment through e-learning platforms.
From a financing perspective, banks support any initiatives to improve efficiency and productivity in the construction industry, says Mashreq Bank executive vice president and global head of contracting finance Mohammad al-Shouli.
"The biggest problem is that [construction] contracts are designed in a way that lead to disputes and issues, especially towards the end," says Al-Shouli. "Banks are ready to finance contractors provided they know that the money on the project is going to flow in based on a schedule identified ahead of time."
Technology adoption will be a vital tool for the construction industry as it seeks to reduce costs and become more efficient. But while some companies may question the risk involved in investing in latest technologies in the prevalent unstable market environment, Taylor says that companies who fail to digitalise will not be competitive moving ahead.
To survive and thrive, construction companies must start adopting and embracing the change that is already occurring across the industry.
01 July, 2020 | .By Richard Thompson