CONNECT SERIES: Keeping construction moving through Covid-19
03 June, 2020 | By Richard Thompson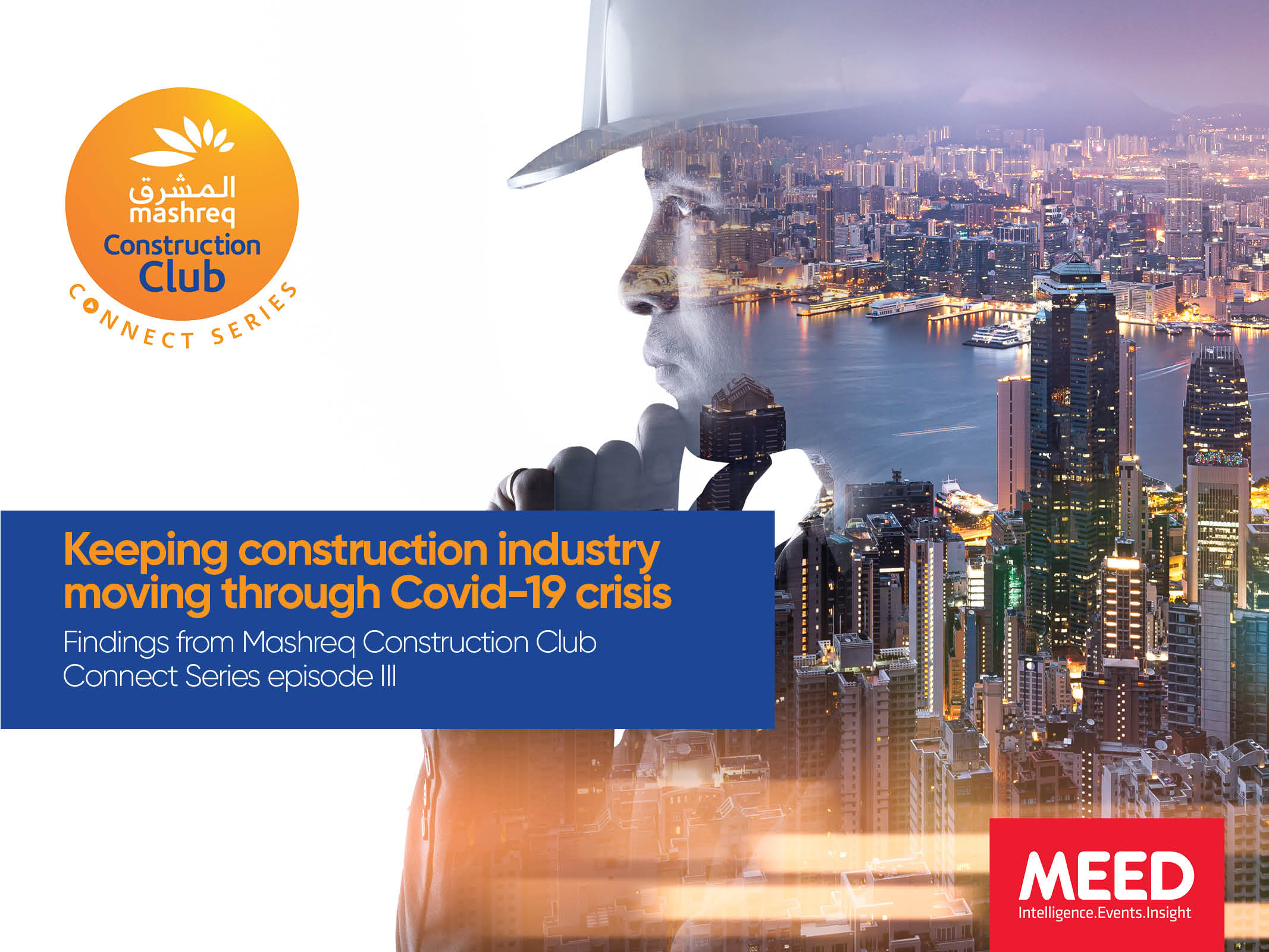 How the steps taken to get construction through the Covid-19 crisis will lay the foundations for a better industry post crisis
Construction companies in the UAE and across the GCC are facing commercial challenges like never before.
Already grappling with a slowdown in the region's project market, the measures introduced to stop the spread of Covid-19 have disrupted supply chains, introduced legal and financial challenges, and have thrown a huge level of uncertainty around future business development opportunities and projects.
As the first steps to ease the Covid-19 restrictions are gradually implemented, the third webinar in the Mashreq Connect Series looked at the challenges facing UAE construction.
Keeping Construction Moving Through Covid-19 examined how construction companies can keep going through the crisis, and what actions can be taken to help the industry recover and get into shape for what comes next.
Delivered on 21 May 2020, the webinar featured expert insights from Deloitte Middle East Audit Chief Operating Officer and Middle East Construction Leader Cynthia Corby, and Arabtec Holding Group CEO Wail Farsakh.
Market impact
Even before the emergence of Covid-19, the construction industry in the GCC was facing significant challenges from low margins, increased competition and lower volumes of projects.
These challenges put significant stress on the cash flow of construction companies in the region. Covid-19 has exacerbated this pressure.
Data from regional projects tracker MEED Projects reveals that construction in the Mena region has been severely hit by Covid-19.
MEED Projects shows that the value of new contract awards on building and real estate projects across the Mena region was about 36 per cent lower in the first four months of 2020 when compared to the same period in 2019.
For the month of April, contract awards on construction projects across the Mena region in 2020 was about 37 per cent down on April 2019.
According to MEED Projects, the GCC's construction and transport sectors have seen the biggest number of project cancellations compared to other sectors such as oil & gas, power, water and industrial projects. Although the volume of active projects in the construction and transport sectors is far greater than in other sectors.
Nearly 5 per cent of construction projects have been cancelled or put on hold as a result of reducing spending plans due to Covid-19, according to MEED Projects, while 11.7 per cent of transport projects have been affected.
Despite this, the pipeline of planned projects across the Mena region is about $3tn.

Keep construction moving
The suspension or cancellation of projects will have a significant near-term impact on the cash flow of construction companies.
For example, measures put in place to protect the welfare of workers on site has reduced productivity on day-to-day operations, meaning that it takes longer to complete work and to unlock payments.
As the construction sector leader in the Middle East for consultant Deloitte, Cynthia Corby has a close up view of the pressures facing construction companies in the region, and what steps they can take to mitigate the impact of these pressures.
Corby says that quantifying the impact of Covid-19 on project costs and cash flow is essential.
"Cash flow visibility is one of the really key areas that contractors should focus on," says Corby. "Typically, this is done with long-term cash flows, but not necessarily with short-term cash flows. The need to change that is critical."
Covid-19 response
The construction industry response to Covid-19 can be split into three distinct phases, says Corby – the Respond phase, the Recover phase, and the Thrive phase.
In May 2020, most of the region's construction industry is still in the initial Respond phase, says Corby, which could last from four to six months from the start of the Covid-19 disruption.
Source: Deloitte
During this phase, she says, contractors should seek to preserve cash by minimising their overhead costs and settling any outstanding claims.
Contractors should also investigate measures introduced by governments in the region to provide financial support mechanisms and procedures for cash disbursements.
It is important, says Corby, for companies during this initial response period to engage in scenario planning and forecasting to prepare for different post-crisis outcomes.
Moving into recovery
Preserving cash and building closer working partnerships with clients and suppliers, will put companies, and the industry as a whole, in a stronger position once the economy moves into the recovery phase of the crisis, which will shape the market for the subsequent ten to 18 months, says Corby.
While it will be important to maintain a strategic approach to cash preservation through the recovery says Corby, it is equally necessary to execute projects effectively and to pay contractors and suppliers on time, including the resolution of claims.
Even before Covid-19, payment delays aggravated problems in the region's construction industry says Corby, and these bad behaviours need to be stopped as construction moves into a post-Covid 'New Normal'.
Corby says that contractors and their clients should collaborate to reduce project scope and costs where possible.
She also calls for projects to be 'self-funded' with project finance and cash ring-fenced against the project (see box), while strong real-time cash flow management.
The new normal for construction will benefit from long-term enhancements to cash-flow management as well as to contractual terms and conditions.
Ring-fencing project finance
The idea of ring fencing project funding and cash against only that project sometimes met with resistance from contractors, who value the fiscal flexibility of being able to move money across different projects in order to meet specific cash flow demands.
"Mashreq has always encouraged and supported the contractors to make sure that the required financing for every project is secured and ring fenced based on its cash flow," says Mashreq Bank Executive Vice President and Global Head of Contracting Finance Mohammed al-Shouli.
"We understand that a contractor [takes up a job] with the intention to make money," he says. "They have the capability to perform. They have the capability to execute within the plan that they have bid for."
"However," he says, "over time, cash flows will change based on the variations on site and the role of the bank will be to continue to plug in all of those shortfalls."
Al-Shouli says that during the Covid-19 crisis, companies who have adopted this are getting the utmost support from their financiers to complete projects.
"I believe that this is the way forward," he says. "Working capital for a project is usually or mostly driven by the cash flow and payments that come in. The role of the bank is to plug all these shortfalls for a temporary period of time. This trend needs to be entrenched and we move forward with it."
Honesty and collaboration
Wail Farsakh says that greater transparency and trust is required in regional construction.
With a career in UAE construction spanning more than two decades, few people are better placed to call out flaws in the industry than the CEO of Arabtec, one of the biggest and best-known names in the region's construction industry.
"I cannot stress enough the importance of collaboration across the supply chain," says Farsakh.
"These are difficult times for everybody – not just in construction but across the world," says Farsakh. "Construction needs to share the pain and adopt a new recipe for [winning]. Minimising the loss for everybody. And the only way to do this is through transparency and cooperating with the supply chain, paymaster and banks."
Farsakh says that contractors must apply this transparency internally as well.
Business plans should be continuously updated, he says, and firms need to be honest on what can or cannot be achieved, and be prepared to take tough decisions actions to consolidate operations and reduce costs.
"As contractors, the first thing that we need is honesty," he says. "We need to look at ourselves, at the problem, and address it honestly in order to make difficult decisions during these times."
The UAE construction industry has been under considerable financial pressure for several years as a result of lower oil prices since 2014 and a slowdown in the projects market. The ovid-19 crisis has amplified these pressures to the extent where it is no longer possible to defer difficult or unwelcome decisions.
However, the crisis presents an ideal opportunity for the regional construction industry to fix some of the bad practices that have led to so much pain in recent years, and to build a better model based on collaboration, transparency and a better balance of risk and rewards shared between contractors and their clients.
The steps that are taken to keep the construction industry moving through the Covid-19 crisis could provide a blueprint to help the industry thrive once the immediate crisis has passed.
"At the end, the king of it all is cash," says Farsakh. "Especially how we can reserve it and manage it [moving forward]."
03 June, 2020 | .By Richard Thompson