BRIEFING PAPER: Renewed Ambitions
12 November, 2019 | By Richard Thompson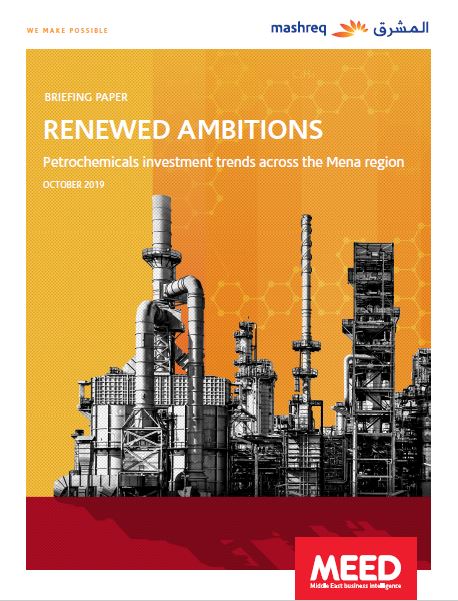 Mena petrochemicals producers target ambitious growth
Downloadable briefing paper from MEED, in partnership with Mashreq, examines rising capital investments in Mena's petrochemicals sector 
About $33.8bn-worth of petrochemicals projects are under execution in the Middle East and North Africa (Mena) region, according to MEED's projects database MEED Projects.
Project activity can be attributed to oil producers across the region anticipating a long-term rise in demand for petrochemicals, mainly from Asia, and is supported by a growing acceptance that demand for crude oil will gradually decline.
Alternate approach
Nearly all of the region's oil producers have announced capital investments in complexes that produce polymers and other hydrocarbon derivative products.
The revival in interest in petrochemicals has seen the regional energy industry laying the groundwork for the next stage of its transformation in the past year, announcing new projects, downstream investment plans and strategic acquisitions.
This includes increasing investments in overseas petrochemical production, particularly in Asian markets, as well as partnerships with international players to introduce newer technologies and produce higher-value specialty chemicals.
The development of huge integrated refineries and petrochemicals complexes are becoming the norm, allowing maximum utilisation of resources.
Significant projects planned or underway across the region include:
The rise in petrochemicals production in the region will increase export revenues from non-crude oil sales, and support the development of manufacturing of higher-value downstream plastic products.
Despite the positive outlook, the industry faces its share of challenges. Depleting feedstocks, volatility of crude oil prices, and rising concerns over the environmental impact of products such as single-use plastics are all hurdles that producers need to rise above to sustain their trade.
In its exclusive market briefing paper, Renewed Ambitions, the MEED Mashreq Energy Partnership provides a detailed snapshot of the current and planned activity in the Mena petrochemicals sector.
The briefing paper identifies key players in the region and their strategic policies to meet national targets.
Now in its second year, the MEED Mashreq Energy Partnership aims to build a knowledge bank of energy sector insights and data through a series of briefing papers that provide technical commentary on the regional energy industry.
*Follow Mashreq Corporate and Investment Banking Group on LinkedIn for regular updates, thorough market knowledge, and insights.
12 November, 2019 | .By Richard Thompson