BRIEFING PAPER: Energy Infrastructure
20 February, 2020 | By Richard Thompson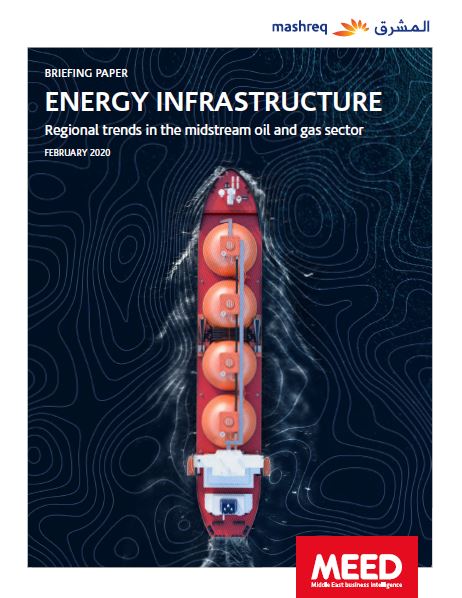 Unstable global energy demand outlook, combined with looming geopolitical threats, is seeing regional oil and gas producers ramp up transport and storage capacities
The fall in oil prices as a result of the impact of the coronavirus epidemic on the Chinese economy has highlighted the fragile state of the world's energy markets at the start of 2020.
With new sources of supply emerging and a slowdown in global demand growth, there is a strong sense of oversupply.
As a result, any news about falling demand or increasing supply is a cause of volatility in the markets.
This growing volatility in the markets is boosting midstream oil and gas strategic projects in the Middle East as traders seek to manage their supplies.
There are nearly $59.3bn worth of midstream projects planned or under way in the Middle East and North Africa (Mena) region. Of this, about $22.8bn are under execution. Saudi Arabia leads with $9.9bn worth of projects under execution, followed by Kuwait ($4.3bn) and the UAE ($2.6bn).
---
---
Infrastructure trends
Engineering, procurement and construction (EPC) work is under way on the world's largest underground crude oil storage facility, located in the UAE. Abu Dhabi National Oil Company's (Adnoc) Al Mandous storage facility will have the capacity to store 42 million barrels of crude oil in the emirate of Fujairah, distributed between three storage caverns.
The construction of underground storage facilities is a strategic step towards enhancing energy security, while also providing greater trade flexibility.
Saudi Aramco has commissioned the Hawiyah Unayzah Gas Reservoir Storage project, to address the demand for natural gas in the kingdom, while ensuring continuity of supply and mitigating seasonal fluctuations.
Adnoc and Aramco have also invested in markets such as India and Japan to gain access to storage facilities in their key export markets.
Among the $35.1bn pipeline projects planned or under way in the Mena region, $8.8bn are under execution. Major pipelines projects in the EPC stage include the Basra-Aqaba crude oil pipeline connecting Iraq and Jordan, and the Goreh-Jask crude oil pipeline in Iran.
Liquefied natural gas (LNG) infrastructure also forms a critical segment of the ongoing midstream energy infrastructure narrative in the region, as governments increasingly turn to gas imports to meet rising domestic demand. The biggest midstream project under way in the region is the $2.9bn LNG import and regasification terminal at Al-Zour in Kuwait.
International investments
In February 2019, US investment firms Blackrock and KKR signed a $4bn infrastructure deal with Adnoc to acquire a 40 per cent stake in the company's midstream crude oil and condensate pipeline assets. This is the first time global institutional investors have established stakeholder partnership with a Middle East-based NOC.
The 18 pipelines being leased by the entity Adnoc Oil Pipelines has a total length of over 750 kilometres and a total aggregate capacity of nearly 13 million barrels per day.
Singapore's sovereign wealth fund GIC is also investing $600m in Adnoc's crude pipeline infrastructure for a 6 per cent stake, bringing the total investment value to nearly $5bn.
External impacts
Geopolitical tensions in the Middle East have meanwhile driven up insurance costs for ships passing through key trade routes such as the Strait of Hormuz. London-based marine insurance market Joint War Committee (JWC) updated its list of high-risk waters in May 2019, adding the Gulf to its index of zones critically prone to geopolitical conflict.
The implementation of the International Maritime Organisation (IMO) 2020 regulations has impacted ship owners and refiners globally by introducing a 0.5 per cent sulphur caps on bunker fuel. The Port of Fujairah in the UAE is one of the few global ports compliant with the new IMO standards.
Energy Infrastructure, the latest briefing paper produced by MEED in partnership with Dubai-based Mashreq Bank, to learn about the key regional trends in the midstream oil and gas sector.
Disclaimer: The information provided in this report is solely for educational purposes and does not indicate the Bank's business undertakings. Mashreq Bank complies with all international sanctions and regulations as instated by the jurisdictions it operates within.
20 February, 2020 | .By Richard Thompson