Blockchain for construction
21 August, 2019 | By Richard Thompson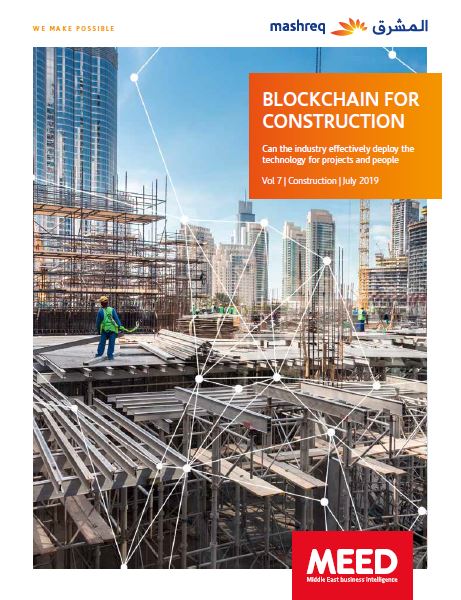 New downloadable report from MEED, in partnership with Mashreq, examines the opportunities presented by blockchain for the construction sector

Why blockchain could be the solution to several of the challenges facing the construction industry
There is no question that blockchain is at the peak of its hype cycle. For the past two years, it has been the most discussed of all new digital technologies. And as more and more solutions are identified in which blockchain is being piloted, the principles behind distributed technologies are entering the mainstream.
For the construction industry, it is said blockchain will enable instant data sharing with project parties, while blockchain-supported 'smart contracts' will reduce payment delays.
Blockchain also offers opportunities when it comes to building information modelling (BIM). Any changes made to the BIM model can be tracked and registered using a blockchain platform, while building information can be stored on a secure ledger as a permanent, secure dataset.
Although the technology has been overhyped in terms of what it offers, it still has many features that can improve the way construction operates in the UAE. But lately, blockchain has faced something of a backlash and the risk now is that a negative over-reaction will prevent the technology from being fully explored. This would be disappointing because while the technology is certainly not the panacea promised by its promoters, neither is it the overhyped fad that its detractors say it is.
The reality is blockchain will be a suitable technology in some cases, but not in others. For those seeking to improve the way the construction industry functions, the correct approach is to use blockchain where it is appropriate.
Dubai is one of the leading cities when it comes to blockchain technology. The government is driving adoption and implementation through strategic initiatives such as the Dubai Blockchain Platform. Sectors such as trade and finance, as well as supply chains, have shown affinity towards these initiatives. The construction sector is yet to pick up on these opportunities, but has much to gain when it does.
In the seventh research report of the MEED Mashreq Construction Partnership, we examine the key features of blockchain and how it can be applied properly in the UAE construction sector. The report includes commentary from industry experts as well as MEED's independent analysis and some pertinent case studies.
21 August, 2019 | .By Richard Thompson