Bidders asked for revised prices for Al-Maktoum airport substructure
23 April, 2019 | By Colin Foreman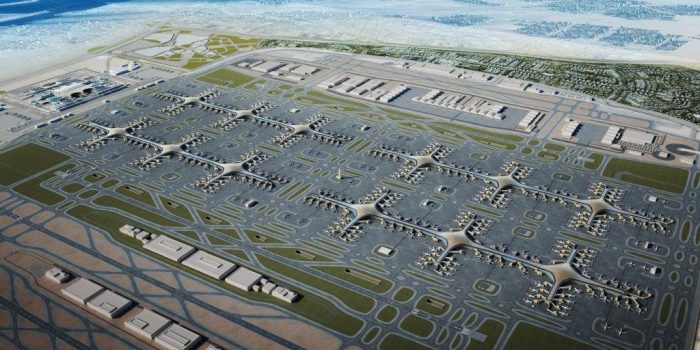 Contractors submitted bids for the estimated AED10bn ($2.7bn) package in January
Dubai Aviation Engineering Projects (DAEP) has invited selected bidders to submit revised prices for the estimated AED10bn ($2.7bn) substructure contract for Concourse 1 and the West Terminal building.
The substructure package is the largest contract to be tendered for the expansion of Al-Maktoum International airport. The project covers more than 1.7 million square metres (sq m) of connected basement footprint. It will house the people-mover tunnels, baggage handling systems, ground services road network and other "back of house technical and support facilities".
The package includes the construction of foundations, basement walls, columns, basement slabs and top slabs for the 2.7-kilometre Concourse 1, West Terminal building, short-term car park and staff car park.
The substructure will have a depth exceeding 18 metres underground and will require the pouring of about 5.5 million cubic metres of concrete.
The following joint ventures are understood to have submitted bids on 20 January.
Alec (local) / ASGC (local)
Consolidated Contractors Company (CCC – Lebanon) / Arabian Construction Company (ACC – Lebanon)
DBB Contracting (local) / TAV (Turkey)
Salini Impregilo (Italy) / Tristar (local)
Shapoorji Pallonji (India) / Gulermak (Turkey)
Tristar is working on the enabling works package for the concourse and terminal.
The enabling works for Concourse 1, the West Terminal building and car park require 20 million cubic metres of excavation and 6,000 piles.
For Concourse 1, the works involve excavation of up to 18.3 metres deep, piling and temporary dewatering and linking tunnels. Altogether, Concourse 1 covers an area of about 910,000 sq m and requires about 5,000 piles.
Dubai confirmed late last year that it had moved the target opening date for the first phase of the $33bn expansion of Al-Maktoum International, from 2025 to 2030.
23 April, 2019 | .By Colin Foreman