Bahrain keeps building as market rebounds
22 January, 2019 | By Colin Foreman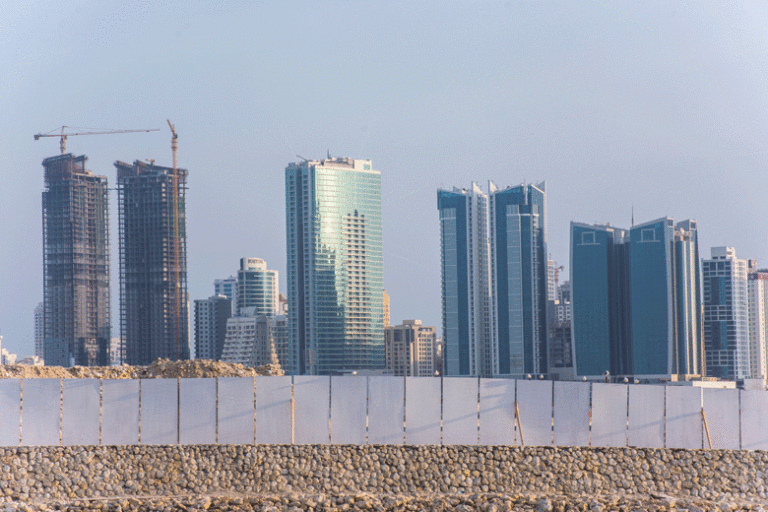 The government has committed to investing in new infrastructure projects
Bahrain's construction market rebounded in 2018 with a total of $2.44bn of contract awards, according to regional projects tracker MEED Projects. The figure returned to above the $2bn mark after a slight correction in 2017, when there were $1.8bn of deals let.
The 2017 total was the first time the figure had dropped below the $2bn mark since 2013. At the time, there were concerns that Bahrain's construction market was showing signs of fatigue after three years of heightened projects activity across various sectors – the result of direct
investment in projects, GCC funding, and domestic and international private sector investment.
Construction growth
A key award that contributed to the market's 2018 rebound was the estimated $300m contract for a retail and hospitality development at Diyar al-Muharraq.
Marassi Galleria Mall is a 200,000 square-metre shopping and entertainment destination, and is a vital part of the Marassi al-Bahrain development on Diyar al-Muharraq Island. It includes residential components such as the Marassi Residences, Marassi Shores Residence and Marassi Boulevard.
There will also be access to a 2-kilometre beach with waterfront retail outlets and a promenade of restaurants.
The largest contract award in 2018 was another real estate project that involves building residential towers at Bahrain Bay. Ajmera Mayfair Global Realty awarded an estimated $320m contract to the local Al-Jameel Construction for the work on the two Golden Gate towers, which will have 750 apartments upon completion.
Project pipeline
The outlook for future work is also positive, with the highest levels of government committed to launching more infrastructure projects as Manama continues to drive economic growth in the kingdom.
Speaking at the Gateway Gulf investment conference that showcased $26bn of infrastructure projects in May 2018, Bahrain Crown Prince Salman bin Hamad al-Khalifa said: "We are launching a plethora of projects, initiatives and requests for proposal to continue to stimulate the growth we have seen over the last three years, which has been quite impressive."
The pipeline of potential awards in the construction sector in 2019 is encouraging, with just under $2bn of contracts at the tender and prequalification stage, according to data from MEED Projects.
The largest upcoming project is a $850m exhibition and conference centre in the Sakhir area of the Southern Governorate being developed by Bahrain Tourism & Exhibition Authority (BTEA). Located close to Bahrain's Formula 1 race circuit, the work involves the construction of an exhibition centre with 10 exhibition halls and a conference centre with three halls.
The second-largest deal due to be signed this year is a $663m contract for the construction of a residential development. The local Manara Developments plans to build some 900 villas at Hasabi, located to the south of Durrat al-Bahrain.
Tourism developments
Another major deal due to be signed this year is a $545m contract for the construction of the Al-Sahel hotel development. The five-star resort will be built on 1.25 kilometres of beachfront and will have both room and villa-based accommodation.
The development has been planned for more than a decade and, before the 2008 global financial crisis, was known as the Salam Beach Resort & Spa – which was being built by Dubai investors.
The scheme is now being developed by the Al-Sahel Resort project company, in which Bahrain's sovereign wealth fund Mumtalakat Holding Company is understood to hold about a two-thirds stake and the UAE's Dubai Properties Group a one-third stake.
Looking further forward, the Al-Sahel project is part of a much larger programme of development planned for the Bilaj al-Jazayer area on the southwest coast of the island. The new strip of resorts and residential properties are expected to cost billions of dollars to deliver.
It will be anchored by two government-backed resort projects, while the rest of the land will be developed by private sector investors.
Building houses
In addition to tourism, the private sector will also be engaged to meet Bahrain's housing needs, following a series of public-private partnership (PPP) projects in recent years.
In 2012, the Housing Ministry signed its first PPP agreement worth BD208m ($552m) with private developer Naseej to build more than 2,400 housing units in two areas of Bahrain: the Northern City and Al-Lawzi. Then, in 2015, the ministry signed a BD276m deal to buy 3,100 housing units from local developer Diyar al-Muharraq.
These private sector projects will be supported by long-term government infrastructure schemes that will also create opportunities for construction companies.
For transport, there are projects such as the proposed light rail network, a new airport that will be built to the north of Muharraq Island, and a new causeway linking to Saudi Arabia. For oil and gas, meanwhile, new infrastructure is needed to support the development of the Khalij al-Bahrain oil field.
22 January, 2019 | .By Colin Foreman