Adnoc schemes buoy UAE projects market
14 October, 2020 | By MEED Editorial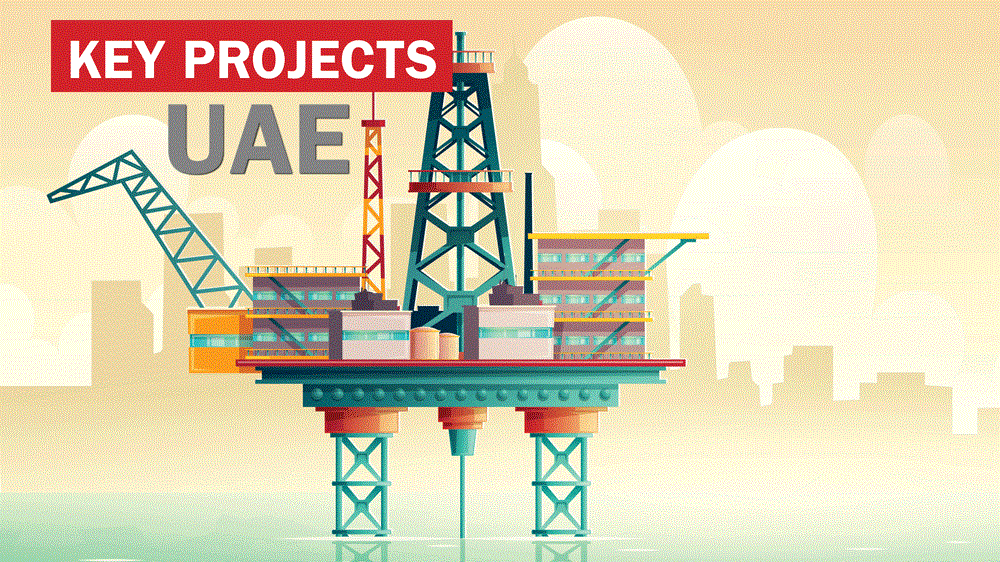 Abu Dhabi National Oil Company (Adnoc) has recently made good progress with several strategic onshore and offshore projects
The UAE has $123bn-worth of active project contracts under execution and projects valued at $295bn in pre-execution, including $160bn in projects beyond study and either in the design or bidding phase
In the oil and gas sector, as part of efforts to reduce capital expenditure during the prevailing downturn, Abu Dhabi National Oil Company (Adnoc) has had to postpone the bid submission timeline for its estimated $15bn Hail and Ghasha offshore sour gas field development megaproject.
The company continues to work on developing a viable execution plan for the project.
Adnoc has recently made considerable advances with other strategic onshore and offshore projects, however.
The state enterprise is evaluating technical bids received for two key onshore projects – the second stage of the Asab full field development second phase and the second development phase of its Al-Dabbiya field sustainability project.
Commercial bids are being studied for important offshore projects such as the Dalma field and Umm Shaif oil and gas development projects
On the petrochemicals front, several contractors have expressed interest in bidding for Abu Dhabi Polymers Company's (Borouge) estimated $4bn fourth petrochemicals plant project – an exercise that has boosted the regional petrochemicals segment.
Commercial bids are being studied for important offshore projects such as the Dalma field and Umm Shaif oil and gas development projects
In the power and water sector, following the successful execution and award of Abu Dhabi's first and second utility-scale solar photovoltaic (PV) independent power projects (IPPs) in Sweihan and Al-Dhafra, the state utility is planning a third major scheme, which is expected to have a generation capacity of 1.5GW.
The emirate is also embarking on its second seawater reverse osmosis independent water project (IWP), which is understood to have a planned capacity of 300 million imperial gallons a day (MIGD). The plant will be located in Ruwais.
The emirate's other planned projects include the high-voltage, direct current (HVDC) subsea transmission system connecting Adnoc's offshore production facilities to Abu Dhabi National Energy Company's (Taqa) onshore electricity grid; the waste-to-energy (WTE) plants in Mussafah and Al-Ain; and the upgrade of Taweelah B independent water and power plant (IWPP).
Dubai projects
Dubai, which has close to $10bn-worth of gas, coal, hydro, WTE, solar PV and concentrated solar power under execution, is expected to focus on delivery and grid integration as these projects approach completion.
In addition, the contract for Dubai's first seawater reverse osmosis IWP in Hassyan is expected to be awarded before the end of 2020. In Umm al-Quwain, the prequalification process is under way for a 500MW PV IPP, which the Federal Electricity & Water Authority will oversee.
Local developer Wasl has issued tender documents for the contract to build the hotels on The Island close to Jumeirah Beach Hotel and the Burj al-Arab
In the country's broader construction infrastructure sector, with a dearth of major high-profile building projects moving towards construction this year, the Island resort project recently tendered by Wasl is a prominent active project for Dubai.
The 10.5-hectare project is located on a reclaimed island off the public beach near Jumeirah Beach hotel. It will comprise 1,400 hotel rooms and apartments. The hotels will be managed by the MGM, Bellagio and Aria hotel brands.
If the scheme moves into construction as planned, it will demonstrate that Dubai can move ahead with major projects that add value. Should it falter, attentions will turn to the emirate's ability to fund future projects.
14 October, 2020 | .By MEED Editorial