Adnoc and Total sign decarbonisation agreement
18 November, 2020 | By INDRAJIT SEN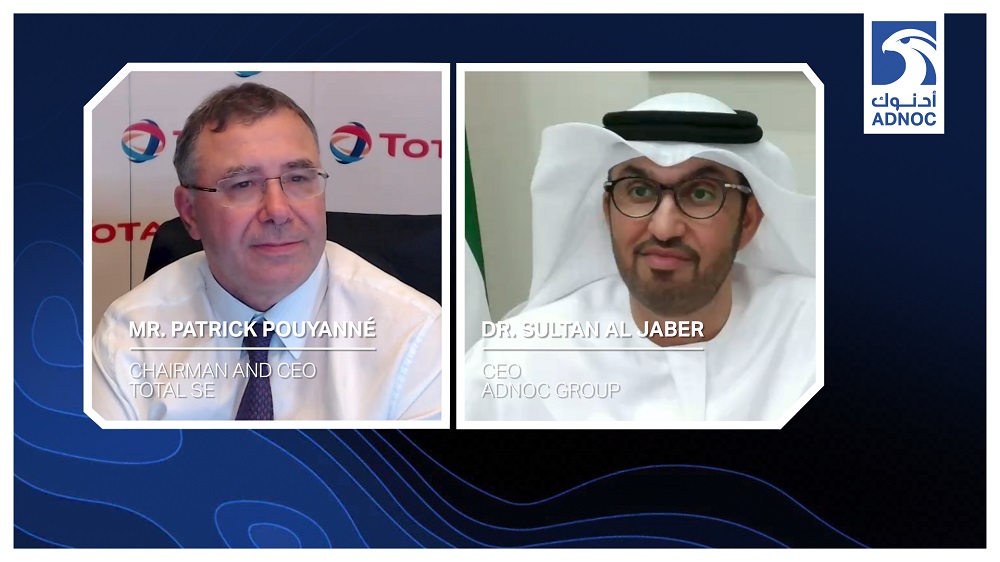 The two energy majors will jointly explore opportunities to reduce CO2 emissions, improve energy efficiency, and use renewable energy for oil and gas operations
Abu Dhabi National Oil Company (Adnoc) has signed a framework agreement with France's Total to explore joint research, development and deployment partnership opportunities in the areas of carbon dioxide (CO2) emission reductions and carbon capture, utilisation and storage (CCUS).
Under the terms of the agreement, Adnoc and Total will jointly explore opportunities to reduce CO2 emissions, improve energy efficiency, and use renewable energy for their oil and gas operations.
The agreement was virtually signed on 12 November by Sultan Ahmed al-Jaber, UAE minister of industry and advanced technology and Adnoc Group CEO, and Patrick Pouyanne, CEO of Total, during the fourth day of Adipec.
"The agreement brings together the best-in-class in low-carbon technologies from Adnoc and Total, and expands on the long-standing partnership and collaboration between the two leading energy producers across the full value chain," Adnoc said in a statement.
In the area of CCUS, the companies will further develop joint research into new technologies covering carbon capture, storage solutions and enhanced oil recovery projects based on CO2 usage.
In January this year, Adnoc signed a similar framework agreement with Italian energy company Eni to explore new opportunities for collaboration in the sphere of CCUS.
Adnoc's CCUS programme has seen the company establish the Al-Reyadah facility, the first commercial-scale CCUS facility in the Middle East. Currently, the facility has the capacity to capture 800,000 tonnes of CO2 annually.
Adnoc plans to expand the capacity of this programme six-fold by capturing CO2 from its own gas plants, with the aim of reaching 5 million tonnes of CO2 every year by 2030 – the equivalent of the annual carbon capture capacity of over 5 million acres of forest.
18 November, 2020 | .By INDRAJIT SEN