Abu Dhabi sets out ambitious Khalifa Port expansion plan
05 June, 2018 | By JENNIFER AGUINALDO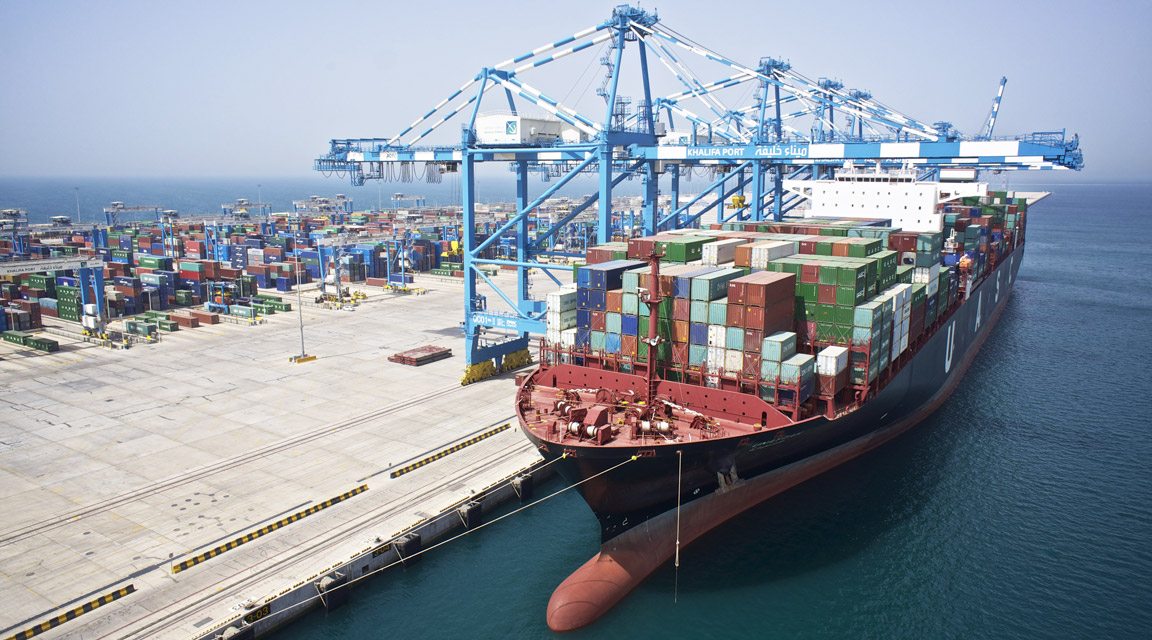 Abu Dhabi is capitalising on Khalifa Port's technology and ambition to win new customers
The expansion of Abu Dhabi's Khalifa Port is expected to proceed quickly over the next few months. A five-phase plan culminating in the quadrupling of the container terminal's current capacity, in addition to the construction of a roll-on/roll-off terminal on reclaimed land and a major breakbulk terminal, is guiding the port's expansion initiatives.
If successfully implemented, the plan will take the port's container capacity to 10 million 20-foot equivalent units (TEUs), around half the capacity of the region's dominant Jebel Ali Port in Dubai.
It is not unusual to doubt the feasibility of Khalifa Port's expansion plan (and the feasibility of most other port expansions in the GCC) given that the region, from Oman to Saudi Arabia, has overbuilt container capacity in the past decade. Khalifa Port also lies in close proximity, 45 kilometres to be exact, to Jebel Ali Port, which is run by DP World and lies next door to Jebel Ali Free Zone, whose annual trade exceeds $87bn.
However, a closer look at the overall plan reveals some important advantages for the port. Khalifa Port's container terminal is the region's first semi-automated container facility. For customers, this means shorter turnaround time for clearance of goods and lower fees. With every shipping line and logistics company looking for greater operational efficiencies, the container terminal at the port is expected to become increasingly attractive.
The Khalifa Industrial Zone (Kizad) is also being developed further to allow more industrial companies to set up and facilitate volume growth at the port's container and bulk terminals, through raw materials being shipped in and finished products being shipped out, a strategy that has served Jebel Ali Port well for several decades.
The long-term plan for Khalifa Port includes the deepening of berths to allow the existing and future container terminals to accommodate the world's largest vessels, an initiative that Abu Dhabi Ports is undertaking with Swiss-based Mediterranean Shipping Company (MSC).
In 2016, Abu Dhabi Ports signed a concession agreement with China's Cosco Shipping Lines, which will now co-develop and operate a second container terminal at Khalifa Port. Abu Dhabi Ports and Cosco  are also planning to build the region's largest container freight station (CFS) at Khalifa Port. In addition to Cosco's investments in the port, China's eastern province of Jiangsu is investing $300m to develop a cluster at the Khalifa Port Free Trade Zone. These developments are expected to firmly place Khalifa Port on the map of China's much-hyped belt and road initiative.
A logistics corridor is also planned between Abu Dhabi and Fujairah Terminals, which Abu Dhabi Ports is running and developing under a 30-year concession agreement with the Port of Fujairah. The terminal in Fujairah is a crucial element of the overall plan given the port's strategic location outside the Strait of Hormuz.
The next two phases of the Etihad Railway, which will extend the current route to Fujairah and ultimately join up with the planned GCC railway, are also expected to enable Khalifa Port to grow alongside Jebel Ali Port.
Indeed, with an estimated AED10bn allocated for the first phase of Khalifa Port's expansion, the next major task is for Abu Dhabi Ports to get its key messages out there to win potential customers. And there seems no better place to start than in the advertising space available on Sheikh Zayed road fronting Jebel Ali Free Zone, where a giant billboard promoting Kizad is hard to miss.
05 June, 2018 | .By JENNIFER AGUINALDO