A SWOT analysis of UAE construction
21 September, 2020 | By Richard Thompson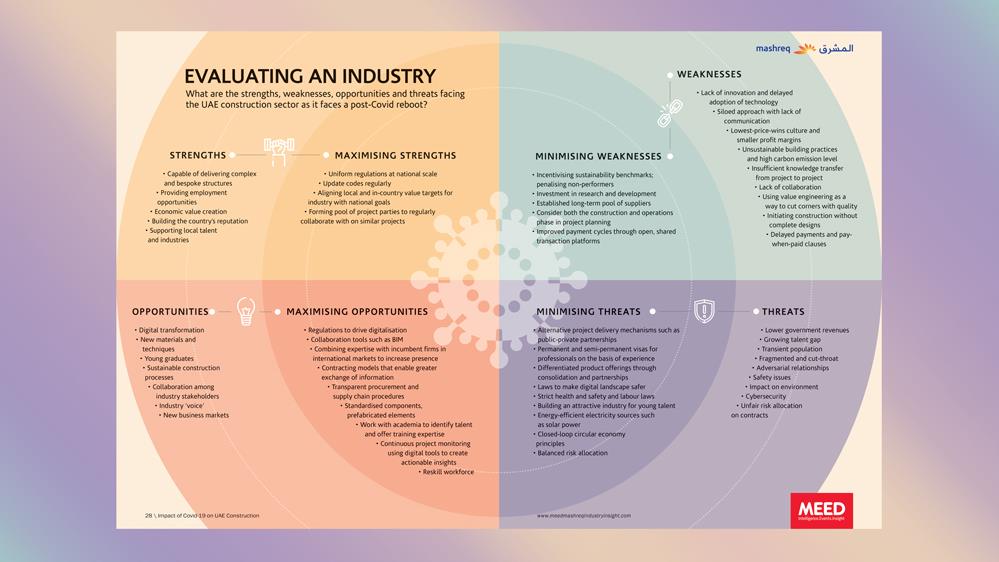 What are the strengths, weaknesses, opportunities and threats facing the UAE construction sector as it faces a post-Covid reboot?
Construction companies in the UAE and across the GCC are facing challenges like never before. Many of these issues have been exacerbated due to the Covid-19 pandemic.
However, as the industry slowly moves into the recovery phase, it needs to recognise its strengths and weaknesses. Construction firms need to identify how they can maximise their strengths and and make most of the opportunities that lie ahead.
At the same time, they need to be aware of their weaknesses, minimising them where possible by tackling the threats that harm the stability of the industry.
This infographic is extracted from the report 'UAE Construction After Covid-19'. 
This report is produced under the MEED Mashreq Construction Partnership.To learn more about the report or the partnership email us on MEEDMashreqPartnership@meed.com.
21 September, 2020 | .By Richard Thompson